What is a Clinical Nurse Specialist?
Do you want to take your nursing skills to the next level? Consider becoming a clinical nurse specialist!
Healthcare providers are constantly looking at ways to make the best quality healthcare widely available. One strategy is to rely more heavily on highly skilled advanced practice registered nurses, such as clinical nurse specialists.
Clinical nurse specialists work to improve patient outcomes by using theory and research to further the success of nursing systems. This career is categorized as an advanced practice registered nurse (APRN) role because it requires a master's level education as well as clinical training.
What does a Clinical Nurse Specialist do?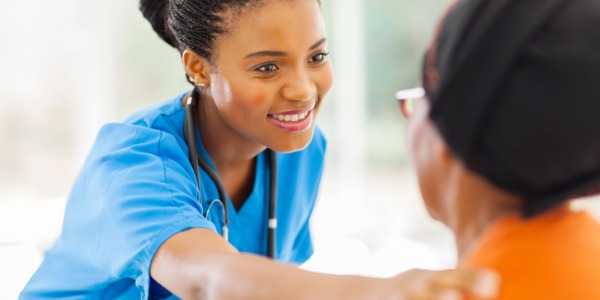 Clinical nurse specialists (CNSs) provide care to patients in one of many specialties, such as geriatrics, pediatrics, oncology, and emergency care, to name a few. When working directly with patients, they implement treatment plans in order to find a solution to medical or psychiatric issues.
Clinical nurse specialists may also work as consultants by helping other health professionals to improve patient care. These nurses play a leading role in developing guidelines and protocols, providing support and consultation, facilitating system change, and promoting the use of evidence.
Clinical nurse specialists engage in three domains of practice:
Patient/Client
The clinical nurse specialist engages directly with patients in a variety of settings, including private practice, acute care, or community clinics. They often work with other nurses and help to modify a plan of care to comply with evidence-based recommendations.
Nurses/Nursing
Clinical nurse specialists use evidence-based practices within the daily operations of the nursing professionals. They bridge the gap between everyday clinical practice and state-of-the-art science by taking research and utilizing it practically. Instead of resorting to habit or tradition, the clinical nurse specialist mentors nurses and helps them to start using practices based on the latest scientific research and serves as an advocate for positive change.
System/Organizational
As the complexity and cost of the health care system continues to increase, clinical nurse specialists work to influence the future of healthcare as a whole. They provide a cost-benefit analysis of new medical products, interventions, and programs, and analyze preventative protocols that can reduce costs to both patients and their payers (be it Medicare or insurance providers).
Some daily responsibilities of clinical nurse specialists may include:
- Observing the patient's condition and diagnosing problems/illnesses
- Ordering medical tests and evaluating results
- Treating diseases, injuries, and disabilities within their area of expertise
- Advising nurses and other medical staff on patient care issues
- Promoting disease prevention and wellness
- Conducting research to further knowledge about their area of specialty
- Conducting physical exams
Areas of specialization for clinical nurse specialists:
- Adult Health
- Adult Psychiatric and Mental Health
- Child/Adolescent Psychological and Mental Health
- Diabetes Management
- Gerontology
- Home Health
- Pediatrics
- Public and Community Health
What is the workplace of a Clinical Nurse Specialist like?
As the need for highly skilled healthcare workers continues to grow, employers are often looking for the expertise that trained clinical nurse specialists have to offer. Their knowledge and judgment assists with providing quality patient care by holding others accountable for maintaining high standards.
Clinical nurse specialists work in inpatient hospital settings, physician's offices, outpatient care centres, colleges and universities, community centres, laboratories, and other health services offices and facilities.
Clinical Nurse Specialists are also known as:
CNS