What is a Courier?
Is working behind a desk not for you? If you prefer a more active and varied job, you may want to consider working as a courier!
A courier transports documents and packages for individuals, businesses, institutions, and government agencies. Couriers usually travel by foot, bicycle, motorcycle, automobile, delivery truck, or public transportation.
What does a Courier do?
A courier provides door-to-door delivery service for a variety of clients, including law offices, banks, and hospitals. Most workers specialize in local deliveries, often in large urban areas. They offer same-day or one-hour delivery services.
Packages delivered may include important legal or financial documents, passports, and medical samples that senders are unwilling to entrust to other types of delivery.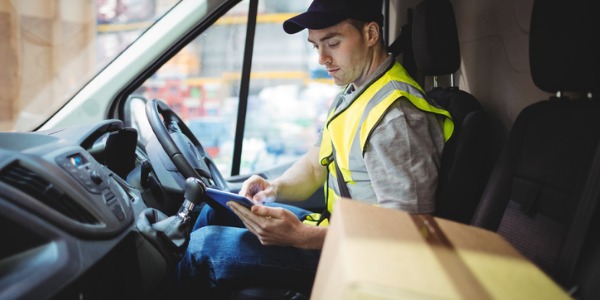 A courier will also:
- Pick up and deliver items to their final destination
- Verify delivery information, such as names, addresses, and telephone numbers
- Load items onto delivery vehicles
- Plan and follow the most efficient routes for delivery
- Collect necessary payments and signatures from clients
- Record delivery information, such as time of delivery and recipient's name
Couriers receive their instructions either in person or by cell phone or two-way radio. With this information, they plan the most efficient route and delivery schedule. Some couriers carry items only for specific clients, such as law firms, financial institutions, or medical laboratories.
Accurate record keeping is necessary for tracking deliveries, payments, signatures, and other important information. This is especially true for self-employed couriers. Because couriers frequently interact with clients, they must be courteous, polite, and ready to answer customers' questions regarding deliveries, payments, and other issues.
Couriers spend a considerable amount of time travelling to make deliveries. Therefore, they must be familiar with delivery routes and areas and have a good sense of direction. They must often make deliveries on tight time schedules. As a result, they must be able to plan their day and make deliveries efficiently so items do not arrive late.
What is the workplace of a Courier like?
Couriers spend most of their time making deliveries and are not closely supervised. The expectation to make multiple deliveries in a safe and timely manner can make the job stressful.
Those who deliver by bicycle must be physically fit and able to cope with all weather conditions and the hazards of heavy traffic. Car, van, and truck couriers often have to deal with traffic jams, road construction, and difficult parking situations.
While most couriers and messengers work full time during regular business hours, evening and weekend hours are common.
Couriers are also known as:
Messenger Delivery Person Mail Courier