What is a Dental Laboratory Technician?
Dental laboratory technology is the art, science, and technology of designing and manufacturing dental prostheses and appliances, such as dentures, crowns, implants, bridges, and veneers.
Dental laboratory technicians are the allied dental practitioners who design, fabricate, and repair these restorative devices according to dentist's instructions. Their creations positively impact patients' physical and dental health, improve their smiles, and often increase their confidence and self-esteem.
What does a Dental Laboratory Technician do?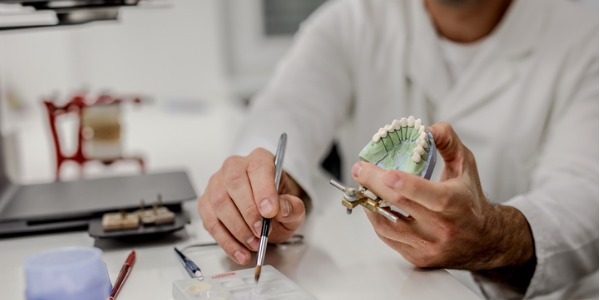 Dental laboratory technicians typically focus on one or more of the six specialties of dental laboratory technology:
Crown and Bridge
Crown and bridge dental technology is the most common and prevalent because all dentists are skilled in this restoration, and it's needed by every demographic. Crowns – new coverings for damaged teeth – address severe cavities, binding around the tooth to prevent further decay. Bridges are prosthetics to replace missing teeth, 'bridging' the gap between adjacent teeth.
Complete Dentures
Complete dentures are artificial teeth and gums that are formed to the mouth and created to replace lost or removed natural teeth. Teeth decay, dental disease, severe injury, or developmental defects affect more than just the elderly, and dentures are often used as treatment. Dental techs who specialize in complete dentures have to be skilled in fabricating not just one or a few teeth, but all of the teeth in maxillary (upper) or mandibular (lower) arches. The prosthetic has to be comfortable, functional, and aesthetically proper.
Partial Dentures
Partial dentures are used when the surrounding teeth are not strong enough to support structures such as bridges, or when one or two teeth are missing.
Ceramics
Technicians who work with dental ceramics – sometimes called dental ceramists – fabricate teeth with porcelain, starting from scratch with porcelain powder to create each tooth. The ceramic fabrication is either fused to metal or made of porcelain all the way through. Ceramics aren't recommended for all dental prosthetics, but aesthetically they can create very lifelike veneers, and they maintain a significant hardness, which makes them appealing to many patients.
Implants
An implant is a device placed in the jawbone and held in place as new bone material forms around it. Like most technicians, dental technicians who work with implants fabricate teeth to replace missing or damaged teeth, but they are unique in that they create teeth that don't bind to neighboring teeth. Instead, their fabrications are inserted surgically with a screw-like implant anchor. The implant is like a prosthetic root, interfacing with the bone of the jaw or skull. The crafting of an implant, therefore, requires attention not only to the shape of the tooth and its neighbors, but also to the patient's bone structure.
Orthodontics
Dental technicians who specialize in orthodontics work almost exclusively with orthodontists. Orthodontic technicians do not create teeth; they create appliances – often braces – that move and align a patient's teeth. These appliances are prescribed and custom-fitted by the orthodontist. The materials and artistry involved in this specialty are particularly unique.
With experience, technicians may choose to teach in dental laboratory technology programs or work as sales representatives, technical support representatives, or training instructors for dental manufacturers or suppliers.
What is the workplace of a Dental Laboratory Technician like?
Dental laboratory technicians generally work fulltime on a standard 40-hours-per-week schedule. Their most common workplace is a dental laboratory. While most dental labs employ around 10 technicians, very large operations with hundreds of techs also exist. Other possible employers include private dental offices with their own in-house laboratories, hospitals, dental suppliers and manufacturers, and the military. Some dental laboratory technicians opt to become entrepreneurs by opening their own dental lab business.
Dental laboratories are clean, well-lit, and well-ventilated spaces with a workbench for each employee, equipped with Bunsen burners or electric waxers, grinding and polishing instruments, and hand tools like spatulas, files, and carvers. Dental lab techs work with many different materials, including wax, alloy, ceramic, plastic, and porcelain. In some cases, they may use computers or three-dimensional printers to create dental appliances or to receive impressions sent from a dentist's office.
The job of the dental laboratory technician is especially delicate and time-consuming, requiring attention to minute details, manual dexterity, and superb hand-eye coordination. In addition to these technical demands, creating dental prostheses such as dentures, crowns, and bridges, also calls for the ability to recognize differences in color and shape, as well as an artistic sensibility – because every patient's teeth are different and every piece created is a custom, original piece.
Dental laboratory technicians work closely with dentists, orthodontists, and oral and maxillofacial surgeons. They rarely have direct contact with patients.
Dental Laboratory Technicians are also known as:
Dental Tech Dental Technician Dental Lab Tech Dental Lab Technician Dental Laboratory Tech