What is a Dietetic Technician?
Are you interested in the field of health, and particularly in helping people make better food choices? You may want to consider a career as a dietetic technician!
Dietetic technicians are wellness practitioners who develop nutritional plans to promote health, treat illnesses, or prevent disease. They help people take control of their health by helping them understand how to make better choices about the food they eat. Positive changes in diet can help reduce the risk of obesity, diabetes, heart disease, and other health problems.
What does a Dietetic Technician do?
A dietetic technician's work involves meal planning, providing nutritional therapy, and otherwise helping clients to lead healthy lifestyles.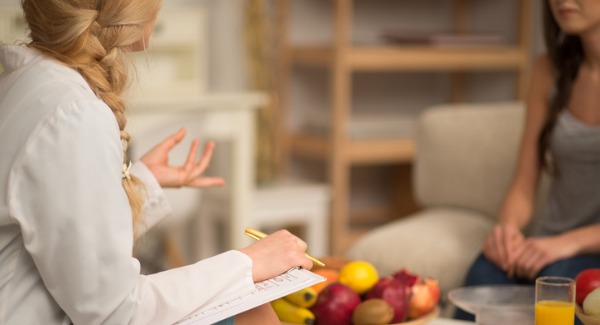 Dietetic technicians can promote healthy eating through counseling sessions, during which they may instruct patients, clients and their families how to choose and prepare healthy food. Often under the guidance of registered dieticians, technicians can prepare nutritional plans for patients and clients in a variety of settings, including hospitals, nursing homes, institutions, community health agencies or in private practice.
Dietetic technicians may plan and prepare patient meals, order food and supplies, provide direction nutritional therapy and document patient intake. They also educate healthcare providers, community groups, or students about nutrition through programs and training sessions. They may develop, implement or recommend nutrition programs for individuals and groups based on evaluations of dietary needs.
Dietetic technicians may also consult with other healthcare professionals regarding the dietary modifications or restrictions that will best promote patient health and fit in with other treatment methods for conditions, illnesses and diseases.
Job duties of a dietetic technician in various work settings may include:
Food companies – overseeing sanitation and food safety practices, helping to develop menus, and preparing nutrition analysis and food labels
Health clubs - educating clients on how food affects one's overall health and fitness
Community health programs/public health agencies - developing the curriculum of a nutrition program and teaching these classes to the public
Restaurants, cafeterias (in schools, hospitals and corporations) - managing food service employees, participating in the financial side of food service management, preparing budgets, purchasing food, and helping to prepare food
Hospitals, long-term care facilities, health clinics and research facilities - working on prevention aspects of nutrition by screening clients, gathering data from clients and assisting the registered dietician in providing medical nutrition therapy services to clients
What is the workplace of a Dietetic Technician like?
Dietetic technicians work alongside registered dietitians in hospitals, nursing homes, long-term care facilities, schools, daycare centres, weight management clinics, government agencies and prisons.
Some nutrition and dietetic technicians work in private practice, developing healthy menus for individual patients. Some focus on education, teaching children, mothers and other people the importance of proper nutrition. Others work in the food service industry, helping suppliers create healthier prepared foods and ensuring that food labels are accurate. Other dietetic technicians work in offices, or government agencies, which is a cleaner and less stressful environment than a commercial kitchen.
Dietetic technicians may work all kinds of hours, particularly early in the morning and on weekends and holidays, and must adhere to rigorous standards of safety and cleanliness.
Dietetic Technicians are also known as:
Nutrition and Dietetic Technician Diet Technician Dietetic Technician Registered DTR