What is an Event Planner?
Do you love organizing events and parties for your family and friends? You may want to look at a career as an event planner!
Not to be confused with a wedding planner, an event planner (also known as a meeting and/or convention planner) is someone who coordinates all aspects of professional meetings and events. They often choose meeting locations, arrange transportation, and coordinate many other details.
What does an Event Planner do?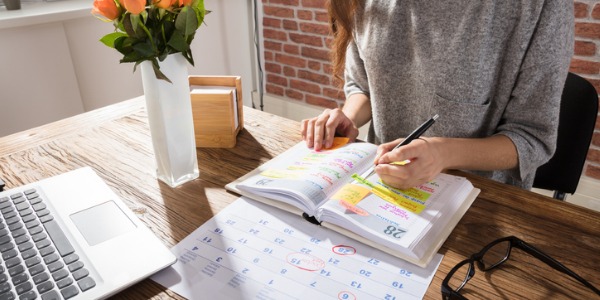 Whether it is an educational conference or business convention, meetings and events bring people together for a common purpose. Meeting, convention, and event planners work to ensure that this purpose is achieved seamlessly.
Event planners coordinate every detail of an event, from beginning to end. Before a meeting, for example, planners will meet with clients to estimate attendance and determine the meeting's purpose. During the meeting, they handle meeting logistics such as registering guests and setting up audio/visual equipment for speakers. After the meeting, they survey attendees to find out what topics interested them the most.
Event planners also search for potential meeting sites, such as hotels and convention centres. They consider the lodging and services that the facility can provide, how easy it will be for people to get there, and the attractions that the surrounding area has to offer. More recently, planners also consider whether an online meeting can achieve the same objectives as a face-to-face meeting.
Once a location is selected, planners arrange meeting space and support services. For example, they negotiate contracts with suppliers to provide meals for attendees and coordinate plans with on-site staff. They organize speakers, entertainment, and activities. They also oversee the finances of meetings and conventions. On the day of the event, planners may register attendees, coordinate transportation, and make sure meeting rooms are set up properly.
An event planner will typically do the following:
Meet with clients to understand the purpose of the meeting or event
Plan the scope of the event, including time, location, program, and cost
Solicit bids from places and service providers
Work with the client to choose where to hold the event and whom to contract for services
Inspect places to ensure they meet the client's requirements
Coordinate event services such as rooms, transportation, and food service
Confer with on-site staff to coordinate details
Monitor event activities to ensure the client and event attendees are satisfied
Review event bills and approve payment
What is the workplace of an Event Planner like?
Event planners spend most of their time in offices. During meetings and events, they usually work on-site at hotels or convention centers. They travel regularly to attend events they organize and to visit prospective meeting sites, sometimes in exotic locations around the world. Planners regularly collaborate with clients, hospitality workers, and meeting attendees.
The work of meeting, convention, and event planners can be fast-paced and demanding. Planners oversee many aspects of the event at the same time, face numerous deadlines, and orchestrate the activities of several different groups of people.
Most meeting, convention, and event planners work full time. In addition, many are required to work long, irregular hours in the time leading up to a major event. During meetings or conventions, planners may work very long days, starting early in the morning and working late into the evening. Sometimes, they must work on weekends.
Frequently Asked Questions
Are Event Planners happy?

Event Planners rank highly among careers. Overall they rank in the 73rd percentile of careers for satisfaction scores. Please note that this number is derived from the data we have collected from our Sokanu members only.

Despite the inherent stress of event planning, it is undeniably stimulating, exciting, even exhilarating – characteristics that define many happy careers.
What are Event Planners like?

Based on our pool of users, Event Planners tend to be predominately artistic people. This finding is not surprising. Essentially, there is an art to almost everything that event planners are asked to do: liaise with clients; negotiate contracts; work with suppliers, who may be from different cultural backgrounds and have different work ethics; be simultaneously aware and responsive, yet able to fade into the background; and in the face of inevitable glitches, remain composed under pressure.
Should I become an Event Planner?

The first thing that anyone considering this career should know is that event planning is consistently listed as one of the top ten most stressful jobs. While the profession can involve travel to exciting destinations and opportunities to stay at often high-end hotels and dine at exclusive restaurants, the work is fraught with immovable deadlines and pressure situations that demand quick thinking and resolution.

It is not unusual for event planners to be asked to create calm amidst potential chaos and to unswervingly appear as if chaos was never even a possibility. To succeed – in fact, to survive – in the field this capacity for composure and troubleshooting is imperative. It is, of course, not the only key skill that competent event planners bring to the table. The role also demands all of the following proficiencies:

Organizational skills
Handling logistics concerning meetings, transportation, activities, and other aspects of events calls for exceptional organizational skills.

Creativity
Coming up with inspired ideas and solutions – in consultation with the right vendors such as audio-video providers, destination management companies, and furniture and floral suppliers – calls for a creative sensibility.

Time management skills
Event planners must be comfortable prioritizing and reprioritizing multiple responsibilities over long periods of time. The job is deadline driven,

Team management and relationship-building abilities
Coordinating staff, guest speakers, entertainers, and event attendees is an integral part of the job.

Excellent verbal and written communication skills
Event planners are the liaison between multiple parties, from clients to venues to local vendors. This means that they must be able to respond to a variety of requests of needs.

Acute attention to detail
Even planning is detail planning. Identifying potential issues or problems before they occur is a significant part of an event planner's work.

Business acumen
Event planning involves soliciting bids from venues, securing quality products and services, negotiating and verifying service contracts, reviewing event bills, approving payments, and other related tasks.

Computer literacy
Fluency with project management software and spreadsheet and database software is essential for event planners.

Willingness to travel
Many events take place away from the planner's home city. In addition, scouting venues and meeting with vendors is a significant part of the job. The need to travel, therefore, is nonnegotiable.

Flexibility
In event planning, change is relatively constant. Delayed flights mean delayed attendees. The client changes his or her mind onsite. Weather necessitates that an outdoor event be moved indoors. At some level, the job of an event planner is to foresee the unforeseen and be prepared to handle it.

In conclusion, if you are looking for a 9 to 5 job, event planning is not for you. Part of the job spec may include 18-hour days (both in the days leading up to an event and during the event itself), falling into bed at 2:00 a.m. after overseeing an awards dinner, or rising at 5:00 a.m. to help set up a conference or exhibit.

This career is for individuals who are prepared to work relentlessly. And while the work may have event planners jetting across the world, they know that sometimes the only sights they will see will be the inside of a hotel. After all, their responsibility is to deliver seamless events for others, according to their clients' visions and objectives.
How long does it take to become an Event Planner?

Becoming an event planner involves a commitment to a varied education and often intense on-the-job training.

Event planners often opt to complete a two-year associate degree or a four-year Bachelor's Degree in Event Planning before they seek an entry-level event planning role.

Some may gain related experience working in a hotel or in another hospitality business before becoming an event planner.
Event Planners are also known as:
Convention Planner Conference Planner Events Manager Conference Manager Event Manager Events Planner Event Coordinator Events Coordinator