What does a Fashion Designer do?
Would you make a good Fashion Designer? Take our career test to find out how you match with this and over 800 other careers.
Take Free Career Test
Certificate or Associate's degree
What is a Fashion Designer?
Also known as: Apparel Fashion Designer, Clothing Designer, Clothing Fashion Designer, Accessory Fashion Designer.
A fashion designer is someone who loves to study fashion trends, sketch designs, select materials, and have a part in all the production aspects of their designs. They contribute to the creation of millions, if not billions of pieces of clothing and accessories purchased by consumers on a yearly basis. Fashion designers create women's, men's and children's apparel. This might include sportswear, maternity wear, outerwear, underwear, formalwear, eyewear and footwear. There are also accessory designers who design belts, scarves, hats, handbags and hosiery.
What does a Fashion Designer do?
The design process from design concept to final production takes many months. Researching current fashion trends and making predictions of future trends is the first step in creating the design. Some fashion designers do their own research while others depend on trend reports published by fashion industry trade groups. Trend reports let you know what styles, colours and fabrics will be popular for a certain season in the near future. Textile manufacturers use these trend reports to design fabrics and patterns while fashion designers begin to sketch designs. Designers then visit manufacturers or trade shows to get samples of fabrics and figure out which fabrics to use with which designs.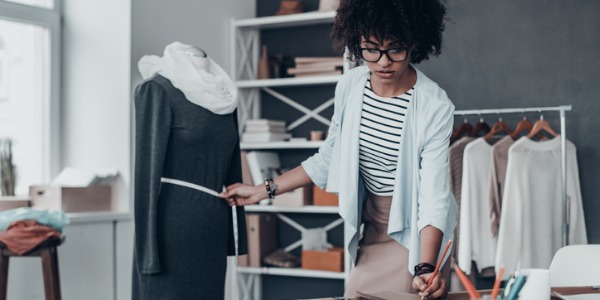 A fashion designer takes part in just about every aspect of bringing fashion to the public. Creating the basic design can be done in different ways. It can involve storyboards with sketches, to working with a dummy and sewing pieces of material together. This creating phase is when the designer takes his/her vision that's swirling in the mind's eye and puts it into a visual expression. This first draft of the design is then worked on as the designer develops the first basic prototype.
Computer-aided design (CAD) is being used more and more in the fashion design industry. Although most designers initially sketch designs by hand, a growing number take these hand sketches and put them on the computer. CAD allows designers to look at designs of clothing on virtual models, in many colours and shapes, therefore saving time by needing fewer adjustments later.
The fashion designer's next step is to take the rough sketch or model and develop a more specific working pattern. Usually, the designer will make a rough model of the design by creating a toile. This is made by sewing inexpensive material (like muslin) to make a rough model of the design. When this is placed on a mannequin-like dress stand, the designer can see how the material will drape or hang on a human form.
Large design houses hire their own pattern-makers, tailors, and sewers who create the master patterns and sew the prototypes. Designers working in small design firms, or those new to the business, usually do most of the technical pattern-making and sewing tasks, in addition to designing the clothing. When the garment is complete, the designer will either modify, scrap or approve the design for showing in a collection.
A fashion designer usually has full control of a fashion show, often picking the models, determining the price of each garment, and arranging how the garments will be presented. Most designers have assistants to help with all the many small details, but overall, the designer retains full control.
Find your perfect career
Would you make a good fashion designer? CareerExplorer's free assessment reveals how compatible you are with a career across 5 dimensions!
Take the free career test
What is the workplace of a Fashion Designer like?
A fashion designer that works for wholesalers or manufacturers creates designs for the world market. These designs are manufactured in various sizes, colours and materials. A small number of high-fashion (haute couture) designers are self-employed. They create custom designs for individual clients, usually at very high prices. Other high-fashion designers sell their designs in their own stores or cater to specialty stores or high-end fashion department stores. These designers create a mixture of original garments and also established fashion trends. Fashion designers employed by manufacturing establishments, wholesalers, or design firms generally work regular hours in well-lighted and comfortable settings.
Some fashion designers specialize in costume design for the performing arts, movies, and television productions. The work of costume designers is similar to other fashion designers, except they must extensively research the styles worn during the period in which the performance takes place. They may also work with directors to select and create certain attire. Costume fashion designers make sketches of designs, select fabric and other materials, and oversee the production of the costumes. They also must stay within the costume budget.
Designers who freelance usually work on a contractual basis, or by the job. They often have to adjust their workday to suit their clients' schedules and deadlines, meeting with the clients during evenings or weekends. Freelance designers tend to work longer hours and in smaller environments and are under constant pressure to please clients and to find new ones in order to have a steady income. Regardless of their work setting, all fashion designers occasionally work long hours to meet deadlines or get ready for fashion shows.
The nature of the fashion business requires consistent communication with suppliers, manufacturers, and customers all over North America and the world. Many fashion designers travel several times a year to trade and fashion shows to learn about the latest fashion trends. Designers may also travel frequently to meet with fabric and material suppliers and manufacturers.
Jobs
| Title | Company | Location | Info |
| --- | --- | --- | --- |
Collections With This Career
Finding a job that allows creative individuals to be creative and make money at the same time can make all the difference in their lives. Read More

ISFJ individuals have excellent analytical abilities, great people skills, and healthy social relationships. They are meticulous to the point of perfectionism, and consistently strive to make others happy. Read More

ESFPs love people and new experiences. They are lively and fun, enjoy being the centre of attention, and relish excitement and drama in their lives. Read More

Discover careers for people who are interested in Creative Arts. Read More

Discover careers for people who are interested in Beauty & Style. Read More

Discover careers that are good for people who like Management of Personnel Resources. Read More

A collection of careers that require innovation and creativity in order to be successful at. Read More

These careers require a high level of Attention to Detail. Read More

A collection of careers perfectly suited to artistic and creative people. Read More

Discover careers for people who need Independence. Read More

Creative careers are hot in today's knowledge economy. This list of high paying jobs will get the juices flowing. Read More

ISFPs have a strong aesthetic sense and seek out the beauty in their surroundings. They are artistic, and express themselves through action rather than words. Read More
Find your perfect career
Would you make a good fashion designer? CareerExplorer's free assessment reveals how compatible you are with a career across 5 dimensions!
Take the free career test
Certificate or Associate's degree
Find your perfect career
Would you make a good fashion designer? CareerExplorer's free assessment reveals how compatible you are with a career across 5 dimensions!
Take the Free Career Test