What is a Film Director?
A film director is a key creative figure in the filmmaking process, responsible for guiding and overseeing the artistic and technical elements of a movie. Directors play a central role in translating the screenplay into a visual narrative, making important decisions about the film's style, tone, pacing, and overall artistic vision. They work closely with the production team, including cinematographers, actors, editors, and production designers, to bring the script to life on screen.
Film directors provide direction and motivation to the actors, ensuring that performances align with the characters and story they want to convey. They also collaborate with the cinematographer to determine camera angles, lighting, and visual composition, shaping the film's visual language. Additionally, directors work closely with the editor during post-production, making decisions about the final cut of the film to create a cohesive and engaging cinematic experience.
What does a Film Director do?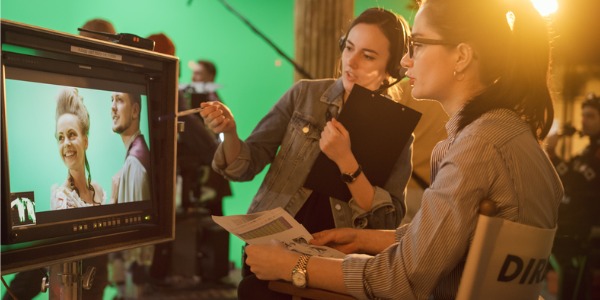 Film directors are multifaceted professionals who blend artistic vision, technical expertise, and leadership skills to oversee all aspects of filmmaking, from pre-production planning to post-production editing, ensuring the creation of a cohesive and impactful cinematic experience.
Duties and Responsibilities
Here are the key duties and responsibilities of a film director:
Interpreting the Script: Directors thoroughly analyze the screenplay, understanding the story's themes, characters, and overall tone. They develop a vision for how the story will be visually and emotionally conveyed on screen.
Casting: Directors work closely with casting directors to select actors for the film. They conduct auditions, make casting decisions, and provide guidance to actors to achieve the desired performances.
Rehearsing and Directing Actors: Directors guide actors during rehearsals and on set, helping them understand their characters and motivations. They provide feedback, direction, and support to elicit authentic and compelling performances.
Collaborating with the Crew: Directors collaborate with various departments, including cinematography, production design, costume, and sound. They communicate their vision to the crew members, ensuring that everyone works cohesively to achieve the desired visual and auditory elements.
Shot Composition and Blocking: Directors work closely with cinematographers to plan the framing, composition, and movement of each shot. They decide on camera angles, movements, and blocking (actors' positions and movements within the frame) to visually tell the story.
Decision-Making During Production: Directors make real-time decisions on set, including adjusting performances, altering scenes, and addressing technical challenges. They must stay adaptable and decisive to keep the production on track.
Post-Production Involvement: While film editing is primarily the editor's domain, directors play a significant role in the editing process. They review the footage, provide feedback to the editor, and collaborate on the final cut to ensure the film aligns with their vision.
Sound and Music Direction: Directors work with sound designers and composers to create the film's auditory atmosphere. They provide guidance on the use of music, sound effects, and dialogue to enhance emotional impact and storytelling.
Ensuring Continuity: Directors are responsible for maintaining continuity in scenes, ensuring that details like actors' positions, props, and lighting remain consistent throughout the film.
Leadership and Communication: Directors must effectively lead the cast and crew, fostering a collaborative and creative working environment. Clear communication and motivational skills are essential to inspire and guide the team toward the common goal of bringing the story to life.
Promotion and Public Relations: After the film is completed, directors often participate in promotional activities, interviews, and film festivals to promote their work and engage with the audience.
Types of Film Directors
Film directors can be categorized into various types based on their directing styles, genres they specialize in, and their approaches to storytelling. Here are some common types of film directors:
Auteur Directors: Auteurs are directors who imprint their distinctive style and thematic elements across their body of work. They often have a strong creative vision and are deeply involved in the writing, directing, and editing processes, ensuring their films reflect their unique artistic sensibilities. Examples include Quentin Tarantino and Wes Anderson.
Genre Directors: These directors specialize in specific film genres, such as horror, science fiction, comedy, or romance. They excel in understanding and manipulating the conventions and expectations of their chosen genre. For instance, James Wan is known for horror films like "The Conjuring" series.
Commercial Directors: Commercial directors focus on creating films with broad appeal to a wide audience. They often work in popular genres like action, adventure, or family films and aim to achieve commercial success at the box office. Directors like Steven Spielberg and Christopher Nolan fall into this category.
Independent Directors: Independent directors work outside the major studio system, often with smaller budgets. They are known for their artistic and unconventional approaches to storytelling. Independent directors are typically driven by creative freedom and a desire to explore unique narratives. Examples include Richard Linklater and Sofia Coppola.
Documentary Directors: Documentary directors specialize in non-fiction filmmaking, creating films based on real-life events, people, and issues. They often conduct extensive research and interviews to present factual and informative content in a compelling and engaging manner. Documentarians like Errol Morris and Alex Gibney are well-known in this category.
Experimental and Avant-Garde Directors: These directors focus on pushing the boundaries of traditional filmmaking. They often experiment with unconventional narrative structures, visual styles, and storytelling techniques. Experimental directors challenge the audience's perception of cinema and provoke thought and emotion. Stan Brakhage and Maya Deren are notable figures in experimental filmmaking.
Action Directors: Action directors specialize in creating high-energy, visually dynamic action sequences. They excel in choreographing stunts, fight scenes, and special effects, often in genres like action, thriller, or superhero films. Directors like Michael Bay and Zack Snyder are known for their expertise in action filmmaking.
Animation Directors: Animation directors oversee the creation of animated films, including traditional hand-drawn animation, computer-generated imagery (CGI), and stop-motion animation. They work closely with animators and artists to bring characters and worlds to life. Directors like Hayao Miyazaki and Pixar's Pete Docter are renowned in the animation industry.
What is the workplace of a Film Director like?
The workplace of a film director is incredibly dynamic and diverse, evolving throughout the various stages of filmmaking. During pre-production, directors primarily work in production offices and studio spaces. In these environments, they collaborate closely with producers, screenwriters, production designers, and other key crew members. Pre-production is a time of intense creativity and planning, involving script discussions, casting sessions, storyboard development, and location scouting. Directors often hold meetings with department heads to communicate their vision, ensuring everyone is aligned before the cameras start rolling.
Once production begins, the director's workplace shifts to film sets and on-location shoots. This is where their vision starts coming to life. Film sets are bustling with activity, filled with actors, crew members, and various technical equipment. The director oversees every aspect of the shoot, making real-time decisions about performances, camera angles, lighting, and sound. They work closely with actors, providing guidance and direction to achieve the desired emotional depth and authenticity in the characters. Set environments can vary widely, from purpose-built sound stages to outdoor locations, each presenting unique challenges that directors must navigate.
Post-production, the final phase of filmmaking, sees directors working in editing suites and sound studios. Here, they collaborate closely with film editors, sound designers, composers, and visual effects artists. Directors review footage, offer feedback, and make crucial decisions about the film's pacing, visual effects, and sound design. This phase demands meticulous attention to detail as directors work tirelessly to achieve their artistic vision. Post-production offices are equipped with editing software, screening rooms, and sound mixing consoles, providing directors with the tools they need to refine the film until it meets their creative standards.
Apart from these physical locations, the workplace of a film director also extends to film festivals, premieres, and promotional events. Attending film festivals allows directors to showcase their work, engage with audiences, and network with industry professionals. Premieres and promotional events involve red carpet appearances, press interviews, and interactions with fans and critics, offering opportunities to promote the film and connect with the audience.
Additionally, the director's workplace includes creative spaces such as writing rooms and brainstorming sessions where they collaborate with screenwriters and fellow filmmakers to develop new ideas and projects. Overall, the workplace of a film director is incredibly diverse, ranging from collaborative studio environments to the creative chaos of film sets and the precision of post-production suites, all contributing to the process of bringing cinematic visions to life.
Frequently Asked Questions
Filmmaker vs Film Director vs Film Producer

In the intricate world of filmmaking, numerous roles converge to create a cinematic masterpiece. Among these, the roles of filmmaker, film director, and film producer stand out as essential pillars shaping the entire process. Understanding the distinctions between these roles is pivotal for anyone aspiring to enter the film industry or simply curious about the collaborative artistry behind the movies we enjoy.

Filmmaker: A filmmaker is a broad term that encompasses anyone involved in making films. It includes directors, producers, screenwriters, cinematographers, and editors. Filmmakers are the creative minds behind the storytelling process, collaborating to bring scripts to life visually and emotionally on the screen.

Film Director: A film director is a specific role within filmmaking responsible for guiding the creative aspects of a film. Directors are like the captains of a ship, overseeing the entire filmmaking process. They interpret the script, visualize the story, work with actors to elicit performances, collaborate with cinematographers on visual style, guide the editing process, and make numerous creative decisions. Directors have a significant impact on the artistic direction and overall tone of the film. They work closely with all departments to ensure the cohesive realization of the screenplay into a visual narrative.

Film Producer: Film producers are responsible for the business and logistical aspects of filmmaking. Producers secure funding for the film, assemble the production team (including hiring the director), manage budgets, oversee schedules, coordinate logistics, and handle the marketing and distribution of the finished film. Producers play a crucial role in ensuring the film is completed within budget and on time. They collaborate with directors and other creative personnel but primarily focus on the practical and financial aspects, ensuring the smooth functioning of the production process.

While filmmakers, directors, and producers have distinct roles, successful filmmaking relies on effective collaboration and communication among all these professionals. Each role contributes unique skills and expertise, ensuring a harmonious blend of creativity and practicality in the filmmaking process.
Film Directors are also known as:
Director