What is an Interior Designer?
Are you creative, detail oriented, and love to problem solve? You may want to consider a career as an interior designer!
An interior designer works with clients to create aesthetically pleasing rooms and spaces. Clients range from homeowners to large corporations, and the spaces designed are equally varied, ranging from simple indoor and outdoor home environments to hotel lobbies and lavish mansions.
Regardless of the project, every interior designer works to create spaces that are attractive, functional, and safe while meeting the specific needs of the client.
Get online training through our partner:
What does an Interior Designer do?
Interior designers work to create spaces that are attractive, functional, and safe while meeting the specific needs of each client.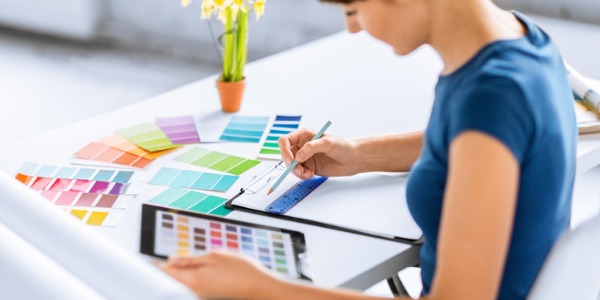 Through the use of furniture placement, colour palettes, decorations, and functional decor, interior designers can create a variety of spaces — from living rooms that are beautiful yet functional, to offices that people want and love to work in. Elements such as artwork, lighting, window treatments and flooring must work together to contribute to an overall look that will satisfy a client's needs.
There are a variety of areas that interior designers can specialize in:
Corporate Design
Corporate designers create a combination of practical and professional workplaces, and also try to incorporate elements of a company's brand within their design. They work in a variety of settings, from very small offices and start-ups, to very large corporate buildings. Regardless of the size and scope of the project, their main focus is on creating a space that is efficient and functional.
Corporate designers also work to create spaces, especially work environments, that contribute to good health and posture for employees confined to offices for most of the day. The placement of computers, computer desks, and computer chairs are often the focus, as many people use these items for extended periods of time. People using them may suffer unnecessary fatigue, stress, and even injury if the wrong products are used or if they are improperly adjusted or placed. Designers will consider the job (activity) being done, the demands on the user, the equipment being used (its size, shape, and how appropriate it is for the task), and then design the space with those elements in mind.
Healthcare Design
Healthcare designers plan and renovate physician's offices, dental offices, hospitals, healthcare centres, clinics, and residential care facilities. These types of designers specialize in evidence-based design -- evidence-based design was first defined as "the deliberate attempt to base design decisions on the best available research evidence" and that "an evidence-based designer, together with an informed client, makes decisions based on the best available information from research and project evaluations".
Having this data and research already available helps interior designers plan positive and welcoming spaces for patients, residents, and facilities.
Kitchen and Bath Design
Kitchen and bath designers discuss all aspects of creating, remodelling, or updating the kitchen and bathroom area of a client's home. They have expert knowledge of cabinets, fixtures, appliances, plumbing, building materials, and electrical solutions for these specific rooms. Themes, colours, patterns, and room layout is discussed with the client, which will result in sketches and drawings based on those discussions. Once a project has started, it is the responsibility of the designer to keep all expenses within the client's budget.
Sustainable Design
Sustainable designers often obtain certification in Leadership in Energy and Environmental Design (LEED) from the U.S. Green Building Council. This type of certification shows clients expertise in designing buildings and spaces with sustainable practices in mind.
A sustainable designer's main focus is to use products that are sustainable and have low environmental impact, to reduce energy consumption and waste, to improve indoor air quality, to improve energy and water efficiency, and to design with efficient use of space in mind. Sustainable design projects are also focused on balancing aesthetics and functionality with choices that reduce environmental impact.
Universal Design
Universal designers renovate spaces and existing environments in order to make them more accessible. The term "universal design" was coined by the architect Ronald Mace to describe the concept of designing all products and the built environment to be aesthetic and usable to the greatest extent possible by everyone, regardless of their age, ability, or status in life. Selwyn Goldsmith, author of Designing for the Disabled (1963) and pioneer of the concept of free access for people with disabilities, created the dropped curb – now a standard feature of the built environment.
These types of designs are mainly used to create functional areas for the elderly and for people with special needs. Entryways with no steps, or low-floor transit buses that "kneel" (bring their front end to ground level) or are equipped with ramps help those that have difficulty boarding a bus. These universal designs are not only beneficial for the elderly or for special needs people, but for many others as well (such as someone pushing a baby stroller).
An interior designer's responsibilities can include the following:
Advertising for new projects
Bidding on new projects
Sitting with clients to pinpoint project goals
Visualizing how spaces will be used
Sketching design plans
Picking materials and furnishings
Placing orders for materials and furnishings
Creating project timelines
Estimating project costs
Overseeing project construction and installation
Coordinating with contractors regarding plans and specifications
Coordinating with electricians, painters, plumbers, and other professionals
Ensuring client is satisfied after the project is complete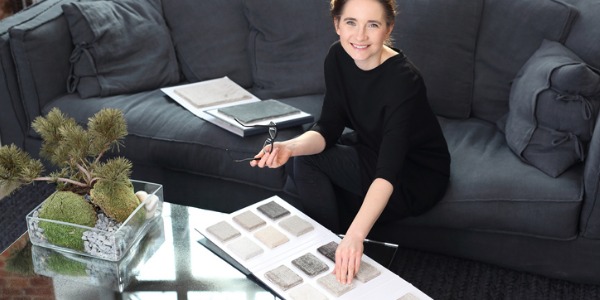 What is the workplace of an Interior Designer like?
Interior designers can be independent contractors who need to build a client base, or can work for an established design firm. In either case, they need to build a positive reputation in the industry in order to secure future work.
Interior designers need to have flexible work hours and varied work environments. Schedules are often tailored to their client's needs, and designers often travel to their client's home or business to discuss plans for the design. After an initial consultation and a few strategizing sessions, designers visit shops to purchase furniture, artwork, and supplies for creating the desired look and function.
Many interior designers rent or own office space, with meeting rooms for client and design team interaction as well as a reception area, office, and design area for creating interior elements. While not necessary for an independent designer, an office gives clients the impression of a professional service. A positive impression can contribute to the overall success in the design business.
Frequently Asked Questions
What is the difference between an interior designer and an interior decorator?

We often hear the careers 'interior designer' and 'interior decorator' used interchangeably, and admittedly there are a few similarities between the two. However, there are also more than a few differences, and some of those differences are fairly significant.

Interior Designer
Whether designing a home or a business, an interior designer needs to be able to tap into and understand a client's needs and wants in order to create a beautiful yet functional space. An interior designer doesn't just enhance the look of a space; they also enhance the function of it. Interior designers often work closely with architects and contractors to help attain the ambience and look the client is after while still adhering to code and regulatory requirements. The interior design process follows a specific and systematic methodology which includes research, analysis, technicality, and creativity. Additionally, having knowledge of and applying the principles of environmental sustainability has become more and more essential in this line of work.

In order to be an interior designer, an individual has to go through specific schooling and formal training. Here is a summary of the Associate's and Bachelor's Degree programs in interior design:

Two-year Associate Degree Programs
The first year of associate level programs generally covers the fundamentals of design and basic skills in both hand drawing and digital drawing. The focus of the second year is typically on more specialized topics such as architectural lighting, colour theory, furniture history, and introductory business and marketing concepts. Students who earn an Associate of Applied Science Degree can generally enter the field in an assistant role. An Associate of Arts Degree prepares students to continue their interior design education. This degree is often pursued by students who intend to continue their education in architecture or industrial design.

Four-year Bachelor's Degrees
These programs comprise of courses that address the aesthetic, technical, and business skills required of the well-rounded interior designer. Students are immersed in several topics: drafting, design, 3-D imaging, space planning, project management, marketing, sales, and business development.

Note: Several U.S. states and jurisdictions and seven Canadian provinces have laws that require professional designers to hold an interior design license. To qualify for licensure, candidates must pass the National Council for Interior Design Qualification (NCIDQ) exam. The NCIDQ is the most recognized interior designer credential. Even after getting licensed, many interior designers often apprentice with a well-established and experienced interior designer before moving on and starting their own company.

Interior Decorator
An interior decorator is able to create an aesthetic environment for interior spaces by adding furniture and accessories. The National Council for Interior Design Qualifications, NCIDQ, states, "Decoration is the furnishing or adorning of a space with fashionable or beautiful things."

Interior decorators can take a look at an empty room and 'see' how it can be accessorized with furniture, paint, artwork, etc. They work with their client and agree on a style that would look best for the space. Existing spaces can be updated or redone completely. They often enlist the help of upholsterers, furniture refinishers, and sewers to make their vision come to life.

In order to practice professionally, an interior decorator does not need a license and is not required to have any formal training or schooling. Therefore, they are not permitted to design, as only licensed interior designers having a license are permitted to do so. An easy way to remember this is that interior designers can both design and decorate, but interior decorators can only decorate.

Even though no education is required to practice as an interior decorator, there are courses, programs, and certifications available for those who want to expand their horizons and learn the latest in colour and fabric choices, furniture styles, space planning, and room layouts. Certifications from organizations like C.I.D. (Certified Interior Decorators International) offer coursework and certification to help decorators validate their practices.
What is the difference between an interior designer and an architect?

Both interior designers and architects have specific skills they use to develop design plans for their clients. However, they perform markedly different design functions.

Interior Designer
Interior designers use their artistic abilities to reconfigure and decorate interior spaces, and work with their clients (homeowners, business owners, etc.) to create something aesthetically pleasing and functional. Whether designing a home or a business, an interior designer needs to be able to tap into and understand a client's needs and wants. Spaces can range from indoor and outdoor home environments to restaurants, gyms, dental offices, hotels, and spas. No matter the shape or size, every interior designer works with the end goal of creating a space that is attractive, practical, and safe.

An interior designer will meet with a potential client to discuss the scope of the project, and prepare a design proposal. The design proposal needs to fit the budget and needs of the client, and more often than not, modifications need to be made along the way in order to keep to budget. The interior designer will also secure any materials that are needed for the project. Designers often work closely with architects and contractors to help attain the ambience and look the client is after while still adhering to code and regulatory requirements.

Education: Most design firms require designers to hold at least an undergraduate degree accredited by the Council for Interior Design Accreditation. Those that earn an Associate of Applied Science Degree can generally enter the field in an assistant role. An Associate of Arts Degree prepares students to continue their interior design education and is often pursued by students who intend to further pursue education in architecture or industrial design.

Architect
An architect is specifically trained and licensed to work on the planning and design of buildings. These buildings can be anything where people live, eat, work and play - from something as small as an addition to someone's home, to a new hotel on the Las Vegas strip. The role of an architect is to bring together the creative ideas and visions of their client and to keep in mind the needs of those that will be using the new space. Architects often work closely with interior designers to help attain the ambience and look that the client is after while still adhering to code and regulatory requirements.

An architect's role involves a great deal of technical knowledge and responsibility. There is a need to comply with building and safety regulations, local planning regulations and restrictions. Depending on the project, there may be laws surrounding the preservation of the local environment or any historic parts of a building. Once the project reaches the construction stage, the architect will be involved in site visits and meetings, overseeing the construction and signing off on various pieces of work, negotiating with contractors and dealing with and resolving any problems that may arise.

Education: Architects need to complete a bachelor's degree program (B.Arch) that is accredited by the National Architectural Accrediting Board (NAAB). A Master of Architecture (M.Arch) is open to applicants who have earned a B.Arch degree and want to specialize in historic preservation, design theory, solar design, or another related field.
Are Interior Designers happy?

Interior Designers rank highly among careers. Overall they rank in the 72nd percentile of careers for satisfaction scores. Please note that this number is derived from the data we have collected from our Sokanu members only.

It is widely believed that organized and beautifully designed spaces increase physical and mental wellbeing and make people happier. It follows, therefore, that the practitioners who create such spaces – the designers – would themselves feel fulfilled and happy.
What are Interior Designers like?

Based on our pool of users, Interior Designers tend to be predominately artistic people. Their professional objective is to use their artistic vision to create healthy and aesthetically pleasing environments.
Should I become an Interior Designer?

Before choosing to work in interior design, it is important to understand some facts about the career:

There is a difference between decorators and designers
And the primary difference is education. The fact is that anyone who likes to work with space, color, and fabric can become a decorator by promoting themselves to potential customers. Interior designers, though, must have an accredited education.

You must have a knack for design
The technical aspects of interior design work can be learned. But there is, undeniably, a knack factor that is part of this profession. You really need to have an innate flair for scale, proportion, perspective, balance, color and undertones, textiles, and architecture. This is probably why it is often said that great designers are born, not made.

There is more to interior design than fabric and fun
Working with a vast array of fabrics, colors, and furniture styles sounds like a lot of fun. And it is. But there is so much more to being an interior designer. These professionals need to be educated in the history of design, the structure of buildings, local building codes and laws, ergonomics, spatial concepts, and ethics. They need to be comfortable with multitasking and working closely with homeowners, builders and contractors, architects, government agencies, and business owners.

You have a love of organization
Organization goes hand in hand with intelligent design. It is often the difference between an appealing space and an unappealing one. And on the administrative side of the business, dealing with multiple clients, plans, projects, and budgets demands an orderly and organized approach.

A successful interior designer is…
… a people pleaser, a psychologist, a mitigator, and a mind reader. People are very finicky about their homes. Some know what they want. Some do not. Others think they know what they want, but do not. It is the interior designer's job to balance client styles and desires with professional advice to ensure a favorable result. This is not an easy task.

Leading should come naturally to you Essentially, interior designers are project managers. This role often calls for firm leadership skills when communicating with contractors and crews, and even with clients.

A portfolio is pivotal
Everyone is familiar with the saying, A picture is worth a thousand words. This is particularly true in in the interior design field. Colors are meant to be seen. Fabrics are meant to be touched. Talking about them, even with great knowledge and familiarity, is not enough. An eye-catching portfolio that showcases your designs and projects is an absolute must. Recent graduates new to the job market, therefore, may find that it is necessary to initially do some pro bono work or offer their services at a reduced rate in order to launch their portfolios. For established designers, an outstanding portfolio is key to thriving in an industry in which competition is fierce.
How long does it take to become an Interior Designer?

The path to becoming an interior designer often starts with an early interest in design, followed by formal training in the field, professional qualification, and continuing education.

There are three possible education tracks to becoming an interior designer:

• Certificate – one year or less
• Associate Degree – two years
• Bachelor's Degree – four years

Typically, employers seek out job candidates with a degree.
Interior Designers are also known as:
Interior Design Coordinator Interior Design Consultant Interior Design Director Professional Interior Designer Interior Design Professional