CareerExplorer's step-by-step guide on how to become a jeweler.
Step 1
Is becoming a jeweler right for me?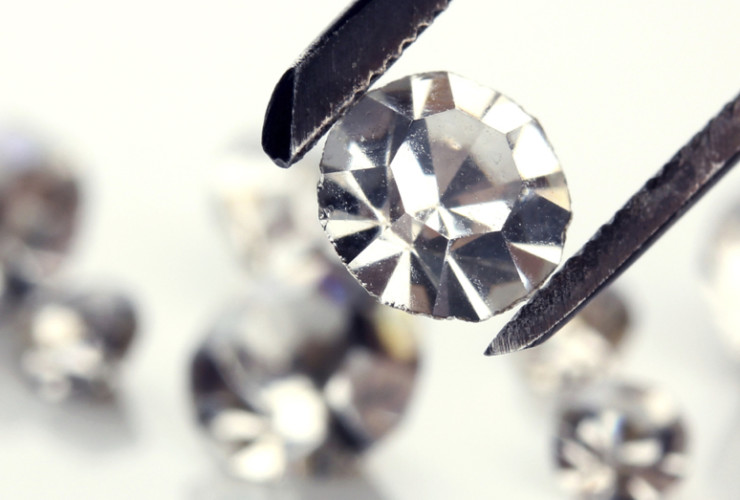 Step 2
High School
Jewelers typically need at least a high school diploma or equivalent GED to get started in the industry. Universities, art institutes, and trade schools that offer related programs generally require that their students have successfully completed secondary school. And, of course, a high-school diploma is a definite plus when applying for an entry-level position in the field.
Recommended high school subject for prospective jewelers are visual arts and mathematics, as well as English and communications.
Step 3
Education and/or Apprenticeship
While an apprenticeship or on-the-job training can sometimes be an alternative to formal education, the most common route to becoming a jeweler today involves a combination of both.
Jewelry making programs at technical or vocational schools teach the basic skills of polishing, stone setting, enameling, laser welding, casting, crafting, and repairing jewelry. These curricula provide sufficient training to prepare graduates to enter the field as bench jewelers.
Many vocational programs include instruction in computer-aided design (CAD), which is increasingly used in the modern era of jewelry making. CAD courses are very often taken as elective courses as part of Bachelor's Degree programs in Fine Arts. Aspiring jewelers enrolled in a Bachelor's program and who plan to run their own business will commonly add business courses to their curriculum, in preparation for branding, marketing, and selling their designs and creations.
For a directory of jewelry schools, visit the Jewelers of America website. The site lists recommended schools based on the following categories of interest:
• Antique Jewelry and Jewelry Appreciation
• Appraisal
• Arts and Crafts Classes and Beadwork
• Gemology
• Management, Sales, and Marketing
• Manufacturing: Diamond Cutting and Lapidary Arts
• Manufacturing: Jewelry Fabrication and Repair
• Watch Repair and Watchmaking
Step 4
Employment
Most bench jewelers find work at jewelry manufacturing plants, retailers, repair shops, or exclusive jewelry stores.
For jewelers who wish to design their own pieces and operate their own business, here are some guidelines and recommendations:
Become a graduate Gemologist, to thoroughly understand precious stones
The best way to accomplish this is through the Gemological Institute of America (GIA). The program will give you a strong basic knowledge of any gemstone that you will use as a distinctive feature in your own unique designs.
Study the Masters, to understand what makes fine jewelry
The finest jewelers learn the details of the quality of the workmanship used in the 1920s and the 1950s by famous American and French jewelry houses. They study the construction of signed pieces, the shape of holes, the smoothness of the surfaces, the cleanliness of lines, the softness of hinges, and the comfort of the fit.
The best way to study these details and get an understanding of the pricing of gemstones is to follow the major auction houses: Christie's and Sotheby's.
Participate in gem and jewelry shows
These are the three premier annual trade shows for the jewelry industry:
• The GJX (Gem and Jewelry Exposition)
• The AGTA (American Gem Trade Association)
• The JCK (Jewelers Circular Keystone)
Create a cohesive collection to present to retailers
Professional jewelers recommend that any brand new collection should be made initially of the following items:
• Four necklaces
• 10 pairs of earrings
• Five rings
• Two bracelets
• Two bangles
Assign retail prices that are appropriate for the market you are targeting
To position your retail prices correctly, it is important to research the retail prices of other comparable collections within your target market. With this knowledge, you will be able to determine your target costs, which you will use to obtain quotes from manufacturers.
Find a reasonable manufacturer to support your production
A manufacturer who is genuinely excited to work with you and who understands that they may at times have to provide quick alterations is vital to your business. Even if you are certain that your chosen manufacturer is trustworthy, be sure to have them sign a non-disclosure agreement (NDA. By signing this agreement, they commit not to disclose information about your designs to third parties.
Get your collection photographed by a professional
High-quality photographs of your jewelry collection are fundamental. They serve insurance purposes, in case of theft. Retailers can sell your collection anywhere in the world by sending photos of your pieces to their customers. Visitors to your website can clearly see various views of your creations.
Invest in a professional website
This is a necessary investment if you are serious about presenting your product to the world. Tailor your website to the image you want to project. Update the site frequently, with new pictures and new written content. Never stop looking for new ways to improve the customer experience. Always be transparent. Implement a generous return policy.
Create a wish list of retailers to feature your collection
Creating such a list is the easy part. The hard part is getting your work in the retail stores you want to be in. The process takes perseverance, determination, and of course, unwavering belief in your designs.
Step 5
Certification (recommended / optional)
Step 6
Continuing Education
The jewelry industry, like many others, has several organizations and associations that offer continuing education opportunities to bench jewelers, as well as to sales personnel and managers in the field:
Gemological Institute of America
Frequently Asked Questions
What are Jewelers like?
Based on our pool of users, jewelers tend to be predominately artistic people. As long as jewelers are imaginative, creative, and artistic, jewelry will remain a marketable product that consumers will seek to own.
Should I become a Jeweler?
You will be better equipped to answer this question if you first consider the following skills and abilities that jewelers typically possess:
An eye for detail
Designing, creating, appraising, repairing, and cleaning jewelry all require concentration and patience. The occupation calls for constant attention to detail.
Hand-eye coordination / Arm and hand steadiness and control / Manual dexterity
The work of jewelers is precise. It demands that they move their hands and fingers accurately and exactly to grasp, manipulate, and assemble very small pieces.
3-D visualization skills
The ability to imagine how a piece of jewelry might look once it is created or after its shape is altered or its parts are rearranged is invaluable to jewelers. It allows them to envisage a design in three dimensions.
Artistic ability and a knowledge of popular jewelry styles These characteristics are important for jewelers who will be working with customers, analyzing needs and product requirements to create a design. Many bench jewelers, however, are not designers and simply execute designs conceived by others.
Interpersonal skills
Some jewelry makers do not have direct contact with customers, particularly if they work for a design or retail firm that hires designers and sales associates for this role. However, considering the growth in popularity of customized pieces of jewelry, communication and interpersonal skills are becoming increasingly valued among jewelers, who are likely going to need to interact with both designers and customers to understand how they envision a custom design.
A strong sense of integrity and honesty Jewelers are often entrusted with pieces of jewelry that are valuable either monetarily or sentimentally, or both. Trustworthiness and integrity are therefore especially important qualities in a jeweler.
Passion A passion for your product will go a long way in bringing you success in the field. If you have a genuine interest in and appreciation for jewelry, gemstones, and precious metals, your passion will be evident to employers and to clients.
Consider, as well, both the satisfying and demanding aspects of this career:
Satisfying aspects
• Creative work • Precise, detailed work • Pleasant working conditions
Demanding aspects
• Possibility of eye strain resulting from a lot of detailed work • Concentration required due to often working with tiny objects • Working alone • Sitting for long periods of time; physical and mental strain
Anyone opting for a career as a jeweler should also be prepared to work with pliers, files, saws, hammers, torches, soldering irons, and a variety of other hand tools.
Steps to becoming a Jeweler
There are several possible educational tracks to becoming a jeweler. All of them, however, start with high school and involve ongoing career-long learning.
Are Jewelers happy?
Jewelers rank as moderately happy among careers. Overall they rank in the 61st percentile of careers for satisfaction scores. Please note that this number is derived from the data we have collected from our Sokanu members only.
It has been said that genuine happiness arises in the context of our relationships with others. This might, at least partially, explain the considerable happiness quotient of jewelers. Even though many jewelers work alone, the end product they deliver has the capacity to bring great satisfaction to the customers and designers that commission their work and, by extension, to themselves as well.
How long does it take to become a Jeweler?
The length of time that it takes to become a jeweler will depend on the chosen learning track.
Aspiring jewelers able to secure an apprenticeship without any formal training may enter the field in relatively short order. Today, however, this route to the career is rare. It is more likely that employers will look for new-hires who have completed some related courses or an applicable six-month or one-year program at a vocational school or community college; or who have earned a two-year Associate's Degree from a university or art institute.
Prospective jewelers seeking a higher level of learning and those planning to operate an independent business may choose to earn a relevant four-year Bachelor's Degree. Some may even spend an additional two or three years completing a Master of Fine Arts program.
How to become a Jeweler
Traditionally, jewelers have relied on apprenticeships to learn their craft. They have learned about casting, making models, setting stones, and engraving from master jewelers willing to provide on-the-job training. Today, while it is still possible to obtain a position in the jewelry industry without formal training or background, many formal education programs are available in the field. In the current marketplace, most employers prefer candidates with some industry training or related work experience.
Some technical and vocational schools and community colleges offer curricula in jewelry design and manufacturing or related fields. Numerous Associate's Degree programs in jewelry design are offered through accredited universities and art institutes. Most programs focus on the design and creation of custom pieces, the cutting and shaping of gems and pieces of metal; as well as gemology, design history, and silversmithing.
Individuals seeking to make their way into the upper echelons of jewelry design may pursue a Bachelor of Arts, Bachelor of Fine Arts, or Master of Fine Arts degree in metalwork and jewelry design. These advanced credentials are generally more typical among entrepreneurial jewelers running their own business.
Regardless of their educational track, jewelers typically participate in ongoing training workshops and seminars to keep their skills up to date and to stay abreast of advancements in the field. No licensing is mandated in the profession, but voluntary certifications are available.
Not surprisingly, the most successful jewelers possess artistic ability, fashion sense, finger dexterity, visualization, and interpersonal skills.