What is a Landscaper?
Landscapers elevate the appearance of outdoor spaces and make them beautiful. They do this by planting flowers, plants, and shrubs; manicuring lawns; and trimming hedges so as to make residential, commercial, and public spaces more aesthetically pleasing.
Since educational requirements are not particularly strict for someone looking to break into the landscaping business, this might be a good choice for those wanting to start a career fairly quickly.
What does a Landscaper do?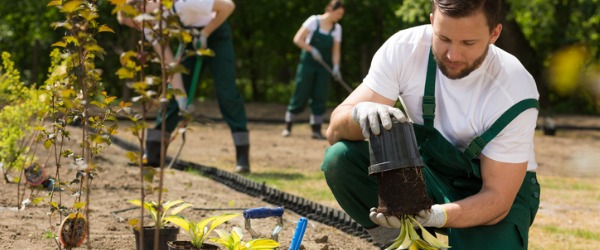 Landscapers work to improve existing garden layouts. Some choose to focus on specialized areas, such as water gardens and fountains (aquascape), lawn sprinkler systems and drains (irrigation systems), or improving designs for orchards and farms.
Large corporations have company grounds to be maintained, schools and universities have campus grounds to keep, cities and towns have public parks that need maintenance and improvements, and zoos and theme parks need landscape design solutions as well. All of these are potential clients or employers for a landscaper.
Some landscapers work on larger scale projects with landscape architects. For example, they may work off the plans and designs that a landscape architect will provide for a new golf course, or a complete makeover for a client's backyard.
On a smaller scale, many landscapers earn a living planting seasonal flowers and trimming trees and shrubs. This sort of work doesn't require much equipment or training, so it can be a good stepping stone to a career change, providing an opportunity to get one's feet wet without necessarily quitting a day job.
What is the workplace of a Landscaper like?
A bootstrapping new landscape worker might apprentice themselves to an experienced landscaper first, perhaps while taking some classes towards an eventual degree. When they're ready to move on to running their own business, one of their first purchases might be a truck and some basic equipment, and then finding a few customers to get things started.
The workplace can vary greatly. Some landscapers focus only on residential neighborhoods — planting flowers and greenery, cutting lawns, and trimming hedges. Others may prefer to work for someone else, such as the municipality, maintaining parks, schools, or other large outdoor areas that need constant maintenance.
Hours can be long, especially in the spring and summer, and might be nonexistent during the winter months when the landscaping business slows down considerably.
Landscapers are also known as:
Landscape Gardener Landscapist