What is a Lawn Care Specialist?
Lawn care specialists work for lawn care companies or for themselves. They work alone or in teams, providing all sorts of different services to private homes, governments, hospitals and corporate buildings. A lawn care specialist will mow grass, seed lawns, apply fertilizer and pest control, and trim hedges and trees. They discuss proper maintenance practices with their clients, and usually come back for follow up visits to make sure the treatments are successful.
What does a Lawn Care Specialist do?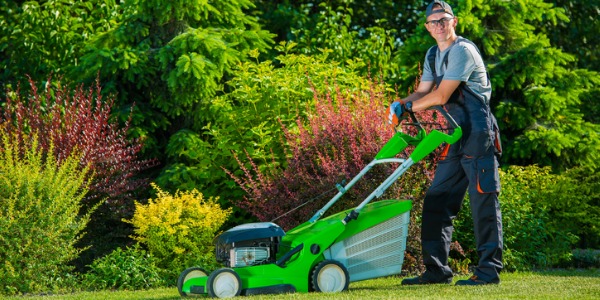 Lawn care specialists meet with clients to discuss their yard maintenance needs. They mow grass, trim hedges, bushes, maintain gardens and flowerbeds, and fertilize when needed. They might even give the homeowner tips for maintaining their yard. They also perform routine check-ups when required. A lawn care specialist might work on someone's residential property or maintain the grounds for communities. Their job is to make gardens, yards, and parks pleasing to the eye. 
Lawn care specialists handle a variety of chemicals to help stop weeds and allow lawns to flourish. They mix or apply pesticides, fungicides, herbicides, or insecticides through dusts, vapours, sprays, or soil incorporation. They can also do this for shrubs, trees, or botanical crops. 
This type of work tends to be seasonal - there is usually more work in the spring and summer months. Lawn care specialists may report to a supervisor or work for themselves, either way documenting all their procedures so that they can check on the progress later.
What is the workplace of a Lawn Care Specialist like?
Lawn care specialists spend most of their day outside. Their busiest time is in the warmer seasons and they work long hours during those seasons. This job is ideal for someone that likes working with their hands and doesn't want to work at a desk all day.
Lawn Care Specialists are also known as:
Lawn Technician Lawn Specialist