What is a Livestock Feed Sales Representative?
Livestock feed sales representatives market a manufacturer's feed products to dealers such as local feed, farm, and hardware retailers. They may also sell directly to horse farms and livestock production facilities.
Livestock feed sales representatives need to constantly educate themselves about the livestock feed industry and their company's specific product line, and aggressively seek out new prospects and develop additional sales accounts in their designated territory.
Sales reps also visit retail locations to provide training and marketing materials to the dealer's sales staff, and give ongoing customer service and support to their clients.
What does a Livestock Feed Sales Representative do?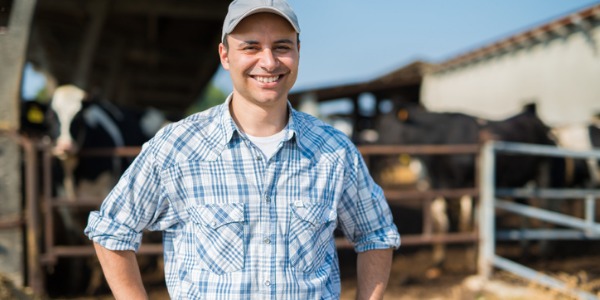 Livestock feed sales representatives sell livestock feed and nutritional products to farms, retail stores, and other businesses that either feed animals or sell animal feed. They often meet with customers, either by phone or in person, to discuss their needs on the farm and/or for their business. They may also visit retail locations and give training and marketing materials to a dealer's sales team.
Typically, livestock feed sales representatives are assigned a region or territory and take care of the customer's needs within that area. They also maintain detailed records of their sales and schedules and develop prospective client lists, schedule visits, file expense reports, develop sales presentations, and provide ongoing customer service. 
Livestock feed sales representatives are very knowledgeable about the different kinds of feeds available on the market. They work with farmers to discuss their needs and learn about any problems they are having. This way, they can find the right type of feed for each client.
There are three basic types of livestock feed:  
Compound Feed is the most common type of feed. It is a blend of various raw materials and additives that are formulated for a specific animal, and is typically produced as crumble or in the form of pellets. This compound feed either completes the nutritional requirements for an animal or is given as an additive to their existing diet. Vitamins and minerals are often added to the feed to give an extra boost of nutrition. 
Fodder is primarily used to feed domesticated livestock like sheep, horses, cattle, goats, and pigs. It is usually composed of plant matter like straw, hay, and grains. The term 'fodder' is used to describe plants that have been harvested. 
Forage is plant matter grown and harvested with the intention of being fed to animals. It is grown in a confined area and is grazed by the livestock. It can be legumes, grass, oats, corn, or other edible plants. The act of grazing on plant matter is known as foraging. 
Livestock feed sales representatives usually specialize in feed for a specific type of livestock, such as cattle, sheep, poultry, or horses. They may also target a specific segment, for example, breeding cattle. Whatever livestock they specialize in, it is the sales representative's job to provide as much information to a buyer as possible so they know exactly what type of feed is right for them.
Participation in industry trade show events or conventions is generally required, and keeps the sales representative current with any new products.
What is the workplace of a Livestock Feed Sales Representative like?
Livestock feed sales representatives generally have flexible hours, as travel is fairly significant. They need to allow enough time to meet with clients, answer any questions and make recommendations. Work is both indoors and outdoors, visiting farms and meeting with farmers. Occasionally there is evening and weekend work, to catch up with orders and paperwork.
Livestock Feed Sales Representatives are also known as:
Livestock Feed Product Representative Livestock Feed Representative