What is a Medical Administrative Assistant?
Are you interested in working within the medical field, but would prefer to have non-medical responsibilities? Are you detail-oriented and organized? You may want to consider becoming a medical administrative assistant!
Medical administrative assistants work in healthcare facilities like hospitals, doctor's offices, and rehabilitation clinics, performing various administrative and supportive duties. They are usually the first person that a patient interacts with when they arrive or call the office, thus forming an important link between a patient and healthcare practitioner.
Get online training through our partner:
What does a Medical Administrative Assistant do?
On a typical day, healthcare facilities are busy attending to the many patients who seek their services. Medical administrative assistants receive patients, assist them with filling out forms, maintain and retrieve medical files, and transcribe and type medical reports. They are the organizers behind the huge amount of data that a medical office generates every day.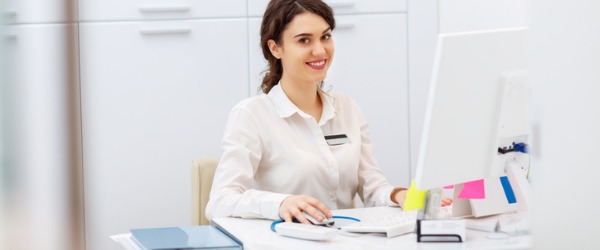 The size of the healthcare facility determines the structure of hierarchy and the specific duties that are assigned. In a smaller private clinic, for example, the medical administrative assistant may report directly to the physician. Larger establishments, on the other hand, may have a structure in which they report to the department's head and perform specific functions.
Medical administrative assistants need to have a good working knowledge of computer applications, spreadsheets, and medical software. This enables them to perform duties like updating patient information, scheduling appointments, managing the facility's database and medical records, managing the physician's schedule, and processing payments and insurance claims for the patient. Excellent verbal and written communication skills are important, which are necessary when writing and preparing reports, talking with patients (both in person and by telephone), and transcribing and typing medical reports.
To perform their duties effectively, medical administrative assistants should have excellent administrative and organizational skills, people skills, and the ability to handle patients and other members of the public skillfully. A high level of discretion to maintain confidentiality of sensitive information is a desirable attribute, along with the ability to work with minimal supervision, handle pressure, and meet deadlines.
This career offers good prospects for career progression. With advanced education and experience, one can rise to a managerial position or other senior role offering more responsibilities and rewards.
What is the workplace of a Medical Administrative Assistant like?
A career in medical administration is a good option for those who wish to work within the medical field, but in an office type setting. Institutions that hire medical administrative assistants include learning institutions, hospitals, private clinics, research institutions, pharmaceutical companies, laboratories, health insurance companies, and non-governmental agencies.
Medical administrative assistants spend a good part of their work day in the front office area where there is a lot of interaction with patients and other members of the public. They often work under a lot of pressure due to their many responsibilities and tight deadlines.
Work hours are mostly the standard nine to five, excluding weekends. There are also opportunities for part-time work. Ward administrative assistants in hospitals may sometimes be required to work on a shift system.
Medical Administrative Assistants are also known as:
Medical Secretary Medical Receptionist Patient Relations Representative Medical Office Specialist