What is a Medical Administrative Assistant?
A medical administrative assistant plays an important role in the smooth operation of medical offices, clinics, hospitals, or other healthcare settings. Medical administrative assistants provide administrative support to healthcare professionals and ensure efficient management of daily administrative tasks. Additionally, they often serve as a liaison between patients, healthcare providers, and other staff members, ensuring effective communication and a positive patient experience.
To excel in this role, medical administrative assistants need strong organizational and multitasking skills. They should have a good understanding of medical terminology, healthcare procedures, and electronic health record systems. Excellent communication and interpersonal skills are also essential to interact with patients and healthcare professionals in a professional and empathetic manner.
Get online training through our partner:
What does a Medical Administrative Assistant do?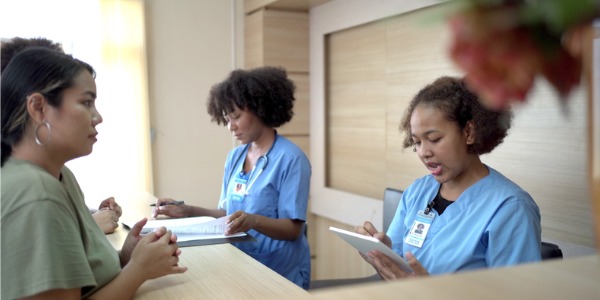 Medical administrative assistants serve as a vital point of contact for patients, providing assistance, answering inquiries, and creating a positive patient experience. Their expertise in healthcare administration is essential for maintaining organized and streamlined processes within the healthcare system.
Duties and Responsibilities
The duties and responsibilities of a medical administrative assistant can vary depending on the specific healthcare setting and the needs of the organization. However, here are some common tasks associated with this role:
Patient Management: Medical administrative assistants are responsible for managing patient records and information. They collect and update patient demographics, medical history, and insurance details. They ensure that patient files are accurately maintained and organized for easy access by healthcare providers.
Appointment Scheduling: Medical administrative assistants schedule and manage patient appointments, coordinating with healthcare providers, patients, and other staff members. They may use scheduling software or systems to manage appointment calendars, handle rescheduling requests, and send reminders to patients.
Reception and Communication: Medical administrative assistants often serve as the first point of contact for patients. They greet and check-in patients, verify their information, and provide them with necessary forms and instructions. They answer phone calls, respond to inquiries, and direct calls or messages to the appropriate healthcare professionals.
Medical Billing and Coding: Medical administrative assistants may assist with basic medical billing and coding tasks. They ensure accurate coding of diagnoses and procedures for billing purposes. They may also verify insurance coverage, prepare claims, and handle billing inquiries from patients or insurance companies.
Record Keeping and Documentation: Medical administrative assistants maintain and update patient records in electronic health record systems or paper files. They ensure confidentiality and compliance with privacy regulations when handling sensitive patient information. They may also transcribe medical reports, correspondence, and other documents as needed.
Office Management: Medical administrative assistants help with general office management tasks. This may include managing office supplies, ordering equipment or supplies, and maintaining a clean and organized workspace. They may also assist with basic accounting tasks, such as processing invoices or managing petty cash.
Communication and Coordination: Medical administrative assistants facilitate communication and coordination among healthcare providers, staff members, and patients. They may relay messages, schedule meetings or conferences, and assist with coordinating referrals or transfers of patients to other healthcare facilities.
Customer Service: Providing excellent customer service is a key responsibility of a medical administrative assistant. They ensure that patients feel welcome, comfortable, and supported during their interactions with the healthcare facility. They address patient inquiries, concerns, or complaints and strive to provide a positive patient experience.
Types of Medical Administrative Assistants
There are various types of medical administrative assistants, each specializing in different areas of healthcare administration. Here are a few common types:
Medical Billing and Coding Technician: These administrative assistants focus on medical billing and coding tasks. They have expertise in assigning appropriate codes to diagnoses and procedures, preparing and submitting insurance claims, following up on claim status, and ensuring accurate reimbursement for healthcare services.
Medical Transcriptionist: Medical transcriptionists transcribe dictations and audio recordings of healthcare professionals into written medical reports, letters, or other documentation. They have excellent listening skills and proficiency in medical terminology and documentation guidelines.
Medical Assistant: Medical assistants perform both administrative and clinical tasks in various healthcare settings. While they are trained to provide direct patient care, they also handle a range of administrative duties.
Hospital Administrative Assistant: These assistants work in hospitals and are responsible for managing administrative tasks specific to a hospital setting. They may handle patient admissions and discharges, maintain hospital records, coordinate scheduling for surgeries or procedures, and assist with billing and insurance-related tasks.
Clinic Administrative Assistant: Clinic administrative assistants work in outpatient clinics or medical practices. They handle patient appointments, manage patient records, coordinate referrals to specialists, handle insurance verification, and assist with other administrative tasks necessary for the smooth operation of the clinic.
Medical Records Assistant: Medical records assistants are responsible for managing and maintaining patient records and health information. They ensure the accuracy, confidentiality, and security of medical records, handle requests for medical records, and assist with record-keeping tasks such as data entry and organization.
Insurance Verification Specialist: These administrative assistants specialize in verifying patient insurance coverage and ensuring the accuracy of insurance information. They work closely with patients, insurance companies, and healthcare providers to confirm coverage, check pre-authorization requirements, and assist with insurance-related inquiries or issues.
Executive Medical Administrative Assistant: Executive medical administrative assistants provide high-level administrative support to executives or administrators in healthcare organizations. They handle complex scheduling, manage correspondence, coordinate meetings, prepare reports, and assist with special projects or initiatives.
What is the workplace of a Medical Administrative Assistant like?
The workplace of a medical administrative assistant can vary depending on the healthcare setting in which they are employed. One common workplace environment for medical administrative assistants is medical offices or clinics. These settings can range from small private practices to larger multi-specialty clinics. Within these offices, medical administrative assistants may have their own workstations or be stationed at a front desk, where they interact with patients, schedule appointments, manage patient records, and handle various administrative tasks. The environment in medical offices and clinics is typically fast-paced, with a steady flow of patients coming in and out throughout the day.
Another common workplace for medical administrative assistants is hospitals. In a hospital setting, they may be part of a larger administrative team, supporting various departments or specific units within the hospital. They may work in a central registration area, admissions office, or department-specific administrative areas such as the emergency department or outpatient clinics. Hospitals often have a bustling and hectic atmosphere, as they provide comprehensive medical services to a diverse range of patients.
Medical administrative assistants can also be found working in specialty practices. These settings focus on a specific area of healthcare, such as dermatology clinics, orthopedic clinics, or cardiology practices. In these environments, the administrative tasks may be tailored to the specialty. For example, a medical administrative assistant in a dental office would handle dental-specific administrative tasks in addition to general administrative duties.
Additionally, medical administrative assistants may find employment in healthcare institutions such as nursing homes, rehabilitation centers, or assisted living facilities. In these settings, their administrative duties may be centered around managing patient records, coordinating appointments, and assisting with administrative tasks related to patient care and facility operations.
Medical Administrative Assistants are also known as:
Medical Receptionist Medical Secretary