What is a Medical Assistant?
Medical assistants play a key role within medical institutions. They perform various duties and responsibilities, both clinical and administrative, as well as help the patient feel at ease by explaining any questions they may have. The duties and responsibilities vary depending on the setting.
Note: Medical assistants should not be confused with physician assistants. Physician assistants are licensed professionals trained to practice medicine and perform surgical procedures along with a physician.
Get online training through our partner:
What does a Medical Assistant do?
In a hospital setting, a medical assistant tends to the needs of the particular unit they work for. They may handle billing, fill out patient forms, and perform typical receptionist type duties. Their job responsibilities are both patient and lab-based, where they may spend time examining samples taken from patients, administering immunizations, medication or prescription refills, or performing ECG readings.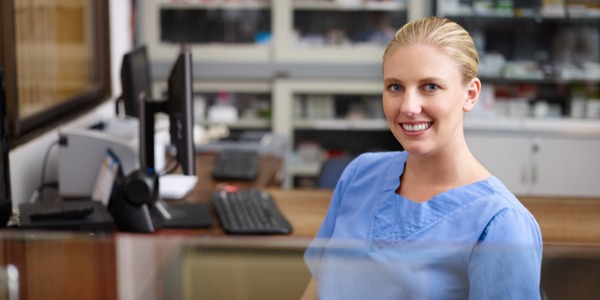 A medical assistant working in a clinic setting doesn't work for a specific unit as a hospital medical assistant would do. Therefore the work would be more comprehensive, or general. The medical assistant in a clinic would have a blend of clinical and administrative duties that range from answering telephones, greeting patients, explaining procedures and changing wound dressings. Their job is highly valued by the doctors and nurses in the clinic, as it keeps the clinic running smoothly.
A medical assistant in a private practice setting has the basic duties of an office receptionist, and the doctors will depend on the assistant to manage patient care and also keep the office running smoothly. Their duties are specific and unique to the private practice they work for. They may explain medical information to the patient, perform exams, basic tests and do the scheduling of the appointments.
A medical assistant for ambulatory care is very specific, and involves a high-pressure atmosphere. They provide support in both a clinical and clerical way, and need to rely on their training and instincts to act quickly so the emergency technicians can care for the patient in a timely and effective manner. The medical assistant is one of the first people that the patient will come in contact with, and will complete the patient forms that are needed, collect the samples and specimens necessary and perform Point of Care testing.
What is the workplace of a Medical Assistant like?
A medical assistant can work in a variety of settings, including hospitals, clinics, private practices, and ambulatory care. Most medical assistants work full time. Some work evenings or weekends to cover shifts in medical facilities that are always open.
According to the American Association of Medical Assistants, "medical assistants held about 584,970 jobs in 2014. About 60 percent were in physicians' offices, and about 15 percent were in general medical and surgical hospitals, including private and state facilities. Approximately 10 percent worked in offices of other health practitioners, such as chiropractors and podiatrists. Another 7 percent worked in outpatient care centres, while the rest worked in public and private educational services, other ambulatory health care services, state and local government agencies, medical and diagnostic laboratories, nursing care facilities, and employment services."
Frequently Asked Questions
What is the difference between a clinical medical assistant, an administrative medical assistant, and a specialized medical assistant?

A clinical medical assistant focuses on patient care and the clinical aspects of the practice. They may conduct assessments, prepare patients for medical exams, assist with exams, perform minor treatments, document medical histories, take vital signs, and instruct patients on home care.

An administrative medical assistant ensures that the business side of the practice operates smoothly. They will perform administrative tasks such as general accounting and billing, managing patient records, answering phones, making appointments, and maintaining the front desk/reception area.

A specialized medical assistant works closely with a physician(s) and serves patients in a more direct way. They typically report to an administrative manager or directly to a physician. Their tasks are dependant on their clinical specialty. Certification is required to be a specialized medical assistant, and they typically earn higher wages and have better job opportunities.
What is some good advice for medical assistant students?

It would be a good idea to speak with, or shadow, a medical assistant if possible and ask a lot of well thought-out questions before deciding to become a medical assistant.

Once you decide, make sure the school you have chosen to go to is an accredited school, and offers certification. Also, make sure that your credits are transferable. When you get out of school, get hands-on experience by working at an internal medical practice or a family practice and strive to become a well-rounded assistant.

Remember to anticipate your patient's (and physician's) needs. Keep a note pad with you at all times to help you remember things, and document everything clearly so your co-workers don't have any trouble understanding what you write on the charts.

A big part of being a good medical assistant is having empathy. Become a good listener, be caring and sensitive to people's moods. Become non-judgmental. Always be professional, and watch out for becoming too casual (it will border on disrespectful if taken too far).

Being a medical assistant is sometimes a stressful, but always a rewarding, career. There is room for growth as well, and if you decide you'd like to move up, you can look at becoming a physician assistant or a nurse.
What is it like being a medical assistant?

Much of the work is very hands-on and there's always something to do, so being able to multi-task is important. The workload can change on a daily basis, but typical activities include scheduling appointments, calling in prescriptions, helping with procedures, running tests, or taking people's vitals.

It is important to note that, as a medical assistant, an integral part of your day is interacting with patients in a respectful and professional manner. However, you will encounter various types of personalities, and some will be very challenging and stress-inducing. A patient may be dealing with an unexpected illness or diagnosis, they may be in pain, or they may be in financial distress due to medical bills. These are only some reasons patients may display unpleasant behaviour. Regardless of the reason, it is your job to try and ease the situation by keeping calm, having empathy for their situation, and offering a solution if possible.

Emotional human connection can often be stressful for the medical assistant when caring for patients that have chronic or fatal medical conditions.
What are the most common types of certified medical assistants?

Some types of certified medical assistants focus primarily on administrative responsibilities, while others are certified in clinical duties. The following are the most common types of certified medical assistants:

Certified Medical Administrative Assistant (CMAA)

Certified medical administrative assistants play a very important role in managing the front desk operations of a physician's office, hospital, or other medical facility. They make sure that the business side of the medical practice runs as smoothly and efficiently as possible, and causes minimal interruption to the working physician(s).

In larger facilities, these assistants work as part of a team, and are responsible for managing specific duties in a high-paced work environment. In smaller offices, certified medical administrative assistants may be the only ones attending the front desk, and are responsible for providing customer service, managing the phones, making appointments, checking in patients, maintaining patient records, filing insurance claims, inputting electronic medical coding, and performing general accounting and billing. It is also common for administrative assistants to schedule patient hospital admissions and laboratory tests.

Companies looking to hire new medical administrative assistants look very favourably on those who have earned some kind of certification. There are many formal programs that can prepare individuals to become certified medical administrative assistants - certification can be achieved in a traditional classroom setting or through one of the many online schools that are available. Regardless of the type of format chosen, it is very important to make sure the program is properly accredited by either the Commission on Accreditation of Allied Health Education Programs (CAAHEP) or the Accrediting Bureau of Health Education Schools (ABHES).

The curriculum will be focused on learning office functions that mix medical processes and procedures with administrative assistant skills. Courses will cover subjects like medical terminology, medical ethics, human anatomy, human physiology, medical office insurance and billing procedures, accounting, computer applications, and pharmaceutical principles. Assistants must also stay up-to-date on all regulations and policies regarding the collection, storage, and circulation of sensitive patient data.

Certified Medical Assistant (CMA)

Certified medical assistants work in physician's offices, clinics, or other healthcare facilities, and are one of the most common types of medical assistants. These medical assistants are cross-trained so as to be able to carry out clinical, clerical, and administrative duties, and are responsible for helping a medical facility run smoothly by providing support for the working physician(s).

The daily tasks of a certified medical assistant are broad and can depend upon the type of medical facility and the particular job description. During the course of a typical day, certified medical assistants may answer telephones, schedule appointments, record medical information and test results, conduct patient interviews, prep exam rooms, take and record vital signs, collect specimens, prepare patients for X-rays, change wound dressings, explain treatment plans, arrange for laboratory tests, arrange for hospital admissions, and administer medication under a physician's supervision. Prepping exam rooms may include cleaning and sterilizing instruments, and disposing of contaminated items.

While individuals can work as medical assistants without being certified, becoming certified through the American Association of Medical Assistants (AAMA) is preferred by employers. In order to be able to sit for the Certified Medical Assistant exam, one must complete a formal medical assisting program from a school that has received accreditation from either the Commission on Accreditation of Allied Health Education Programs (CAAHEP) or the Accrediting Bureau of Health Education Schools (ABHES). Certification is good for five years - recertification can be obtained through examination or by earning continuing education credits.

Curriculum focuses on learning lab techniques, medical terminology, clinical procedures, medical office procedures, ethics, patient relations, medical law, insurance processing, accounting, and record-keeping procedures.

Certified Clinical Medical Assistant (CCMA)

Certified clinical medical assistants are medical support professionals that work closely with patients, nurses, and physicians to administer basic patient care. They are recognized as some of the most multifaceted and important members of any medical practice. While certified clinical medical assistants working in smaller offices may be asked to perform some administrative duties, those working in larger medical facilities focus mainly on providing patient care and being a support system for the working physician.

Certified clinical medical assistants are mostly found working by a physician's side. Their responsibilities include: patient communication and history intake; conducting assessments, preparing patients for examinations, operations, or other procedures; assisting the physician during examinations; explaining next steps to a patient who is about to undergo a procedure; taking vital signs; performing minor treatments; instructing patients on home care; managing medical supply inventories; and ensuring that equipment, such as sterilized tools, EKG and EEG equipment are ready and available. Under the supervision of a physician, a certified clinical medical assistant may also clean and dress wounds, remove sutures, collect blood and other specimens, as well as administer medication.

Certification is available through both traditional classroom-based programs and online programs. It is important to check that the chosen program is accredited by either the Commission on Accreditation of Allied Health Education Programs (CAAHEP) or the Accrediting Bureau of Health Education Schools (ABHES). Clinical medical assistants who are certified earn a higher wage and find it easier to advance in their careers than those who don't. Curriculum will cover anatomy, physiology, medical terminology, ethics, medical law, billing, bookkeeping, and office management - and typically include a clinical practice component that provides real-world experience and offers an opportunity to practice what's learned in the classroom.
Should I become a Medical Assistant?

The varied work of a medical assistant demands a specific set of skills and abilities:

Ability to multi-task in a fast-paced, ever-changing environment – the job involves a myriad of both administrative and clinical responsibilities

Communication skills – the capacity to interact with people with ease; to listen, ask pertinent questions, and clearly convey instructions and information

Perception and attention to detail – skilled at observing and recording details; in this field, mistakes can have serious health and safety consequences

Sensitivity – the ability to recognize patient distress and discomfort and treat them with kindness and compassion

Ability to react calmly and effectively in emergency situations

Comfort with technology – depending on the setting, medical assistants use medical equipment such as autoclaves, x-ray machines, blood pressure monitors, EKG machines, and hemoglobin machines; they use different types of software for bookkeeping, billing, scheduling, and maintaining patient records

If these characteristics describe you, becoming a medical assistant may be the right decision for you. The reasons to enter the field are many:

Flexible and relatively inexpensive training options
Relatively fast entry into the job market – which is not the case for many other healthcare/medical occupations
Opportunity to interact with all kinds of people and contribute to their wellbeing
Dynamic and varied work environment
A potential launching pad into other medical careers
Job security – according to the U.S. Bureau of Labor Statistics, this is an in-demand and fast growing occupation
Solid rate of pay
Most medical assistants receive health insurance through their employers
A 9-to-5 work day is possible – something which is not available to many other practitioners in the medical field
Less stressful than many other medical roles
Opportunities to work with evolving technologies
What are Medical Administrative like?

Based on our pool of users, Medical Assistants tend to be predominately investigative people. This characteristic aligns with the many detailed investigative tasks demanded of these practitioners in both their administrative and clinical roles: filling out insurance forms, processing medical bills, taking patient's blood pressure, reading other vital signs, and collecting fluid and tissue specimens for laboratory testing.
Steps to becoming a Medical Assistant

To become a sought after medical assistant, complete an accredited certificate or degree program and upon graduation pursue professional certification.
How long does it take to become a Medical Assistant?

• Medical assistant certificate or diploma programs last about one year. • Medical assistant Associate's Degree programs last about two years.
Medical Assistants are also known as:
Medical Admin Assistant Certified Medical Assistant Medical Office Assistant Clinical Assistant