What does a Medical Assistant do?
Would you make a good Medical Assistant? Take our career test to find out how you match with this and over 800 other careers.
Take Free Career Test
Certificate or Associate's degree
What is a Medical Assistant?
Also known as: Certified Medical Assistant, Medical Office Assistant, Clinical Assistant.
A medical assistant is someone who is the right hand man, or woman, for a physician or nurse, making life easier for them as well as for the patient. They perform various duties and responsibilities, both clinical and administrative, as well as help the patient feel at ease by explaining any questions they may have. The duties and responsibilities vary depending on the setting.
What does a Medical Assistant do?
In a hospital setting, a medical assistant tends to the needs of the particular unit they work for. They may handle billing, fill out patient forms, and perform typical receptionist type duties. Their job responsibilities are both patient and lab-based, where they may spend time examining samples taken from patients, administering immunizations, medication or prescription refills, or performing ECG readings.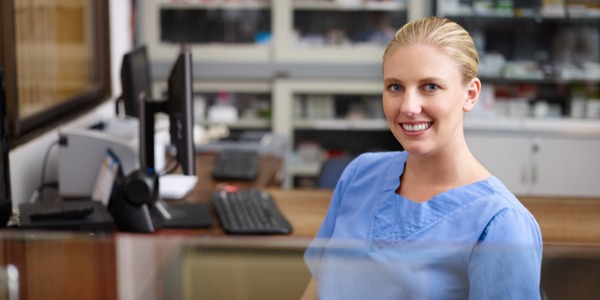 A medical assistant working in a clinic setting doesn't work for a specific unit as a hospital medical assistant would do. Therefore the work would be more comprehensive, or general. The medical assistant in a clinic would have a blend of clinical and administrative duties that range from answering telephones, greeting patients, explaining procedures and changing wound dressings. Their job is highly valued by the doctors and nurses in the clinic, as it keeps the clinic running smoothly.
A medical assistant in a private practice setting has the basic duties of an office receptionist, and the doctors will depend on the assistant to manage patient care and also keep the office running smoothly. Their duties are specific and unique to the private practice they work for. They may explain medical information to the patient, perform exams, basic tests and do the scheduling of the appointments.
A medical assistant for ambulatory care is very specific, and involves a high-pressure atmosphere. They provide support in both a clinical and clerical way, and need to rely on their training and instincts to act quickly so the emergency technicians can care for the patient in a timely and effective manner. The medical assistant is one of the first people that the patient will come in contact with, and will complete the patient forms that are needed, collect the samples and specimens necessary and perform Point of Care testing.
Find your perfect career
Would you make a good medical assistant? CareerExplorer's free assessment reveals how compatible you are with a career across 5 dimensions!
Take the free career test
What is the workplace of a Medical Assistant like?
A medical assistant can work in a variety of settings, including hospitals, clinics, private practices, and ambulatory care. In 2010, more than half of all medical assistants worked in physicians' offices. Most medical assistants work full time. Some work evenings or weekends to cover shifts in medical facilities that are always open.
A clinical medical assistant focuses on patient care and the clinical aspects of the practice. They may conduct assessments, prepare patients for medical exams, assist with exams, perform minor treatments, document medical histories, take vital signs, and instruct patients on home care.
An administrative medical assistant ensures that the business side of the practice operates smoothly. They will perform administrative tasks such as general accounting and billing, managing patient records, answering phones, making appointments, and maintaining the front desk/reception area.
A specialized medical assistant works closely with a physician(s) and serves patients in a more direct way. They typically report to an administrative manager or directly to a physician. Their tasks are dependant on their clinical specialty. Certification is required to be a specialized medical assistant, and they typically earn higher wages and have better job opportunities.
It would be a good idea to speak with, or shadow, a medical assistant if possible and ask a lot of well thought-out questions before deciding to become a medical assistant.
Once you decide, make sure the school you have chosen to go to is an accredited school, and offers certification. Also, make sure that your credits are transferable. When you get out of school, get hands-on experience by working at an internal medical practice or a family practice and strive to become a well-rounded assistant.
Remember to anticipate your patient's (and physician's) needs. Keep a note pad with you at all times to help you remember things, and document everything clearly so your co-workers don't have any trouble understanding what you write on the charts.
A big part of being a good medical assistant is having empathy. Become a good listener, be caring and sensitive to people's moods. Become non-judgmental. Always be professional, and watch out for becoming too casual (it will border on disrespectful if taken too far).
Being a medical assistant is sometimes a stressful, but always a rewarding, career. There is room for growth as well, and if you decide you'd like to move up, you can look at becoming a physician assistant or a nurse.
Much of the work is very hands-on and there's always something to do, so being able to multi-task is important. The workload can change on a daily basis, but typical activities include scheduling appointments, calling in prescriptions, helping with procedures, running tests, or taking people's vitals.
It is important to note that, as a medical assistant, an integral part of your day is interacting with patients in a respectful and professional manner. However, you will encounter various types of personalities, and some will be very challenging and stress-inducing. A patient may be dealing with an unexpected illness or diagnosis, they may be in pain, or they may be in financial distress due to medical bills. These are only some reasons patients may display unpleasant behaviour. Regardless of the reason, it is your job to try and ease the situation by keeping calm, having empathy for their situation, and offering a solution if possible.
Emotional human connection can often be stressful for the medical assistant when caring for patients that have chronic or fatal medical conditions.
Jobs
| Title | Company | Location | Info |
| --- | --- | --- | --- |
Collections With This Career
ESFJs project warmth through a genuine interest in the well-being of others. They have the ability to bring out the best in people and want to understand other points of view. Read More

Over the coming decades, some careers are expected to be more in demand than others. Occupations that are expected to have above-average opportunities are highlighted in this collection. Read More

Discover careers for people who are interested in Office Clerical Work. Read More

Not sure what to do with your biology degree? Here are some of the most popular careers for graduates in your field. Read More
Find your perfect career
Would you make a good medical assistant? CareerExplorer's free assessment reveals how compatible you are with a career across 5 dimensions!
Take the free career test
Certificate or Associate's degree
Find your perfect career
Would you make a good medical assistant? CareerExplorer's free assessment reveals how compatible you are with a career across 5 dimensions!
Take the Free Career Test