What is a Metal Worker?
A metal worker monitors, adjusts, and controls various basic or elaborate machines to cut, cast, or mold metals. This is an important occupation as it creates countless parts, from small to large tools.
The work is generally safe, and covers a broad range of duties. Without this occupation the components for automobiles, buildings, windows, and many other objects made of metal would not exist.
Get online training through our partner:
What does a Metal Worker do?
Repairing, maintaining, and setting machines that form, cut, and join metal are the main duties of a metal worker. In addition to the basics, other workers may set up and run machines that cast, roll, stamp, or drill metal. All consumer products and building structures rely on the skills of metal workers.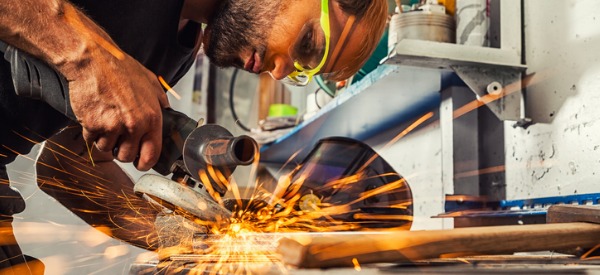 The tasks of a metal worker are sometimes basic, but can, at times, also be extremely advanced. Some positions need workers to handle extruding, forging, boring, or rolling machines.
Metal workers often have multiple skills that allow them to do a variety of processes. More advanced tasks may need the knowledge to create pieces with robots or computer-controlled machines.
What is the workplace of a Metal Worker like?
Metal workers predominantly work in factories, but can also work in refineries. When working with any type of machinery, safety precautions must be adhered to. Goggles and other protective equipment must be worn to prevent injury. Earplugs are also a common necessity, since some machines cause loud noises that may affect a worker's performance.
Other tasks like pouring, heat treating, drilling, and making models involve extreme heat, so safety is always a top priority. Hazardous fumes from soldering, welding, or melting metal benefit from safety standards like proper equipment to prevent respiratory issues.
Metal Workers are also known as:
Plastic and Metal Worker Plastic & Metal Worker Specialized Metal Worker