What is a Personal Trainer?
A personal trainer is someone who helps their clients achieve certain fitness goals, including but not limited to weight loss, strength training, toning, or overall health management. Each client's fitness level can be extremely different, so a trainer may be introducing one client to basic exercises, helping a second one with a weight loss program, and assisting a third in advanced training goals.
Unlike an athletic trainer, a personal trainer does not need a bachelor's degree to work with clients, although the majority of gyms and fitness centres require their trainers to hold general PT certifications.
What does a Personal Trainer do?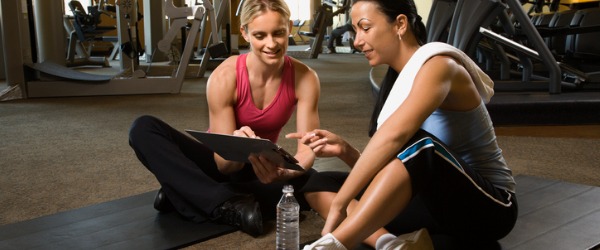 A personal trainer will work with clients, either in a small group setting or one-on-one, on their fitness goals, which includes improving a client's muscular endurance, strengthening a client's cardiovascular capabilities, and increasing a client's physical flexibility. A personal trainer may also be asked to create or revise specific workout routines for their clients, in order to achieve extra weight loss, speed, or muscle toning. In some cases, personal trainers will also help clients with health and nutrition plans, such as recommending a food diary, or working with a nutritionist.
What is the workplace of a Personal Trainer like?
The look of a trainer's workplace can vary widely. Although the majority of personal trainers work out of a specific gym or fitness centre, some trainers specialize in house calls or even travel with their clients. Other trainers work for large companies, offering customized services to that company's workforce. Still other personal trainers work within a college or educational arena.
In general, expect to work with a variety of exercise equipment, including free weights or nautilus machines, cardio machines like Stairmasters or treadmills. Trainers may also be expected to teach or coach their clients through floor work, including stretching, toning, or pilates work.
A trainer generally dresses in neat, professional clothing that may or may not be workout wear. A tucked-in shirt with a collar and khakis will give a look of authority in the gym. Personal trainers who choose to dress in workout clothes should keep them fresh, neat, and clean. Remember that a personal trainer presents the image of fitness and health that the client wants to emulate.
Personal Trainers are also known as:
Trainer Private Trainer Fitness Technician