What is a Physical Therapist?
A physical therapist is someone who diagnoses and treats people (of all ages) who have injuries, medical problems or other health-related conditions that limit their ability to function and move properly in their daily lives. Physical therapists develop a recovery plan designed for each patient's specific needs, and provide treatment and therapy that will improve movement and manage pain. They are often an important part of an individual's rehabilitation and treatment protocol.
Physical therapists take on leadership roles in prevention, health maintenance, and rehabilitation, and are involved with programs that promote health, wellness and fitness. With their specialized training, they are able to treat a variety of health conditions such as: arthritis, back and neck pain, joint injuries, cerebral palsy, fibromyalgia, balance issues, cystic fibrosis, muscle strains, osteoporosis, sports injuries, multiple sclerosis, spinal cord injuries, birth defects, parkinson's disease, post-operative rehabilitation, fractures, carpal tunnel syndrome, and chronic pain.
What does a Physical Therapist do?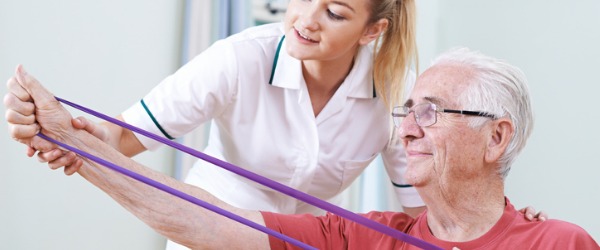 Physical therapists typically do the following:
Diagnose patients' dysfunctional movements by watching them stand or walk and by listening to their concerns, among other methods
Set up a plan for their patients, outlining the patient's goals and the planned treatments
Use exercises, stretching maneuvers, hands-on therapy, and equipment to ease patients' pain and to help them increase their ability to move
Evaluate a patient's progress, modifying a treatment plan and trying new treatments as needed
Educate patients and their families about what to expect during recovery from injury and illness and how best to cope with what happens
Physical therapists provide care to people of all ages who have functional problems resulting from back and neck injuries; sprains, strains, and fractures; arthritis; amputations; stroke; birth conditions, such as cerebral palsy; injuries related to work and sports; and other conditions. They are trained to use a variety of different techniques—sometimes called modalities—to care for their patients. These techniques include applying heat and cold, hands-on stimulation or massage, and using assistive and adaptive devices and equipment.
The work of physical therapists varies with the type of patients they serve. For example, a patient suffering from loss of mobility due to Parkinson's disease needs different care than an athlete recovering from an injury. Some physical therapists specialize in one type of care, such as pediatrics (treating children) or sports physical therapy.
They work as part of a healthcare team, overseeing the work of physical therapist assistants and aides and consulting with physicians and surgeons and other specialists. They also work at preventing loss of mobility by developing fitness- and wellness-oriented programs to encourage healthier and more active lifestyles.
The field of physical therapy has sub-specialties in five areas. Physical therapists can specialize as:
Orthopedic Physical Therapists
Orthopedic physical therapists focus on restoring function to the musculoskeletal system, and many sports injuries fall into this category. Joints, tendons, ligaments, and bones are treated with stretching, strength training, endurance exercises, hot and cold packs, ultrasound, electrical muscle stimulation, and joint mobilization.
Conditions that can be treated by orthopedic physical therapists may include: tendonitis, arthritis, ligament tears, sprains, joint stiffness, joint pain, strains, muscle tears, joint inflammation, muscle inflammation, tendon inflammation, post-fracture injury, rotator cuff repair, ACL (Anterior Cruciate Ligament) reconstruction, and post-arthroscopic and total joint replacement surgeries.
Geriatric Physical Therapists
Geriatric physical therapists focus on older adults and help them to reduce pain, improve their balance, increase their fitness level and strength, restore mobility, build their confidence, and remain active. They treat them for conditions such as arthritis, cancer, osteoporosis, incontinence, Alzheimer's disease, hip and joint replacement, and balance disorders.
Geriatric physical therapists seek to help their older clients restore their mobility as much as possible while still being aware of and accommodating any physical limitations. This type of therapy helps older adults to remain strong, independent and productive. Physical therapy can also help older adults to avoid falls, as falling is one of the biggest risks older adults face, often leading to things such as hip fractures/replacements which can sometimes lead to a downward health spiral.
Neurological Physical Therapists
Neurological physical therapists focus on helping and treating people that have neurological conditions and impairments such as: Alzheimer's disease, Guillain-Barre Syndrome, brain injury, cerebral palsy, multiple sclerosis, Parkinson's disease, spinal cord injury, and stroke.
The nervous system is an intricate and complex system that controls all the workings of the body. If something goes wrong with a part of this nervous system, an individual can experience trouble moving, breathing, speaking, swallowing, or learning, and can also experience issues with their memory and senses.
Physical therapy helps patients who have had or who presently have neurological diseases or injuries to achieve function for living as independently as possible. Every patient's treatment approach is individually tailored by the neurological physical therapist and addresses specific problem areas. Without physical therapy, these patients may not be able to perform certain activities, lose many of their functions, and eventually lose their independence due to decreased activity. This can then lead to other health issues, such as diabetes, heart problems, or lung problems.
Cardiopulmonary Physical Therapists
Cardiopulmonary physical therapists focus on helping individuals who suffer from cardiovascular and pulmonary conditions such as heart attacks, chronic obstructive pulmonary disease (COPD), and pulmonary fibrosis. The goal is to improve overall health, increase endurance, improve functional independence, and reduce the risk of future cardiovascular episodes.
Cardiovascular rehabilitation deals with a patient's mental and emotional well-being after a traumatic cardiac event. It is important to mobilize patients as soon as they are clinically stable, often within 24-48 hours of the episode. Cardiac rehabilitation can be separated into several phases or steps. For example, a cardiopulmonary physical therapist can help a patient progress through the following steps: sitting on the edge of the bed; light activity (such as sitting, standing, or walking) in the room; walking up and down the hospital hallways; measuring the amount of effort it takes to do an activity using the Borg Rating of Perceived Exertion (RPE) scale (should be 13 or less); keeping the heart rate below 120 beats per minute; helping the patient exercise two to four times per day.
Pulmonary rehabilitation helps patients with a pulmonary disease, most commonly chronic obstructive pulmonary disease (COPD), to increase awareness of their lungs in regards to performing activity and to help improve overall pulmonary function. Pulmonary rehabilitation may include: breathing strategies; energy-conservation techniques; relaxation techniques; nutritional counseling; psychological counseling; exercise training; and group support. Patients often report less shortness of breath and more energy after working with a pulmonary therapist.
Pediatric Physical Therapists
Pediatric physical therapists treat musculoskeletal problems and improve the mobility of infants, toddlers, children, and adolescents facing numerous health conditions. This field of therapy was started during the polio epidemic in the 1920s and has since been used to treat genetic disorders, injuries, birth defects, muscle diseases, developmental delays, orthopedic disabilities, and limb deficiencies.
Pediatric physical therapists use a variety of methods and treatments for children, such as specialized equipment, functional training and exercise, diet changes, and medication - all designed to help treat conditions that hinder mobility and also help alleviate pain. For treatment after an injury or post surgery, a pediatric physical therapist will look at the specific areas of the body that are involved and determine what type of therapy and treatment will be needed for a successful rehabilitation process.
A pediatric physical therapist addresses and treats the same underlying issues as they would do if working with an adult, the only difference being in the context of a child's mobility and movements. For babies, the focus is on the development of gross motor skills, which can include learning how to sit up, roll over, crawl, stand, and walk. For young children, improving movement issues may be the focus, such as balance or coordination deficits. These issues can be treated by developing better mobility (helping them play, jump, and run) and by increasing core strength.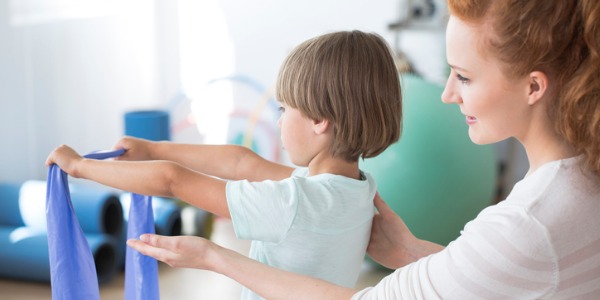 What is the workplace of a Physical Therapist like?
Physical therapists can work in a variety of settings, such as schools, private offices, hospitals, home health agencies, outpatient clinics, office work settings, sports and fitness facilities, and nursing homes. Some physical therapists are self-employed, meaning that they own or are partners in owning their practice.
Physical therapists spend a lot of time on their feet and are quite active during the course of their day. Because they are so physically active (lifting or moving their patients), it's important for physical therapists to learn proper body mechanics and care, and use those principles in their daily work to avoid injuring themselves.
Physical therapists typically work a Monday-to-Friday work week, however, some may need to work evenings or weekends depending on their work setting.
Frequently Asked Questions
What is the difference between a chiropractor and a physical therapist?

A chiropractor has an expansive diagnostic education, while a physical therapist has a therapeutic, or intervention-based education. Although a chiropractor can provide rehabilitative exercise and modality treatments to the client, his/her main type of treatment is spine manipulation.

A physical therapist may also provide manual therapy-type techniques to their patients, but activity modification, therapeutic exercise and modalities are the foundation and focus of a physical therapy practice.
What is the difference between physical therapy and occupational therapy?

Occupational therapists and physical therapists often address similar conditions using similar treatment methods and tools. Interestingly, at one time both types of therapists were known as reconstruction aides.

These 'reconstruction aides' worked to rehabilitate veterans in World War I and gave credibility to physical rehabilitation interventions. Today, both professions are able to help with improving and arresting deterioration of a patient's physical ability — the ultimate goal of both practices is to help patients carry out their daily activities with as much ease as possible. Both professions are able to work with their patients on a longterm basis (if required), and increase their patient's independence and quality of life.

In certain settings, occupational therapists and physical therapists may look identical, however there are specific distinctions between the two disciplines:

Occupational Therapy

Occupational therapy focuses on evaluating and improving a person's functional ability, and on how the patient uses fine motor and cognitive skills to perform tasks that are meaningful to them. Simply put, occupational therapists help their patients perform day-to-day tasks.

Patients recovering from injuries or have developmental or cognitive disabilities affecting their motor skills, emotions or behaviour are not directly treated for their injury by the occupational therapist, but are helped with their independence, the improvement of their life skills, and assisted with their ability to accomplish daily activities following their injury.

Some occupational therapy may happen in a hospital or in the occupational therapist's office, however a big chunk of the therapy will be done in the patient's home or work environment. The reason for this is that occupational therapy puts a strong emphasis on the practical aspects of helping individuals do the things they need to do in order to live their life to the fullest.

Physical Therapy

Physical therapy's main focus, on the other hand, is working with people recovering from injuries and specifically working on a patient's gross motor functions. A physical therapist will focus on evaluating, diagnosing, and treating a person's injured tissues and structures, and may use massage therapy, exercise, or acupuncture to treat these injuries. Therapy usually happens in a physical therapist's office, and not in a person's home.

Physical therapy can also focus on preventing injuries, and can help people avoid having to go through surgery, or provide enough relief to get people off of pain medications. Physical therapists are specifically trained in body mechanics and in how various body systems are affected by motion, positioning, and exercise. In order to ease or increase body movement, they typically focus on improving strength, balance, and range of motion, often targeting the spine and lower body extremities.

How Both Therapies Intertwine

In some cases, patients may begin treatment by seeing a physical therapist first, and then move on to seeing an occupational therapist. For example, a patient might see a physical therapist after having a stroke in order to build back muscle strength. However, once the muscles have strengthened, that patient may see an occupational therapist to help with taking a bath or shower, eating, buttoning a shirt, or using the restroom.
What is some good advice for getting into physical therapy school?

A minimum 3.0 GPA is usually required. Make sure you complete all the required courses before enrolling, although most schools will still allow you to apply if you haven't completed all the courses at the time of application, as long as they are completed before you start the program. Use the Physical Therapy Centralized Application Service (PTCAS) if possible, as you'll only have to fill out one application form and then be able to submit it to multiple schools. Work experience in a physical therapy setting is highly recommended and for some programs it is required. Most programs will accept fifty to one hundred hours of experience.
What is it like being a physical therapist?

A physical therapist spends their day improving the quality of people's lives. For a patient, this may mean getting to their goal of walking without a cane, or it could mean getting through an injury in time to run a marathon. Exceptional people skills are needed on a daily basis. Physical therapists work very closely with their patients, and it is crucial to have the patient trust the therapist's abilities, and be open to the therapy that will be introduced. On a daily basis, physical therapists see the work they do have an impact on their patients, which is a very fulfilling and rewarding experience.
How long does it take to become a Physical Therapist?

In addition to the four years spent completing an undergraduate degree, there is an additional three years at a DPT (Doctor of Physical Therapy) program, for a total of seven years of university education to become a physical therapist.

However, if you are in high school, you might consider a six-year Freshman Entry DPT program. This program will earn you a bachelor's degree as well as a DPT degree in a total of six years (as long as you maintain a minimum GPA set by the program). This can save you a year, and definitely something to consider if you know this is the career for you at an early age.
Are Physical Therapists happy?

The best part of being a physical therapist is that the stress level is very low (compared to many other careers), job satisfaction is very high, and you are helping people everyday.

With the various aspects of care from outpatient, inpatient, pediatrics, ergonomics and so forth, it is a career you can sustain for a lifetime. One of the best ways to earn a living in physical therapy is to manage or own a practice.
Steps to becoming a Physical Therapist

Physical therapists are required to have a postgraduate professional degree. Physical therapy programs usually award a Doctor of Physical Therapy (DPT) degree, although a small number award a Master of Physical Therapy (MPT) degree. Doctoral programs typically last three years; MPT programs require two-to-three years of study. Most programs require a bachelor's degree for admission, and many require specific prerequisites, such as anatomy, physiology, biology, and chemistry.

Physical therapy programs often include courses in biomechanics, anatomy, physiology, neuroscience, and pharmacology. Students also complete clinical rotations, enabling them to gain supervised work experience in areas such as acute care and orthopedic care.

Physical therapists may apply to and complete residency programs after graduation. Residencies last nine months to three years and provide additional training and experience in advanced or specialty areas of care.

After gaining work experience, some physical therapists choose to become board certified in a particular clinical specialty, such as pediatrics or sports physical therapy. Board certification requires passing an exam.
Should I become a Physical Therapist?

Physical therapy offers a wide range of opportunities for individuals with the necessary credentials. However, like all careers, it has its pros and cons. If you are considering this as a career choice, it is advisable to educate yourself on both the positive aspects as well as the negative.

THE PROS

Making a Difference - There's an incredible amount of satisfaction to be found when working with patients one-on-one and watching them progress through treatment. Regaining lost mobility has significant impact on a patient's life, whether it's returning from a sports injury or recovering from a disease. Physical therapists foster the patient's return to maximal function by reducing pain, improving mobility, and preventing disability. They will also developing fitness- and wellness-oriented programs for healthier and more active lifestyles.

Job Satisfaction - There is tremendous personal satisfaction in knowing your efforts have helped someone to walk or return to their normal life. Three out of four physical therapists report that they are "very satisfied" with their profession. The clergy were the only ones who ranked higher in a national survey. Not only that, physical therapists were the only health care professionals who ranked in the top five in job satisfaction.

Coworkers - Physical therapists are intelligent, driven, and kind-hearted healthcare professionals that have dedicated many years of their lives to rigorous educational programs for the purpose of improving other people's lives. A physical therapy environment is typically full of camaraderie, support, and laughter.

Becoming an Educated Professional - A physical therapist is a highly educated and trained professional in how the human body performs, and must also be proficient with a variety of techniques, including ultrasound, electrotherapy, and massage.

Job Security - Jobs in physical therapy are increasing faster than the national average. The rise in demand for physical therapists is due to the aging American population (particularly baby boomers) who are more vulnerable to debilitating conditions that may require the services of a physical therapist. There are approximately 211,000 licensed physical therapists in the United States, and that number is expected to jump to 282,700 by 2024.

Good Salary - The median annual wage for physical therapists was $84,020 in May 2015. The lowest 10 percent earned less than $57,060, and the highest 10 percent earned more than $119,790.

Location Choice - Physical therapists work with patients of all ages all across the country, in both urban and rural locations. There are a wide range of work settings, ranging from hospitals, outpatient clinics, home health agencies, private practices, schools, fitness facilities, sports organizations, and nursing homes.

Opportunities - Some careers offer very little opportunity for professional growth. However, in physical therapy, a motivated physical therapist can choose to open his/her own clinic (one out of every five physical therapists either own or are partners in a physical therapy practice), become a supervisor or director of rehab, teach at a local university, or even create continuing education classes.

THE CONS

Student Loans - It takes years of study to achieve the necessary degrees to become a physical therapist (in most cases, a physical therapist has completed a three year doctoral program after receiving a bachelor's degree). Therefore, many physical therapists begin their careers with a substantial amount of student loan debt.

Physically Demanding Career - Physical therapy can be a very demanding career, both physically and mentally. Maintaining a good diet and getting sufficient sleep is imperative for one's physical well-being.

Hours & Paperwork - A typical day is arriving at work early in order to look at or catch up on paperwork which usually takes an hour or so (unpaid). The next four hours often consist of back to back clients (ranging from 30 minutes to one hour) with no breaks. Lunch is about 30 minutes or so followed by 30 minutes of paperwork that needs to be done from the morning (unpaid). The next four hours consist of more back to back clients. The day finishes with one to two hours of paperwork (unpaid). This schedule can of course vary, depending on each physical therapist's situation and place of work.

License Renewal - A physical therapist cannot provide services to their clients without a license, therefore it's important to keep track of when that license must be renewed. Not renewing could result in disciplinary action. In some states, continuing education classes are required during each renewal period.

Burn Out - Not all patients will be pleasant to work with, and it can be emotionally stressful to deal with injured patients all day. Some patients will not even follow the plan established for them, which also adds an element of frustration for the therapist. It's necessary for the therapist to learn how to leave the job behind them after the day is done, and recharge at home.
Physical Therapists are also known as:
Orthopedic Physical Therapist Geriatric Physical Therapist Neurological Physical Therapist Cardiopulmonary Physical Therapist Pediatric Physical Therapist Home Care Physical Therapist Outpatient Physical Therapist Registered Physical Therapist