What is an Occupational Therapist?
An occupational therapist is someone who treats patients with injuries, illnesses, or disabilities through the therapeutic use of everyday activities. They help these patients develop, recover, and improve the skills needed for daily living and working.
What does an Occupational Therapist do?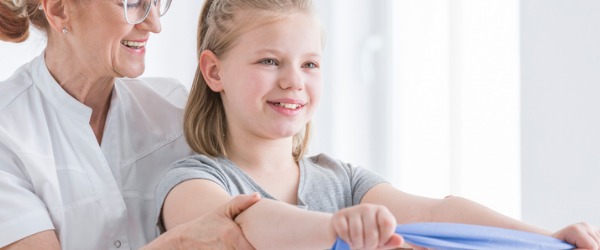 An occupational therapist will typically do the following:
Observe patients doing tasks, ask the patient questions, and review the patient's medical history
Use the observations, answers, and medical history to evaluate the patient's condition and needs
Establish a treatment plan for patients, laying out the types of activities and specific goals to be accomplished
Help people with various disabilities with different tasks, such as helping an older person with poor memory use a computer, or leading an autistic child in play activities
Demonstrate exercises that can help relieve pain for people with chronic conditions, such as joint stretches for arthritis sufferers
Evaluate a patient's home or workplace and identify how it can be better suited to the patient's health needs
Educate a patient's family and employer about how to accommodate and care for the patient
Recommend special equipment, such as wheelchairs and eating aids, and instruct patients how to use that equipment
Assess and record patients' activities and progress for evaluating clients, for billing, and for reporting to physicians and other healthcare providers
Patients with permanent disabilities, such as cerebral palsy, often need help performing daily tasks. Occupational therapists show patients how to use appropriate adaptive equipment, such as leg or knee braces, wheelchairs, and eating aids. Patients can function independently and control their living environment by using these devices.
Some occupational therapists work in educational settings with children one on one or in small groups. They evaluate disabled children's abilities, modify classroom equipment to accommodate certain disabilities, and help children participate in school activities. Some therapists provide early intervention therapy to infants and toddlers who have, or are at risk of having, developmental delays.
Occupational therapists who work with the elderly help their patients lead more independent and active lives. They asses the patient's abilities and environment and make recommendations, such as using adaptive equipment or identifying and removing potential fall hazards in the home. In some cases, occupational therapists help patients create functional work environments. They evaluate the work space, plan work activities, and meet with the patient's employer to collaborate on changes to the patient's work environment or schedule.
Occupational therapists also may work in mental health settings where they help patients who suffer from developmental disabilities, mental illness, or emotional problems. They help these patients cope with and engage in daily life by teaching skills such as time management, budgeting, using public transportation, and doing household chores. Additionally, therapists may work with individuals who have problems with drug abuse, alcoholism, depression, or suffer from other disorders.
Some occupational therapists—such as those employed in hospitals or physicians' offices—work as part of a healthcare team, along with doctors, registered nurses, and other types of therapists. They also may oversee the work of occupational therapy assistants and aides.
What is the workplace of an Occupational Therapist like?
Forty-eight percent of occupational therapists worked in offices of physical, occupational and speech therapists, with audiologists or in hospitals. Therapists spend a lot of time on their feet working with patients. They also may be required to lift and move patients or heavy equipment. Many work in multiple facilities and have to travel from one job to another.
What is the difference between a physical therapist and an occupational therapist?
A physical therapist tends to focus on evaluating, diagnosing and treating a person's injured tissues and structures. They may use manual therapy or acupuncture to treat the injury. On the other hand, an occupational therapist will focus more on evaluating and improving a person's functional ability. They generally do not directly treat a person's injury, but will help the individual with their independence, help improve their life skills, and assist with their ability to accomplish daily activities following an injury.
What is some good advice for occupational therapy students?
Don't be surprised to see students in other majors having more free time than you, as being in school for occupational therapy means more and tougher school work, and also means giving up much of your former life for two or three years. Be prepared for a lot of work and know that you may not make all A's, but in the end, know that occupational therapists are in demand and better paid than many other careers out there.
It's good to be aware of the many fields of occupational therapy in order to make an informed decision as to the direction you'd like to take. Occupational therapists can have different options for placements, therefore it is important to explore early on to get the most out of your education. There are also many different specialties that can be looked at, such as hand therapy or equine-assisted therapy (which is a collaborative effort between the therapist and a horse professional working with the client and horse to address treatment goals).
Keep in mind that schools have difficult admissions processes and very high expectations of their students, as they want students that will uphold the core values of the occupational therapist field. Therapists have the responsibility of being ethical practitioners, and should always have the health, well-being and best interests of the client as their top priority.
What is it like being an occupational therapist?
Being an occupational therapist is a very challenging and dynamic career. This career makes a big difference in people's lives (both young and old), as it helps them develop practical strategies, and gives them the independence to do things they want to do while learning how to deal with their physical, mental and/or social barriers. This could be as simple as enabling someone to shop for groceries and cook a meal unassisted.
As you can imagine this role provides immense job satisfaction. You will be able to work with people of all ages, whose issues may have been with them since birth, or caused by illness, an accident, lifestyle choices, or ageing. Occupational therapists can work in a variety of fields, such as mental health, neurology, work rehabilitation, and social care, and can provide a variety of different roles throughout one's career, such as practitioner, consultant, manager, researcher, teacher, or even running a private business.
Occupational Therapists are also known as:
Registered Occupational Therapist