What is an Occupational Therapist?
An occupational therapist is someone who enables people to become more productive and overcome obstacles when experiencing difficulties attempting to do everyday activities. They do this by helping patients with injuries, illnesses, or disabilities develop, recover, and improve the skills needed for daily living and working. A lot of effort and dedication goes into becoming an occupational therapist, but for those that wish to help individuals live productive and satisfying lives, it's definitely worth it.
What does an Occupational Therapist do?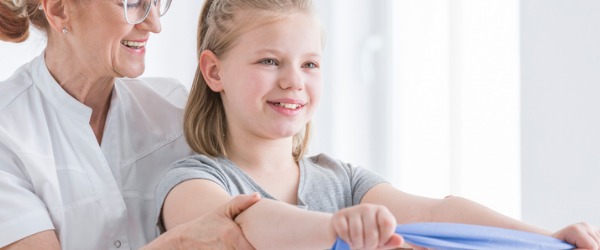 Occupational therapists (sometimes called OTs) work with people of all ages to overcome physical obstacles or ailments and to help them get back to fully engaging in their daily lives. This can be anything from conducting an in-home assessment to create a safe living environment, to helping them with everyday tasks such as getting dressed, moving around the house, cooking, eating, gardening, doing school work, using a computer, and driving.
An occupational therapist will typically do the following:
Observe patients doing tasks, ask the patient questions, and review the patient's medical history
Use the observations, answers, and medical history to evaluate the patient's condition and needs
Establish a treatment plan for patients, laying out the types of activities and specific goals to be accomplished
Help people with various disabilities with different tasks, such as helping an older person with poor memory use a computer, or leading an autistic child in play activities
Demonstrate exercises that can help relieve pain for people with chronic conditions, such as joint stretches for arthritis sufferers
Evaluate a patient's home or workplace and identify how it can be better suited to the patient's health needs
Educate a patient's family and employer about how to accommodate and care for the patient
Recommend special equipment, such as wheelchairs and eating aids, and instruct patients how to use that equipment
Assess and record patients' activities and progress for evaluating clients, for billing, and for reporting to physicians and other healthcare providers
Patients with permanent disabilities, such as cerebral palsy, often need help performing daily tasks. Occupational therapists show patients how to use appropriate adaptive equipment, such as leg or knee braces, wheelchairs, and eating aids. Patients can function independently and control their living environment by using these devices.
Some occupational therapists work in educational settings with children one-on-one or in small groups. They evaluate disabled children's abilities, modify classroom equipment to accommodate certain disabilities, and help children participate in school activities. Some therapists provide early intervention therapy to infants and toddlers who have, or are at risk of having, developmental delays.
Occupational therapists who work with the elderly help their patients lead more independent and active lives. They assess the patient's abilities and environment and make recommendations, such as using adaptive equipment or identifying and removing potential fall hazards in the home. In some cases, occupational therapists help patients create functional work environments. They evaluate the work space, plan work activities, and meet with the patient's employer to collaborate on changes to the patient's work environment or schedule.
Occupational therapists also may work in mental health settings where they help patients who suffer from developmental disabilities, mental illness, or emotional problems. They help these patients cope with and engage in daily life by teaching skills such as time management, budgeting, using public transportation, and doing household chores. Additionally, therapists may work with individuals who have problems with drug abuse, alcoholism, depression, or suffer from other disorders.
Some occupational therapists, such as those employed in hospitals or physicians' offices, work as part of a healthcare team, along with doctors, registered nurses, and other types of therapists. They also may oversee the work of occupational therapy assistants and aides.
What is the workplace of an Occupational Therapist like?
Many occupational therapists work in offices of physical, occupational and speech therapists, with audiologists, or in hospitals. Many work in multiple facilities and have to travel from one job to another. Many also work in private practice and provide occupational therapy in the patient's home or residential setting.
According to The American Occupational Therapy Association:
the top work settings for direct client intervention are long-term care and skilled nursing facilities (74%), freestanding outpatient (70.4%), hospitals (70%), and schools (60.8%).

the top work settings for consultation are: other (20%), community (17%), schools (13.7%), and mental health (12%).

the top work settings for indirect and administration tasks (e.g., documentation, scheduling, meetings, planning sessions) are: mental health (32.4%), other (29.9%), community (29.4%), and home health (27.1%).
Frequently Asked Questions
What is the difference between a physical therapist and an occupational therapist?

Occupational therapists and physical therapists often address similar conditions using similar treatment methods and tools. Interestingly, at one time occupational therapists and physical therapists were both known as reconstruction aides. These 'reconstruction aides' worked to rehabilitate veterans in World War I and gave credibility to physical rehabilitation interventions. Today, both professions are able to help with improving and arresting deterioration of a patient's physical ability - the ultimate goal of both practices is to help patients carry out their daily activities with as much ease as possible. Both professions are able to work with their patients on a longterm basis (if required) and increase their patient's independence and quality of life.

In certain settings, occupational therapists and physical therapists may look identical, however there are specific distinctions between the two disciplines:

Occupational therapy focuses on evaluating and improving a person's functional ability, and on how the patient uses fine motor and cognitive skills to perform tasks that are meaningful to them. Simply put, occupational therapists help their patients perform day-to-day tasks. Patients recovering from injuries or have developmental or cognitive disabilities affecting their motor skills, emotions or behaviour are not directly treated for their injury by the occupational therapist, but are helped with their independence, the improvement of their life skills, and assisted with their ability to accomplish daily activities following their injury. Some occupational therapy may happen in a hospital or in the occupational therapist's office, however a big chunk of the therapy will be done in the patient's home or work environment. The reason for this is that occupational therapy puts a strong emphasis on the practical aspects of helping individuals do the things they need to do in order to live their life to the fullest.

Physical therapy's main focus, on the other hand, is working with people recovering from injuries and specifically working on a patient's gross motor functions. A physical therapist will focus on evaluating, diagnosing and treating a person's injured tissues and structures, and may use massage therapy, exercise, or acupuncture to treat these injuries. Therapy usually happens in a physical therapist's office, and not in a person's home. Physical therapy can also focus on preventing injuries, and it can help people avoid having to go through surgery or provide enough relief to get people off of pain medications. Physical therapists are specifically trained in body mechanics and in how various body systems are affected by motion, positioning, and exercise. In order to ease or increase body movement, they typically focus on improving strength, balance, and range of motion, often targeting the spine and lower body extremities.

In some cases, patients may begin treatment by seeing a physical therapist first, and then move on to seeing an occupational therapist. For example, a patient might see a physical therapist after having a stroke in order to build back muscle strength. However, once the muscles have strengthened, that patient may see an occupational therapist to help with taking a bath or shower, eating, buttoning a shirt, or using the restroom.
What is some good advice for occupational therapy students?

Don't be surprised to see students in other majors having more free time than you, as being in school for occupational therapy means more and tougher school work, and also means giving up much of your former life for two or three years. Be prepared for a lot of work and know that you may not make all A's, but in the end, know that occupational therapists are in demand and better paid than many other careers out there.

It's good to be aware of the many fields of occupational therapy in order to make an informed decision as to the direction you'd like to take. Occupational therapists can have different options for placements, therefore it is important to explore early on to get the most out of your education. There are also many different specialties that can be looked at, such as hand therapy or equine-assisted therapy (which is a collaborative effort between the therapist and a horse professional working with the client and horse to address treatment goals).

Keep in mind that schools have difficult admissions processes and very high expectations of their students, as they want students that will uphold the core values of the occupational therapist field. Therapists have the responsibility of being ethical practitioners, and should always have the health, well-being and best interests of the client as their top priority.
What is it like being an occupational therapist?

Being an occupational therapist is a very challenging and dynamic career. This career makes a big difference in people's lives (both young and old), as it helps them develop practical strategies, and gives them the independence to do things they want to do while learning how to deal with their physical, mental and/or social barriers. This could be as simple as enabling someone to shop for groceries and cook a meal unassisted.

As you can imagine this role provides immense job satisfaction. You will be able to work with people of all ages, whose issues may have been with them since birth, or caused by illness, an accident, lifestyle choices, or ageing. Occupational therapists can work in a variety of fields, such as mental health, neurology, work rehabilitation, and social care, and can provide a variety of different roles throughout one's career, such as practitioner, consultant, manager, researcher, teacher, or even running a private business.
What is the difference between an occupational therapist and a recreational therapist?

Both occupational therapists and recreational therapists can find employment in similar and/or the same work settings, sometimes even working together as a team to provide the best health care to their patients. The differences between the two types of therapy can be seen when looking at each profession's main focus or purpose when it comes to their patients:

The occupational therapist's goal focuses primarily upon helping patients with injuries, illnesses, or disabilities develop, recover, and improve the skills and activities that are essential for day-to-day living and working. This can be anything from conducting an in-home assessment to create a safe living environment, to helping them with everyday tasks such as getting dressed, moving around the house, cooking, eating, gardening, doing school work, using a computer, and driving. Responsibilities can include observing patients doing tasks, evaluating a patient's condition and needs, establishing a treatment plan, helping the patient with various tasks, educating a patient's family and employer about how to accommodate and care for the patient, evaluating progress, and reporting to physicians and other healthcare providers.

According to the American Therapeutic Recreation Association, recreational therapy is a service used to "restore, remediate and rehabilitate a person's level of functioning and independence in life activities, to promote health and wellness as well as reduce or eliminate the activity limitations and restrictions to participation in life situations caused by an illness or disabling condition." The recreational therapist's goal focuses primarily on enhancing patient's lives by way of leisure and play. Recreational therapists educate patients that have cognitive, social, physical, mental, or emotional limitations about the benefits of recreation. Often, these types of limitations can negatively affect an individual's attitude, motivation, and participation when it comes to recreational activities. By helping their patients develop and practice skills to improve their participation in leisure activities, their barriers towards these types of activities can be removed and the benefits of health and well-being can come into play. A recreational therapist's responsibilities can include assessing patient's needs, developing tailored programs for each patient, planning events, and evaluating progress.
Are Occupational Therapists happy?

Occupational Therapists rank among the least happy careers. Overall they rank in the 26th percentile of careers for satisfaction scores. Please note that this number is derived from the data we have collected from our Sokanu members only.

This notably low happiness metric among occupational therapists may be at least partially attributable to the considerable physical and emotional demands of the work.
What are Occupational Therapists like?

Based on our pool of users, Occupational Therapists tend to be predominately social people. This is an expected finding, based on the work that OTs do. They use practical movement and exercise to rehabilitate patients with disabilities or injuries. They design work or home environments that enable individuals to overcome their challenges and adapt. They help people of all ages, from children to the elderly. Their work demands almost constant social interaction with patients, patients' families, and other healthcare professionals.
Steps to becoming an Occupational Therapist

The path to becoming an occupational therapist involves earning an undergraduate and a graduate degree, obtaining a license, and committing to professional continuing education.
How long does it take to become an Occupational Therapist?

It can take five to six years to complete the education required to become an occupational therapist:

• Bachelor's Degree – four years • Master's Degree – two years or • Bachelor's to Master's Degree bridge program – five years
Should I become an Occupational Therapist?

Here's a snapshot of the occupational therapy field to help you answer this question.

The Pros

Demand Graduates in this field do not face many difficulties in finding a job. The U.S. Bureau of Labor Statistics predicts 27 percent job growth for OTs through 2024.

Salary With high demand comes higher salaries. Occupational therapists are among the most well paid professionals in the U.S.

Work Settings Occupational therapists can choose to work in many different clinical environments, including hospitals, rehab centers, nursing homes, and home healthcare settings.

Flexibility and Opportunities for Specialization OTs can choose to work on a full-time or a part-time basis. The can also choose to specialize. Among the options are geriatrics, pediatrics, physical rehabilitation, mental health, vison therapy, and hand therapy.

Job Satisfaction OTs generally derive a great deal of satisfaction from the work they do, quite simply because they make a difference in their patients' lives.

Social Aspect By the nature of their work, occupational therapists meet and work very closely with many different people from many different walks of life.

The Cons

Risk of Infection Sometimes, the work of an OT is messy. There are times when it is necessary to clean urine, vomit, discharge from infected wounds, and blood.

Patient Misbehavior Patients facing the challenges of occupational therapy are going to be in bad moods some days. They may take out their distress and exasperation on their therapist. In these circumstances, OTs have to remain calm and realize that these outbursts are the result of frustrations; they are rarely personal.

Physical Demands Lifting and moving adult patients can be physically demanding.

Long and Irregular Hours Some situations may call for particularly long days. Weekend and holiday shifts are not uncommon.

Emotional Toll While occupational therapists can certainly experience emotional highs in witnessing patient progress and recovery, they also must deal with situations in which their patients fail to improve or die. This can be stressful and emotionally draining, especially for OTs who are new to the job.

The Required Skills

Having read the job's pros and cons, you will likely now understand the need for these skills in the occupation:

• Communication and observational skills • Creativity and practicality; ability to find unconventional ways to help patients • Passion, sensitivity, and patience • Capacity to encourage and motivate patients • Ability to work as part of team – with patients and with colleagues • Evaluation and report writing skills

The Good, the Bad, and the Ugly A blogger's perspective of working in occupational therapy
Occupational Therapists are also known as:
Registered Occupational Therapist