What is a Culinary Chef?
A culinary chef is someone who is in the profession of preparing, cooking and presenting food. A chef can also be very innovative with food, creating new dishes, deciding what the specials of the day will be, and putting together an exciting menu. Some examples of a culinary chef would include caterers, restaurant and hotel chefs, and bakery and pastry chefs.
What does a Culinary Chef do?
Most chefs have some specialty or preferred area of work, though it may take time for a chef to settle into a particular niche. Frequently, the chefs that are in the highest demand are the ones that are skilled in a great many areas of preparation, with many skill sets that help to coordinate a kitchen.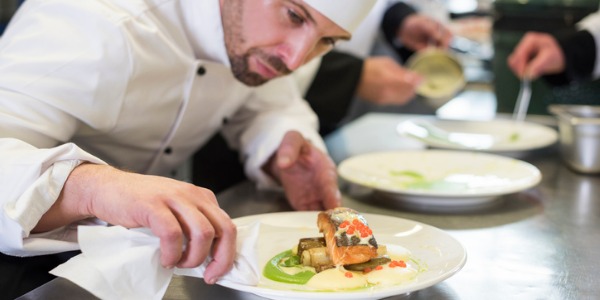 A restaurant chef, or "station chef" might work at any of the stations, ranging from preparing cold foods ("pantry chef"), making soup and hot hors d'oeuvres ("entremetier"), fry chef, grill chef, and saute chef ("saucier"). The saucier is oftentimes a semi-managerial position, with seniority over other line chefs. The sous chef, ("under-chef") has seniority over the saucier and other line chefs, and the head chef ("chef de cuisine") has seniority and authority over all of the kitchen workers.
This career is a good choice for the very motivated person who enjoys a challenge and an active workplace, day in and day out. Long hours are almost a given for the average chef, and working late hours is very common as well. Many restaurants may close at 10:00PM, but their kitchens are not cleaned and prepped for the next day until 2:00AM.
Attention to detail is important as well, for following recipes and keeping track of cooking supplies, stock levels, and managerial duties are often expected of a restaurant chef. Being in good physical shape and maintaining excellent personal hygiene are also important for a position where one can expect to be on their feet at least eight hours a day, lifting heavy pots and kitchen equipment on a constant basis.
What is the workplace of a Culinary Chef like?
The culinary chef's workplace can be very diverse, ranging from high end restaurant and hotel kitchens to private kitchens, hospital kitchens, retirement centres, cruise ships or even providing food for movie sets.
Culinary Chefs are also known as:
Chef Executive Chef Professional Cook Head Cook Head Chef