What is a Pastry Chef?
Are you artistic, creative, and want to work in a setting that allows for self-expression? Do you also love to bake? You may want to consider a career as a pastry chef!
Pastry chefs are schooled and skilled in the making of pastries, desserts, breads, and other baked goods. Nearly every restaurant, cafe, market, and grocery store chain sells pastries. No doubt people will always have a sweet tooth, and always be in the market for sweet creations.
What does a Pastry Chef do?
A pastry chef is typically found in a professional kitchen and is the station chef of the pastry department. As with other station chefs, the pastry chef may have other chefs or assistants within their department — bakers may also be members of the pastry department in larger establishments.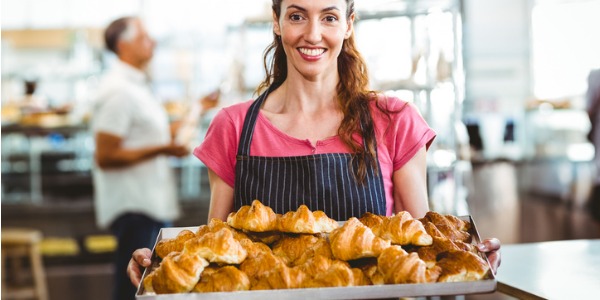 Pastry chefs create pies, candies, chocolates, cookies, cakes, ice cream, custards, and bread. They not only create desserts but also order ingredients, keep inventory, deal with wholesalers, and develop new recipes. Pastry chefs that work for large establishments may also be responsible for developing a dessert menu alongside executive chefs.
Some pastry chefs choose to pursue a specific path in the art of bread making — since delicious breads and muffins are a mainstay at luxury hotels and resorts. Within some larger resort properties, bakeries and in-house pastry shops are run by pastry chefs and rival the world's best specialty bakeries.
Being a pastry chef involves attention to detail. Small changes in a recipe can make a big difference, so pastry chefs need to pay attention to what they are doing, even while performing routine tasks. They also need to have artistic ability and creativity to produce pastries and desserts that look as good as they taste.
The job demands abundant testing and sampling of new creations, which can be both rewarding and delicious.
Some responsibilities of a pastry chef:
Creating, testing and evaluating new pastry and dessert recipes
Keeping a budget for the pastry department
Buying fresh fruits and berries and ordering supplies from various vendors
Supervising chefs in training in the pastry kitchen
Discuss menu planning with the other chefs in the restaurant
Keeping the kitchen organized
Pastry chefs also need people skills in order to establish a successful business and reputation. Whether it's working with staff, other chefs, vendors or customers, developing people skills is imperative.
What is the workplace of a Pastry Chef like?
Pastry chefs are employed in large hotels, bistros, restaurants, bakeries, and some cafés. Those that work at high-end establishments have their own pastry kitchen or pastry section and are usually slightly separate from the main kitchen.
There are many different types of bakeries and pastry shops to work from as well — mom-and-pop shops that do their own baking and pastry making, franchise bakeries, and industrial bakeries. Many bakers and pastry chefs work in small retail bakeries or big wholesale suppliers of baked goods. They also work in department stores, at 'in-house' bakeries in supermarkets, food store chains, hotels, restaurants, bistros, cruise ships, resorts, and casinos.
It goes without saying that a strong work ethic is necessary for this career. Pastry chefs are often required to work long hours standing on their feet, performing repetitive tasks. Most pastry chefs start early in the morning — around three or four o'clock am! The job also requires physical strength, as there may be lifting involved. Being mentally prepared is important too, as the day-to-day responsibilities can become overwhelming at times.
Pastry Chefs are also known as:
Dessert Chef Pastry Maker Dessert Maker Patissiere Patissier Pastry Station Chef