What is a Lodging Manager?
A lodging manager is someone who works as a manager at a hotel, motel, or any type of establishment that has accommodations. They go out of their way to make sure that the guests staying with them have the best experience possible. They also have the responsibility of making sure that the establishment is run efficiently and profitably.
What does a Lodging Manager do?
A comfortable room, good food, and a helpful staff can make being away from home an enjoyable experience for guests on vacation or business travel. Lodging establishments can vary in size - from independently owned bed-and-breakfast inns, all the way up to hotels that can accommodate more than 1,000 guests at a time. A lodging manager makes sure that the facilities are clean, comfortable, and operational for their guests. They also supervise and see to it that all the employees are performing their job functions adequately. The lodging manager is also usually responsible for managing the facility's budget, as well as taking care of the payroll.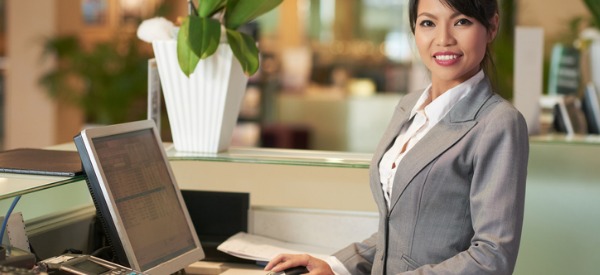 Lodging managers typically do the following:
Inspect guest rooms, public areas, and grounds for cleanliness and appearance
Greet and register guests
Ensure that standards for guest service, décor, housekeeping, and food quality are met
Answer questions from guests about hotel policies and services
Keep track of how much money the hotel or lodging facility is making
Interview, hire, train, and sometimes fire staff members
Monitor staff performance to ensure that guests are happy and the hotel is well run
Coordinate front-office activities of hotels or motels and resolve problems
Set room rates and budgets, approve expenditures, and allocate funds to various departments
Lodging managers must have good customer-service skills when dealing with guests. Satisfying guests' needs is critical to a hotel's success and ensures customer loyalty. Lodging managers also need strong interpersonal skills because they interact regularly with many different types of people. They must be effective communicators and must have positive interactions with guests and hotel staff, even in stressful situations.
All lodging managers must establish good working relationships to ensure a productive work environment. This objective may involve motivating personnel, resolving conflicts, or listening to complaints or criticism from guests.
All lodging managers should have excellent listening skills. Listening to the needs of guests allows managers to take the appropriate course of action, ensuring guests' satisfaction. Listening to the needs of workers helps them keep good working relationships with the staff. The ability to resolve personnel issues and guest-related dissatisfaction is critical to the work of lodging managers. As a result, they must be creative and practical when solving problems.
Lodging managers address budget matters and coordinate and supervise workers. Operating a profitable hotel is important, as is the need to motivate and direct the work of employees. Lodging managers keep track of many different schedules, budgets, and people at once. This task becomes more complex as the size of the hotel increases.
The following are types of lodging managers:
General managers oversee all lodging operations at a property. At larger hotels with several departments and multiple layers of management, the general manager and several assistant managers coordinate the activities of separate departments. These departments may include housekeeping, personnel, office administration, marketing and sales, purchasing, security, maintenance, recreational facilities, and other activities.
Revenue managers work in financial management, monitoring room sales and reservations, overseeing accounting and cash-flow matters at the hotel, projecting occupancy levels, and deciding which rooms to discount and when to offer special rates.
Front-office managers coordinate reservations and room assignments and train and direct the hotel's front-desk staff. They ensure that guests are treated courteously, complaints and problems are resolved, and requests for special services are carried out. Most front-office managers also are responsible for handling adjustments to bills.
Convention service managers coordinate the activities of various departments to accommodate meetings, conventions, and special events. They meet with representatives of groups to plan the number of conference rooms to be reserved, design the configuration of the meeting space, and determine what other services the group will need, such as catering or audiovisual requirements. During the meeting or event, they resolve unexpected problems and ensure that hotel operations meet the group's expectations.
What is the workplace of a Lodging Manager like?
More than half of lodging managers in 2010 were employed in the traveller accommodation industry, which includes hotels and motels. Most of the remainder worked in other lodging establishments such as recreational vehicle (RV) and recreational camps, youth hostels, inns, boardinghouses, bed-and-breakfasts, and resorts. The pressures of coordinating a wide range of activities, turning a profit for investors, and dealing with angry guests can sometimes be stressful.
Lodging Managers are also known as:
Front Office Manager Hotel Manager Resort Manager Hotel Operations Manager