What is a Marriage Therapist?
Marriage therapy is a form of psychotherapy. It involves a marriage therapist helping couples analyze their marital issues and providing actionable steps to resolve them.
These therapists play an important role in helping couples determine whether or not their marital issues are reconcilable or not.
What does a Marriage Therapist do?
Marriage therapists help to resolve marital issues between couples. They also help engaged couples who are seeking advice before committing to marriage.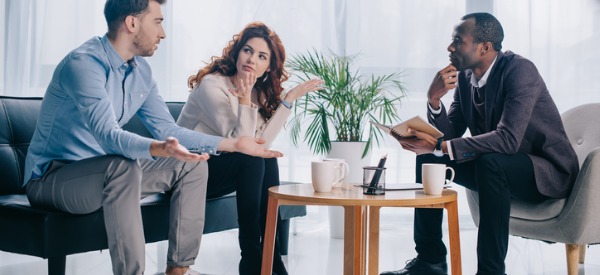 Occasionally, engaged couples seek out a marriage therapist. These couples are interested in getting advice or working through issues they may have before they get married, giving them a higher chance of having a successful marriage. The marriage therapist will have sessions with both parties; some will be done separately and some will be as a couple. The goal is to identify any red flags that need to be addressed before committing to a lifetime together. For example, the bride- or groom-to-be may have lingering and unresolved trust issues due to a previous relationship that need to be addressed.
The majority of a marriage counselor's clients, however, are already married and are experiencing problems in their relationship. Romantic relationships involve a lot of hard work, and sometimes small problems can become insurmountable problems if the appropriate work isn't put in by both parties.
Many couples consider marriage therapy to be a last resort before considering divorce. Some of the most common marital issues are:
extramarital affairs
jealousy
intimacy/sexual issues
communication breakdown
financial issues
child-rearing conflict
Marriage therapy utilizes a variety of therapeutic interventions, and is emotionally focused on conflict resolution between a couple. The goal is to rebuild a healthy relationship and solve any issues that may be a hinderance.
Marriage therapy involves focusing on a specific problem (for example, intimacy, infidelity, jealousy, etc) and actively treating the relationship with solution- and change-focused interventions. Couples are given effective tools for dealing with conflict so they are able to utilize them when they are at home.
During the therapy sessions, the marriage therapist will help the couple to 'see' the dynamics that are creating the problem and guide the couple to understand their roles in the dysfunctional behavior. This insight will help them change the way they perceive the relationship and each other.
Marriage therapists can vastly improve their client's family relationships, partner relationships, emotional health, and overall health.
What is the workplace of a Marriage Therapist like?
Most marriage therapists are self-employed and own their own practice. Others are partners with other therapists in a combined practice, or work for the government, non-profit organizations, local school districts, and universities.
Marriage therapists act mostly on an individual basis, and in conjunction with their clients. Occasionally they may interact with office staff or other therapists. However, all of the information released during a therapy session is extremely confidential. As such, marriage therapists do not share much information with those around them.
Marriage Therapists are also known as:
Family Therapist Licensed Marriage and Family Therapist Marriage and Family Therapist Marriage Counselor Family Counselor Couple and Family Therapist Family Systems Therapist Couples Therapist