What is a Marriage Therapist?
A marriage therapist (or marriage counselor) is someone who helps couples who are either engaged to be married and would like advice, or who are already married and are experiencing issues that need to be resolved. These therapists work extensively with couples on an individual basis and/or in group settings. A marriage therapist can also be a psychologist.
What does a Marriage Therapist do?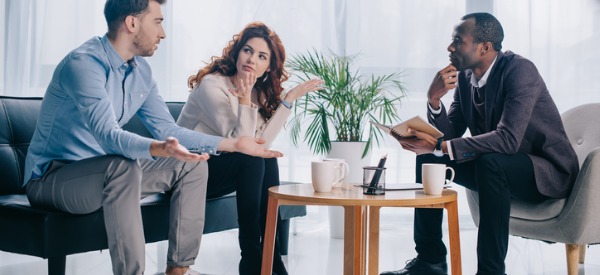 Most of a marriage counselor's clients are already married and are experiencing problems in their relationship. Many couples consider marriage therapy to be a last resort before considering divorce. Some of the most common problems marriage therapists see clients for are:
extramarital affairs
jealousy
intimacy/sexual issues
communication breakdown
financial issues
child-rearing conflict
Sometimes, engaged couples seek out a marriage therapist. These couples are interested in getting advice or working through any issues they may have before they get married. Some people think this makes for higher chances of having a successful marriage. The therapist will talk to these clients individually and in group settings, trying to identify any problems that may only get worse with marriage. For example, if the bride-to-be has past issues with a relationship that she has not gotten over, the marriage counselor will try to address these issues and resolve them before the wedding takes place.
What is the workplace of a Marriage Therapist like?
Most marriage therapists are self-employed and own their own practice. Others are partners with other therapists in a combined practice. Others work for the government, non-profit organizations, local school districts, and universities. The office of a marriage therapist is typically a private office with comfortable surroundings in order to make clients feel at ease.
Marriage therapists act mostly on an individual basis, and in conjunction with their clients. Occasionally they may interact with office staff or other therapists. However, all of the information released during a therapy session is extremely confidential. As such, marriage therapists do not share much information with those around them. This means that most marriage therapists work in very independent and private workplaces.
Marriage Therapists are also known as:
Family Therapist Licensed Marriage and Family Therapist Marriage and Family Therapist Marriage Counselor Family Counselor Couple and Family Therapist Family Systems Therapist Couples Therapist