What is a Genetic Counselor?
Genetic counseling is a process to evaluate and understand a family's risk of an inherited medical condition. A genetic counselor is a healthcare professional who has specialized training in medical genetics and counseling, and who focuses on empowering their patients by helping them understand the ways genetics can affect life.
Genetic counselors explain family history and inheritance, and how a condition may occur or reoccur. They also help individuals and family members make informed choices and adapt to their particular condition with things like testing and management. They also might educate other healthcare professionals, students, and the public about genetic disorders.
What does a Genetic Counselor do?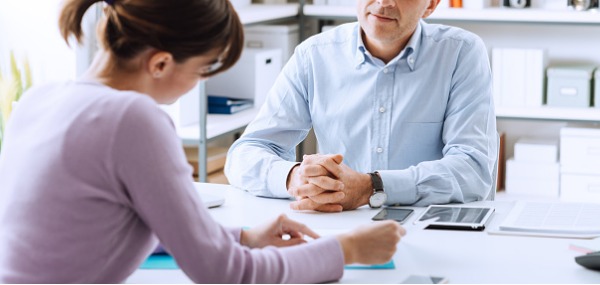 Most genetic counselors spend a large part of their day meeting with their patients. They take a full family history, ask about birth defects, genetic diseases, intellectual disabilities, autism, and any other significant medical diagnoses.
Patients are referred to a genetics counselor for a wide variety of reasons. Some individuals want to determine if they have a genetic disease. Other individuals have a strong family history of cancer or some other genetic disease, or are pregnant and have an ultrasound abnormality, or an abnormal blood testing in a pregnancy.
A genetic counselor will explain the details about the specific issue, and what tests are available to the patient. A physical exam is then typically performed by a physician, and genetic testing is ordered. Genetic counselors are specialists, which means that they work with a patient's health care provider as a part of a patient's complete care.
Genetic testing can be complex, and technological advances in testing are making the choices even more difficult. Genetic counselors have the expertise to make sure the right test is ordered. They then communicate what type of testing will be done and what the results mean when they come back. Often, genetic counselors are in a position to help people decide what information is right for them, however, in other situations individuals must make their own decisions regarding their medical and/or pregnancy care as a result of genetic testing.
Genetic counselors provide emotional support to individuals and families during what can be a challenging and confusing time. Genetic counseling is one of the few medical professions that includes extensive training both in the science and the psychological impact of healthcare on patients. Quite often these counselors will contact patients to see how they are coping with difficult information and to answer any questions or concerns that they may have.
Most genetic disorders involve lifelong care, and genetic counselors often coordinate a patient's care amongst several specialties and support them across their lifespan. There are some very rewarding aspects to genetic counseling, such as watching patients grow up, visiting with them in their next pregnancies, or meeting with family members to help impart genetics information to those at risk.
Genetic counselors are trained in gathering information that is very helpful to researchers. By getting involved with a team of researchers, a genetic counselor brings his or her valuable perspective and expertise, while furthering the advances in the care of individuals affected by genetic conditions.
What is the workplace of a Genetic Counselor like?
Genetic counselors work in a variety of clinical, laboratory, and research settings. They work in hospitals, doctor's offices, genetic testing laboratories, research studies, public health, insurance companies, and many other areas of health care. Genetic counselors working in clinical settings, such as hospitals or doctor's offices, see people in a variety of different areas including prenatal, pediatrics, adult/general, cancer, and a number of specialty areas including metabolism, cardiology, and neurology.
They work with patients and families, and also work in public health settings to improve access to services and determine public policy. They work as teachers in high schools, colleges and universities; as researchers who explore and find solutions for unanswered questions in genetics; as consultants for pharmaceutical companies; or in private practice.