What is a Pet Adoption Counselor?
The number of shelters, humane societies, and animal rescue groups has increased steadily over the past decade to accommodate the rising number of unwanted or stray pets.
A pet adoption counselor is responsible for matching potential owners with appropriate shelter pets. Duties may include reviewing applications and filing paperwork, screening potential adopters, observing interactions between pets and potential adopters, educating owners about proper pet care, training and supervising volunteers, setting up appointments for veterinary procedures, and processing adoption fees.
What does a Pet Adoption Counselor do?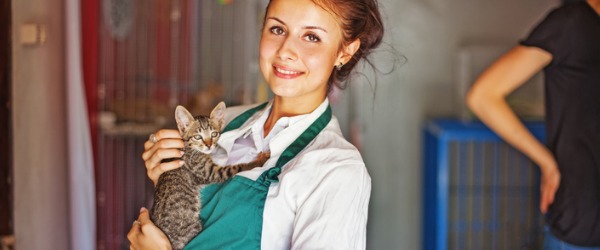 Pet adoption counselors work with individuals and families to find suitable homes for cats, dogs, and other animals. They sit down and have a chat with prospective pet owners to best determine whether they will be able to care for an animal properly, and also to see if the home environment will be a good fit for the animal. Counselors can then either approve or deny the adoption. If the adoption is approved, pet adoption counselors will also do follow-ups to check on how things are working out for both pet and owner.
Pet adoption counselors should be comfortable working with animals in various situations. For example, animals that have been picked up as strays or left by owners for various reasons need to be handled and cared for in a certain way. Counselors also spend quite a bit of time getting to know each and every animal at their facility so that they are better able to match them with the right individual or family. This may involve identifying behavioral problems or health issues that need to be addressed or that may need ongoing attention.
Pet adoption counselors may also assist with answering phones, ordering supplies, walking dogs, processing donations, updating records, filling out cage cards, giving tours, fundraising, and helping with mobile adoption drives.
What is the workplace of a Pet Adoption Counselor like?
Pet adoption counselors work in settings such as kennels, animal shelters, zoos, circuses, and aquariums. Since many individuals wanting to adopt work nine to five jobs during the week, pet adoption counselors may be required to work some nights, weekends, and holidays as the adoption schedule demands. Mobile pet adoption drives tend to require evening or weekend work.
Pet Adoption Counselors are also known as:
Animal Adoption Counselor