What is a Kennel Technician?
A kennel technician is hired to provide care and maintenance to animals that live in a kennel. This could be in a boarding kennel, a private show kennel, a veterinarian's office, a shelter, or a grooming facility.
Some responsibilities include walking the animals, feeding and watering, administering medication, scooping poop, as well as cleaning kennels.
What does a Kennel Technician do?
A kennel technician works in animal boarding houses, shelters, and veterinary clinics. They often work with dogs and cats, but may also care for other domestic animals, such as birds or rodents. They are in charge of the upkeep of any animals that are in their care by making sure the animals are clean, healthy, and happy. 
Kennel technicians may also have to interact with people, whether it be the owner that has come to pick up their pet, or with people who are looking to adopt a pet.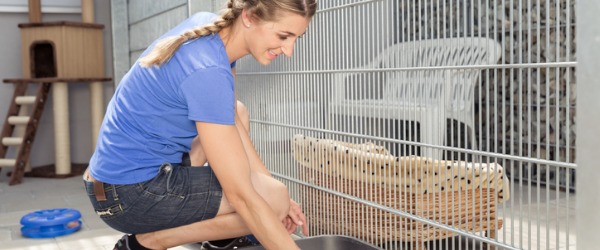 The work of a kennel technician can vary depending on the nature of the kennel and where they work. Whether it's a temporary boarding house kennel or an animal shelter, the technician's job is to make sure the kennels are cleaned every day, the animals get sufficient exercise, and that sufficient food and water is given.
Some animals have specific health or dietary needs that need to be met. If a kennel technician is working in an animal shelter, charts may be used to update and keep track of the animal's health and behavior. This data is particularly useful when animals are adopted, as their new family will need to provide the proper care going forward.
What is the workplace of a Kennel Technician like?
Kennel technicians may work in animal shelters, boarding kennels, or veterinary offices.
A technician typically works 40 hours a week and may be expected to work early in the morning. Some weekends, evenings, and holidays may be required as animals need care around the clock.
Kennel Technicians are also known as:
Kennel Tech Kennel Attendant