What is a veterinary technician?
Do you love animals? Do you want to be involved in providing them with the best possible care? You may want to consider a career as a veterinary technician!
Becoming a veterinary technician is a great first step for those wanting to get into the field of veterinary medicine. Veterinary technicians support veterinarians in diagnosing and treating sick and healthy animals, and have the skills required to perform a variety of important tasks. They are an integral part of the veterinary team.
Get online training through our partner:
What does a veterinary technician do?
Veterinarians rely on educated and skilled veterinary support staff to help them effectively see and treat their furry, feathered, and scaled patients. Veterinary technicians are one of the key team players when it comes to ensuring proper care is given for every patient.
Veterinary technicians assist veterinarians in completing clinical tasks, much like licensed nurses assist physicians. They help with administrative duties, patient preparation, and diagnostic tasks, providing a higher level of patient care than veterinary assistants.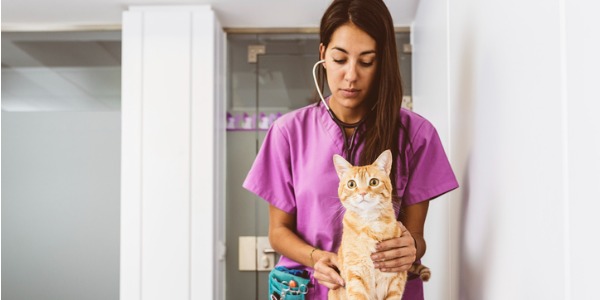 When a patient and owner arrives for an office visit, a veterinary technician will often be the one welcoming the patient and owner in, taking a detailed history, and performing a basic physical exam before the veterinarian enters the room (taking a look at the eyes and ears, listening to the heart, and taking the temperature).
During the veterinarian's assessment, the technician will try and make the patient feel as comforted as possible. If further investigation is needed to diagnose the patient, they may need to draw blood, collect urine, or get a feces sample for analysis. Once the assessment is complete, they will go over any prescribed medications, show the owner how to administer them at home, and answer any questions.
Veterinary technicians are also trained to perform some laboratory procedures and prepare patients, instruments, and equipment for surgery. However, there are some things that they are not able to do — they cannot diagnose, prescribe medication, perform surgery, or participate in any activity that is not allowed by a state's veterinary practice act.
What is the workplace of a veterinary technician like?
Veterinary technicians can be found working within the clinical, nonprofit, and government sectors. Examples are: animal shelters, animal hospitals, veterinarian clinics, zoos, and wildlife sanctuaries.
They often work long, physically demanding shifts in a fast-paced environment. Work schedules may include evenings, weekends, and holidays.
Veterinary Technicians are also known as:
Vet Tech Certified Veterinary Technician Licensed Veterinary Technician Registered Veterinary Technician