What is a Dog Walker?
A dog walker is a profession that involves a person walking with a dog, usually from the dog's home and then returning the dog back to its home. A dog walker can either be an individual or be part of a business. He or she will be paid by the dog owner to walk their dog or dogs for them.
Some dog walkers take many dogs for a walk at the same time, and others prefer to take only one at a time. Walking a dog is part of the daily exercise regime needed in order to keep a dog healthy and happy. In some jurisdictions, in order for you to have a dog walking business you must be licensed and have animal first-aid-trained employees.
What does a Dog Walker do?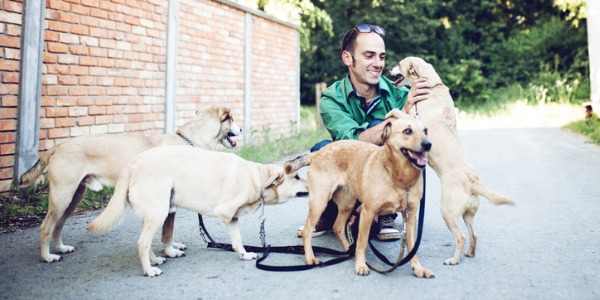 A dog walker's main role is taking the dog out for exercise. They typically pick the dog up at the owner's house, take it out for its walk, and then return the animal back to the house. They also make sure the animal has had enough food and water. Some dog walkers, especially those who own their own business, may choose to include grooming services.
Dog walkers need to have complete control, as they may be walking several dogs at a time, and need to have full authority so that one does not get away from the group. In some cases, a walker may have to deal with breaking up dogs in a fight, or with runaways. Being strong and having physical stamina is necessary in this career.
Some other requirements of the job are:
being comfortable working with pet owners
coordinating many schedules at a time
having an understanding of animal restraints and the use of transportation kennels
having the ability to control dogs of various sizes
obtaining and updating licenses or permits (if necessary)
A dog walker also needs to clean up after the dog and make sure that no droppings are left behind. While this is arguably one of the worst aspects of the job, dog walkers are animal lovers and know that it is all part of taking care of the animal.
What is the workplace of a Dog Walker like?
A dog walker spends almost all of their time outside, rain or shine, taking a dog(s) out for their exercise. These excursions not only provide exercise, but also stimulation and socialization with people and other dogs that a dog needs and wants. As a result, the dog is more content, displays less destructive tendencies, and is calmer for their owner.
Dog Walkers are also known as:
Professional Dog Walker