What is a Dog Trainer?
A dog trainer is a person who is in the 'service' industry and works with people who have dogs. Although the trainer is working with dogs, they are primarily working with the dog owner. A dog trainer will show the owner how to teach a dog to respond to commands as well as get them to perform certain actions that are not necessarily natural to the dog.
What does a Dog Trainer do?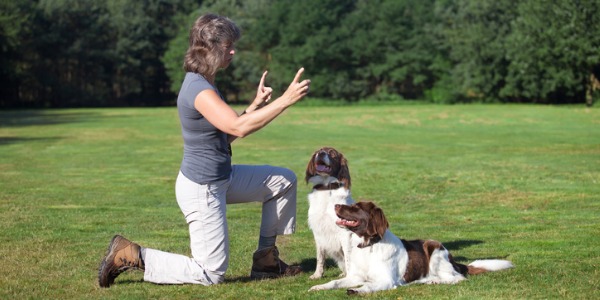 Most of dog training entails teaching people; the vast majority of dog trainers earn a living by teaching classes and private lessons for pet-dog guardians. And the success of a dog's training program depends upon the human's compliance with that program.
A dog trainer can provide basic obedience training with the owner, or provide training for specialized activities such as search and rescue, hunting, law enforcement, working with livestock, therapy, entertainment, dog sports, protection and detection.
Individualized training is used with dogs that have a unique training problem such as aggression, hyperactivity, fear, separation anxiety, inappropriate elimination, excessive barking, insecurity, destructive behaviours, and biting.
There are a variety of established methods of dog training, each with its pros and cons. Some of the better known dog training procedures include the Koehler method, clicker training, dominance-based training, negative reinforcement and relationship-based training. The common characteristics of successful methods are knowing the animal's attributes and personality, accurate timing of reinforcement and/or punishment and consistent communication.
What is the workplace of a Dog Trainer like?
Many dog trainers are self-employed, or work for a small business, often owned by a head trainer. Sometimes other pet-related businesses hire dog trainers, such as veterinarians, shelters, groomers, and pet stores. Sometimes trainers are hired by local city or county recreation departments, 4H clubs, or other community groups.
Dog Trainers are also known as:
Dog Obedience Trainer