What is a Dog Trainer?
Do you love dogs? Are you also a people person? You may want to consider working as a dog trainer!
Dog trainers are in the 'service' industry and work with dogs and their owners — primarily with dog owners. They show owners how to teach their dog to respond to commands, as well as how to get their dog to perform certain actions that don't necessarily come naturally to them.
Get online training through our partner:
What does a Dog Trainer do?
Most of dog training entails teaching people; the vast majority of dog trainers earn a living by teaching classes and private lessons for pet-dog guardians. And the success of a dog's training program depends upon the human's compliance with that program.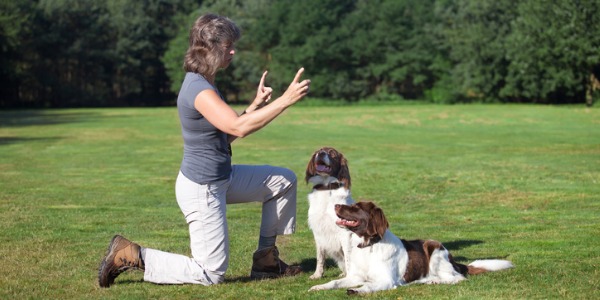 A dog trainer can provide basic obedience training with the owner, or provide training for specialized activities such as search and rescue, hunting, law enforcement, working with livestock, therapy, entertainment, dog sports, protection, and detection.
Individualized training is used with dogs that have a unique training problem such as aggression, hyperactivity, fear, separation anxiety, inappropriate elimination, excessive barking, insecurity, destructive behaviours, and biting.
There are a variety of established methods of dog training, each with its pros and cons. Some of the better known dog training procedures include the Koehler method, clicker training, dominance-based training, negative reinforcement and relationship-based training. The common characteristics of successful methods are knowing the animal's attributes and personality, accurate timing of reinforcement and/or punishment and consistent communication.
What is the workplace of a Dog Trainer like?
Many dog trainers are self-employed, or work for a small business, often owned by a head trainer. Sometimes other pet-related businesses hire dog trainers, such as veterinarians, shelters, groomers, and pet stores. Sometimes trainers are hired by local city or county recreation departments, 4H clubs, or other community groups.
Frequently Asked Questions
Steps to becoming a Dog Trainer

Many dog trainers are self-taught; and there is no lack of reading material, online resources, and professional organizations to aid them in their career goals.
Should I become a Dog Trainer?

When asked why they want to become a dog trainer, many individuals considering the career respond with, 'I love dogs.' While that's a great start, it is not enough – because working as a dog trainer means primarily working with dog owners and teaching them how to train their dogs. So, dog trainers are also people trainers! This dual mandate calls for a specific skill set that includes:

• A love of learning
• An appreciation for and understanding of different learning styles
• Observational, communication, and teaching skills
• Patience
• Compassion
• Physical stamina

If you have the skill set, then read on and learn about what practising dog trainers say are the best parts of their job:

• Daily interaction with dogs and their owners – you get to help other dog lovers better understand their pets
• Every day is different – the work exposes you to a wide variety of canine and human temperaments
• No degree required – there are no educational barriers to entering this career
• Flexible schedule – you can choose to work regular hours or evenings or weekends
• Part-time career option
• Option to be your own boss and set your own fees
• Opportunities to specialize – options include working with a specific breed or specializing in a particular kind of training: agility, service dog, law enforcement, show dog, hunting dog
• Opportunity to use problem-solving skills – dog training is about figuring out how to elicit desired behaviors and correct negative habits
• Increasing demand for services – spending on pets is expected to continue on an upward trend
Are Dog Trainers happy?

Dog trainers rank among the happiest careers. Overall they rank in the 89th percentile of careers for satisfaction scores. Please note that this number is derived from the data we have collected from our Sokanu members only.

While we probably do not need scientific evidence that dogs make us happier, such evidence does exist: Dogs improve moods. Dogs make great therapists. Dogs reduce stress. And dogs increase our level of the hormone oxytocin, often referred to as the 'love hormone,' a neurotransmitter that increases trust and reduces fear.
How long does it take to become a Dog Trainer?

The time it takes to become a dog trainer depends on the learning path chosen. Formal training programs can last several weeks or several months. Six months to a year may be required to complete an apprenticeship.
What are Dog Trainers like?

Based on our pool of users, dog trainers tend to be predominately investigative people. Everything about the job, in fact, supports this finding. Throughout their work day, dog trainers rely on their powers of observation – and investigation – to determine what is causing a dog to act in an undesirable way.
Dog Trainers are also known as:
Dog Obedience Trainer