What is a Veterinary Technologist?
If you have a deep love and respect for animals and feel passionate about caring and providing them with the best possible care, you may want to consider a career as a veterinary technologist.
A veterinary technologist's primary function is to be a professional assistant to a licensed veterinarian, much like a nurse would assist a physician. They help to treat and diagnose the illnesses and injuries of animals, and are qualified to do more advanced clinical tasks than veterinary technicians and assistants.
As an integral part of a veterinary team, they treat animals with kindness and are sensitive when dealing with the owners of sick pets.
Get online training through our partner:
What does a Veterinary Technologist do?
To provide superior animal care, veterinarians rely on the skills of veterinary technologists, who do many of the same tasks for a veterinarian that registered nurse would for a doctor. They conduct a variety of clinical and laboratory procedures, including postoperative care, dental care, and specialized nursing care.
Veterinary technologists can specialize in a particular discipline, such as dental technology, anesthesia, emergency and critical care, and zoological medicine.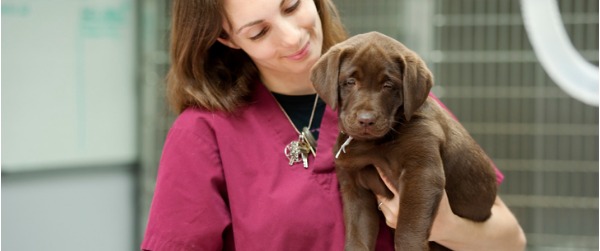 Veterinary technologists typically do the following:
Observe the behaviour and condition of animals
Provide nursing care or emergency first aid to recovering or injured animals
Administer anesthesia to animals and monitor their responses
Collect laboratory samples, such as blood, urine, or tissue, for testing
Perform laboratory tests, such as urinalyses and blood counts
Take and develop x-rays
Prepare animals and instruments for surgery
Administer medications, vaccines, and treatments prescribed by a veterinarian
Collect and record patients' case histories
Veterinary technologists who work in research-related jobs are responsible for making sure that animals are handled carefully and humanely. They commonly help veterinarians or scientists on research projects in areas such as biomedical research, disaster preparedness, and food safety. They most often work with small-animal practitioners who care for cats and dogs, but they may also do a variety of tasks with mice, rats, sheep, pigs, cattle, and birds.
What is the workplace of a Veterinary Technologist like?
Veterinary technologists typically work in private clinics, laboratories, and animal hospitals. Some work in boarding kennels, animal shelters, rescue leagues, and zoos. Their jobs may be physically or emotionally demanding. They may witness abused animals or may need to help euthanize sick, injured, or unwanted animals. When working with scared or aggressive animals, they may be bitten, scratched, or kicked.
Many clinics and laboratories must be staffed 24 hours a day, so veterinary technologists may have to work evenings, weekends, or holidays.
Veterinary Technologists are also known as:
Certified Veterinary Technologist Licensed Veterinary Technologist Registered Veterinary Technologist Vet Tech