What is a Music Therapist?
A music therapist is part of an employment subgroup of creative arts therapists who use the arts to treat mental illness, provide support for individuals with disabilities, and to promote wellness and personal growth and creativity.
Music therapists create a therapeutic and supportive environment which taps into non-verbal processes to facilitate emotional, physical and mental change. It is effective with individuals who may have difficulty expressing themselves in normal ways; for example, children who have experienced trauma prior to the development of language skills, or people who have gone through profound trauma and cannot express it verbally. Children and adults who are developmentally disabled and unable to express themselves verbally can often communicate through the arts and music.
Music therapists use techniques like relaxation, guided imagery and improvisation, and they incorporate sound, music, and rhythm in a way to engage clients. Music therapy is a clinical and evidence-based therapy technique that has been proven to achieve individual and group goals when applied by a qualified professional.
Music is known to affect people not just physiologically by changing heart beat, blood pressure, temperature and breathing rate. Music also decreases feelings of isolation and lack of control, and it can open up spiritual vistas and help access and release repressed emotion. Music therapy is effective for anxiety reduction, depression, pain management, coping with stress, self-expression, and much more. Music is also a powerful means to promote group unity.
What does a Music Therapist do?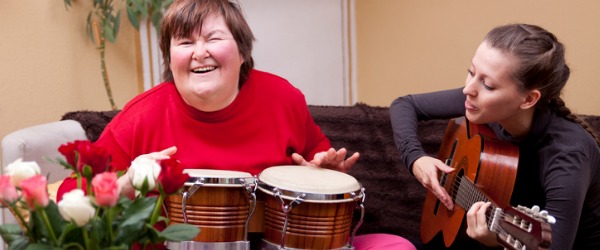 Like any therapist, the music therapist must do a thorough assessment of client needs and strengths. Goals and objectives are identified, and a treatment program is developed. A good arts therapist will consider a range of artistic activities, and will not hesitate to refer a client to another practitioner if another creative modality is considered more effective.
The music therapist will devise a program of music therapy for an individual client, then evaluate and adjust the program as needed. This form of therapy is often used very effectively with groups. Music therapy can include listening, instrument playing, interpreting, song writing, musical entrainment, and engaging in other activities with a musical base. The music therapist also participates in the ongoing therapy plan for the patient and follow-up assessment and evaluation.
A music therapist uses concepts from multiple disciplines. These can include speech and language therapy, physical therapy, nursing, medicine, and psychology. Sometimes the music therapist just encourages clients in reflective listening. Sometimes he or she engages the group or individual in singing or writing music. Playing a musical instrument is a powerful form of therapy. Drumming, for example, is known to reduce stress and regulate heartbeat. Music can help control pain and improve post-operative outcomes. The music therapist is responsible for assessing each individual and situation and prescribing the best form of music treatment.
What is the workplace of a Music Therapist like?
The workplace is flexible, and can involve standard office hours in a range of settings, working with both adults and children. Locations can include: prisons, hospitals, schools, caregiving centers, community agencies, rehabilitation centers, daycares, senior centers and nursing homes. The most common settings are working with people with developmental disabilities, in trauma treatment, and with senior populations. Many therapists work in private practice. Work hours can include evenings and weekends.
The workplace can be in a music room, a private office, a home, or a large therapy room. Instruments most commonly used are guitars, drums and percussion, and keyboards, but any type of musical instrument can be used.
A key element of the music therapy workplace is safety. The individual client or client group must feel safe in that environment, and this may be interpreted both emotionally and physically. Emotional safety involves not allowing musical triggers that could create trauma, while physical safety could mean not allowing sharp implements that could potentially serve as weapons. Much depends on the circumstance and the clientele. The focus is on making music.
Music Therapists are also known as:
Neurological Music Therapist Music Rehabilitation Therapist