What is a Conductor?
When we think of a conductor, we probably conjure up the classic image of a leader standing in front of an ensemble of musical artists using a thin wooden baton to direct a performance.
This profession dates back to the middle ages, and has taken on many forms and followed many traditions throughout the centuries. It was only in the early 19th century that Felix Mendelssohn first used the modern baton.
A conductor is an important part of a music ensemble, and is necessary to a variety of performing groups, from choirs, marching bands, orchestras, and other instrumental groups.
What does a Conductor do?
A conductor directs and shapes a musical performance by an ensemble, from its infancy in rehearsal to the eventual exhibition in front of an audience.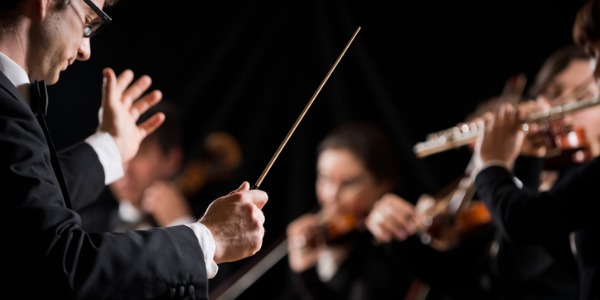 Conductors communicate beat, tempo, and at times, the emotion to be conveyed while playing a musical piece to unify the performing group.
Conductors are often paired with a particular performing group throughout many performances, guiding the artists through rehearsals and giving vocal feedback to shape the outcome of the musical piece. The exact nature of a conductor's duties can vary from one venue to another, and are also determined by the skill-level of the particular ensemble being directed, which can range from professional to amateur.
While some conductors are expected to follow formal rules that dictate gestures, duties, and non-vocal nuances, others are allowed considerable freedom with their means of communicating artistic direction.
The position requires a considerable amount of skill beyond musical comprehension as well. Firm leadership is required to keep the ensemble on cue and working together to convey the musical piece as a unified whole.
Being able to quickly read and process sheet music at a glance is vital during the execution of a performance. Physically being able to follow through gestures quickly and consistently will help the artists understand how to pace and shape their individual responses.
Also, the ability to hear the group in its entirety, but to still be able to pick out the pitch of individual instruments is very important to keeping the overall harmony.
Even before the final performance, a conductor must be able to direct musicians throughout the rehearsals and give constructive criticism to ensure the best possible outcome.
No matter the venue or title, the conductor is to be the leader of a group, applying personal understanding and expertise of musical composition as a whole to those who are familiar with only specific elements of its performance.
The exact title of the position can vary depending on seniority or the specific type of group being directed; 'musical director' in an orchestral setting, 'choral director' or 'choirmaster' when directing a choir, 'bandmaster' when the ensemble is primarily brass and percussion instruments.
A conductor who has excelled in the field and achieved a certain level of seniority may gain the title of 'maestro', a coveted honour and tradition.
What is the workplace of a Conductor like?
The workplace of a conductor can vary greatly, from a school classroom to a world-renowned music hall.
In the instances of amateur performances, the performance venue may take place in the same environment as rehearsals, such as a church or a recreational centre.
As a conductor of a military band, the workplace may centre around a specific military base and requires him or her to be an enlisted member.
As the conductor of a professional orchestra or choir, the workplace can be a particular concert hall that acts as the ensemble's base, or can be a world-wide venue that requires frequent travel between performances and constantly changing bases.
Conductors are also known as:
Music Conductor Chief Conductor Orchestral Conductor Choral Director Concert Band Conductor Music Ensemble Conductor Music Director Musical Director Principal Conductor