What is a Singer?
A singer is someone who vocalizes musical sounds with tone and pitch, and uses his or her own voice to produce music. Singers may sing solo or in a group, and are oftentimes accompanied by instrumental music.
The physical act of singing occurs as air passes through the larynx, throat, and mouth, and it's interesting to note that vocal resonation in singing involves seven areas of the human body: chest, tracheal tree, larynx, pharynx, oral cavity, nasal cavity, and the sinuses.
The history of singing goes back to the earliest recordings of mankind (as early as 800 B.C.), and songs are believed to have been used even before the development of modern languages. In western culture, singers were often restricted to only singing in churches until the fourteenth century. The rise of operas and performances thereafter laid the groundwork for today's professional singers.
What does a Singer do?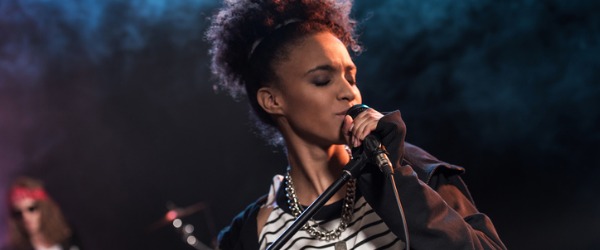 A singer is an artist or performer who crafts a vocal song using various techniques and training. Singers often practice daily and will hire professional voice coaches to help them hone their craft. Singers may write their own music or sing music written by others. In addition to singing, singers may work as music teachers or voice coaches.
Professional singers have typically had a lot of training, are highly talented, and have an excellent ear for identifying tone and pitch. They also possess a certain level of natural singing ability including a wide vocal range or pleasant vocal resonation. Singers often freelance and are contracted on a per job basis, either as a singer or as a consultant or judge in singing competitions.
Singing is an accepted art form that is taught in most public and private schools. It can also be a fun activity and be casual entertainment, such as karaoke.
What is the workplace of a Singer like?
Professional singers may be employed by a record label that finances the development and recording of their music. Other singers may be employed by companies including radio advertising firms and variety show theatres. Special event singers often travel to perform at various venues including:
Weddings
Parties
Dances
Corporate Events
Fairs and Festivals
Theatrical singers are live performers who often perform nightly performances at a theatre. Opera singers are a specialization of theatrical singers that typically perform in a home theatre they are employed by. A theatrical singer in a main role will usually have their own dressing room and voice coach. Supporting or back-up singers will often share a common dressing area and receive less perks than a singer in a main role.
Professional recording singers exist outside of the entertainment industry in small numbers and are typically employed in marketing sectors for use in marketing jingles and advertisements. These singers will usually work as collaborators and writers of the pieces they sing and will work out of an office.
Professional singers in the music industry are the most noted public figures in the singing profession. Professional singers record their tracks in studios and often will spend hours in the editing booth with producers. Singers at this level are considered to be at the top of the profession and often have demanding travel and work schedules. Singers will be required to tour cities for months at a time performing on stage and promoting their music in stores and events, and will have tour buses to live out of while on the road.
Frequently Asked Questions
Steps to becoming a Singer

Most singers start humbly. The seemingly instant fame presented on televised national and international competitions is the exception, not the rule. This means that while the steps taken by those who want to make singing a career can certainly vary, the nonnegotiable constants are passion, dedication, and patience.
How long does it take to become a Singer?

There is absolutely no concrete answer to this question. Some now famous singers struck lightning in a bottle and were quickly discovered via social media. Others – the majority – spent years doing shows wherever they could, busking, posting their work online, and refining their talent before they got their break. It is also important to distinguish between having a singing career and having fame. With talent, and usually with some luck, the two may intersect. It is also true that they may not.

Many aspiring singers choose to take voice lessons. Some pursue a four-year Bachelor's Degree in vocal performance. Some do both. And some do neither, relying solely on performing whenever and wherever they can. So, how long does it take to become a singer? It takes – as long as it takes.
Should I become a Singer?

Discipline, perseverance, a likeable personality, charisma, and stage presence. These qualities define most prosperous singers. Most also have stories of criticism and rejection and luck and serendipity. In deciding to pursue this career, it is essential to realize that worldwide fame and fortune are not the norm and not the only barometers of success. The profession is full of people who make a good living singing and who are not famous. With that important caveat in mind, let's look at some facts about the career that may help you to determine if it's for you.

The best singers do more than sing well.

They can write songs.

They are passionate about music and lyrics and have the discipline required to spend long days in studio and rehearsing.

They know how to network and market themselves.

They know that building a singing career is challenging and they are prepared to make sacrifices along the way. In the words of Katy Perry, 'It was five years of living in L.A. with no money, writing bad checks, selling my clothes to make rent, and borrowing money.'

They accept that singing is most certainly not a nine-to-five job.

They know that working as a singer can be as grueling as it can be exciting.
Are Singers happy?

Singers rank among the happiest careers. Overall they rank in the 99th percentile of careers for satisfaction. Please note that this number is derived from the data we have collected from our Sokanu members only.

This finding may be partially based in the fact that singing releases dopamine, serotonin, oxytocin, and endorphins in the brain. These hormones are responsible for happiness and mental health.
What are Singers like?

Based on our pool of users, Singers tend to be predominately artistic people. They are, in fact, creative and artistic by definition, whether they have a distinct and recognizable sound or mold their voice and overall sound to the song or genre they are singing.
Singers are also known as:
Vocalist Professional Singer Lead Vocalist Backing Vocalist Back Up Vocalist Backup Vocalist