What is a Stuntman?
A stuntman (or stuntwoman) often fills in for the star of a movie or television show, performing dangerous falls or getting into car crashes, fires or fights. The stuntman is rarely filmed up close and seldom stars in the movie or show. They are usually the unsung heroes of a movie, taking the gunshots, the punches, or falling off bridges or the tops of buildings. Some of the early stunt work took place in cowboy and western films where stuntmen fell off of roofs during big gunfight scenes or were dragged behind a horse through the streets with a boot caught in a stirrup.
What does a Stuntman do?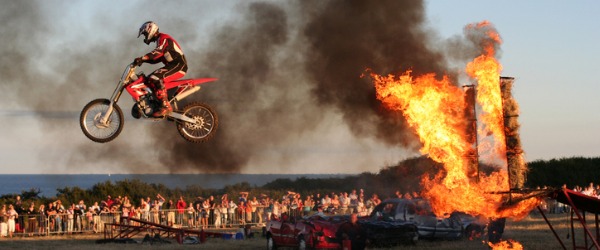 It is not unusual to see a stuntman being attacked by animals, jumping off a bridge, strapped on an airplane wing, taking a punch or involved in an explosion and fire. There is a risk in all stunt work, whether it be television, film or stage work.
Sometimes the stunts, while looking extremely dangerous, are rigged with safety mechanisms. In filmed productions, these visible safety mechanisms can be edited out. On the other hand, some stunts are as dangerous as they appear. Of course the most risk is taken when done in front of a live audience.
As a stuntman, you can specialize in three broad categories of stunt work:
Practical - everything from fighting to short falls
Mechanical - any stunt that would need help of a machine, for example long falls, wire work etc.
Vehicular - everything from cars to boats to planes
What is the workplace of a Stuntman like?
A stuntman works on location wherever the movie or television show is being filmed. You may have to work from 4 AM to 11 PM and then get up at four again the next morning. A stuntman's work is done in all types of weather, most likely outside. This line of work can take you to many different locations in the world, and can take you away from home for extended periods of time.
Stuntmen are also known as:
Stuntwoman Daredevil Stunt Performer