What is a Motivational Speaker?
A motivational speaker, also known as an inspirational speaker, is someone who delivers speeches with the intention of motivating or inspiring the people in the audience. Typically, he or she has a reputation as an expert on the subject being discussed, and will encourage the audience to look at things from a different perspective and to become more attentive to their own talents and abilities.
What does a Motivational Speaker do?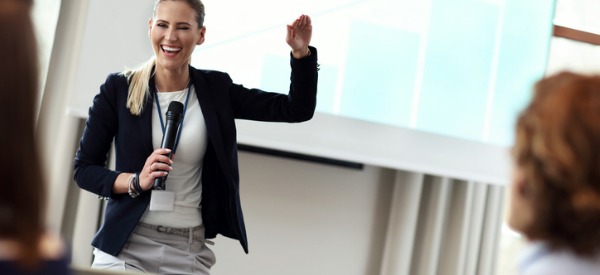 The ultimate goal of a motivational speaker is to change people profoundly on an emotional and/or mental level, and to help them make some kind of professional or personal change in their lives and within themselves. People naturally tend to focus on all their problems, and the motivational speaker will help an audience to focus on the many opportunities instead, by using any number of persuasive speech tactics to inspire and motivate. 
Some speakers may be hired to speak as special guests, and others travel a planned circuit of speaking engagements. The more popular motivational speakers may also write and sell inspirational books, dvd's and appear on television.
Almost all motivational speakers relate their own personal experience to an audience, which means they can come from any kind of background and use that information to inspire others. Not everyone evaluates their significant life experiences to determine if those experiences could be helpful to others. A motivational speaker is constantly reflecting on their own life to see what information would be helpful to their audiences or clients. They speak in a variety of venues like schools, company boardrooms, community centres, and conferences. 
There are a few motivational speakers within different areas of expertise: 
Personal Development -
This is the type of speaker that is most commonly thought of when "motivational speaker" is mentioned. They inspire and guide listeners to find purpose and meaning in their life. They may give talks on motivation, inspiration, or overcoming adversity, which in turn helps people to take action and see the world or their situation from a new perspective.
Business -
These types of speakers provide encouragement and guidance to business teams at varying levels, from sales people to executive directors. Business speakers usually have experience in business and are able to share their own stories of success (and failure). They cultivate enthusiasm, help teams develop a common purpose, and inspire them to improve their work. 
Youth Mentor -
The goal of a youth mentor is to give kids some positive guidance and a sense of direction in their formative years. They hope to inspire young people to lead healthy, ambitious lives, which may include topics like taking school seriously, finding their calling in life, studying hard, and learning how to interact with others in a healthy way. They may address young people at schools, churches, community centres, and a variety of other venues. 
Community -
These types of speakers give motivational talks about important social and community issues. Their goal is to educate the public and give them the power to take positive action, or they may give a speech that rallies people together for a good cause.
What is the workplace of a Motivational Speaker like?
A motivational speaker tends to work irregular hours depending on their speaking engagements, travel requirements, and how much time they need to write or refine their speeches. Highly successful speakers are in demand and will be called on to present at conferences and events all over the world. This means they can have very heavy travel schedules. 
The job doesn't always stop once the conference speaking engagement is over. Many successful motivational speakers also write books, produce seminars, videos or podcasts, and may also appear on television.
Motivational Speakers are also known as:
Inspirational Speaker Keynote Speaker