What is a Music Editor?
A music editor is responsible for compiling, editing, and syncing music for a film's soundtrack. They help achieve the director's musical vision on film, ensuring the soundtrack is properly structured and that all the components work together perfectly. The music must be carefully placed within the film and appropriate to the story and setting so that it is a complimentary addition rather than a detraction.
Music editors will often work closely with picture editors in order to achieve the best fusion of image and movement. They need to have an excellent understanding of how music is performed, recorded, and constructed. A vast knowledge of pop and classical music is a must, and an understanding of how music can affect images and create drama is essential.
What does a Music Editor do?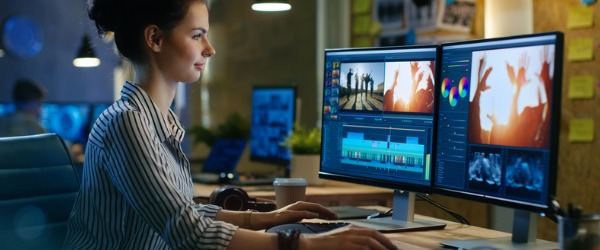 Music editors play a crucial role in shaping the music content of a publication, and are responsible for ensuring that it is of the highest quality and relevance to the publication's target audience. They should have a deep understanding of music, as well as strong editorial and organizational skills.
A day in the life of a music editor can be fast-paced and varied. Here's what a typical day might look like for a music editor:
Reviewing and editing music content: The music editor begins the day by reviewing and editing music reviews and articles from staff writers or freelancers. They may also write their own content, such as album reviews or feature pieces.
Soliciting and commissioning content: The music editor may reach out to writers and musicians to commission new content for the publication, such as interviews or features.
Staying up-to-date on the latest music news: The music editor spends time each day reading music news and industry websites, and attending concerts and events to stay informed about the latest music trends and developments.
Collaborating with other staff members: The music editor works closely with other members of the publication's staff, such as graphic designers and photographers, to produce engaging and high-quality music content.
Managing production schedules: The music editor is responsible for ensuring that all music content is produced and published on time, and that all deadlines are met.
Building and maintaining relationships with industry professionals: The music editor may have regular phone or email correspondence with musicians, record labels, publicists, and other industry professionals to stay informed about new releases and upcoming events.
Overall, a music editor's day is a balance of content creation, management, and collaboration with other professionals in the music industry. They must be well-organized, detail-oriented, and have a deep passion for music to succeed in this role.
What is the workplace of Music Editor like?
The workplace of a music editor can vary depending on the size and type of publication or media outlet for which they work. However, here are some common elements of a music editor's workplace:
Office environment: A music editor may work in a traditional office setting, such as a newsroom or a media company's headquarters. They may also work from home or remotely, depending on the company's policies.
Collaborative atmosphere: Music editors often work closely with other staff members, such as writers, photographers, and graphic designers, to produce engaging and high-quality music content.
Fast-paced and deadline-driven: The music industry is constantly changing, and a music editor's workload can be heavy, especially around major music events or album releases. They must be able to manage their time and meet tight deadlines.
Access to musical events and concerts: Music editors often attend concerts, music festivals, and other musical events to stay informed about new releases and emerging artists.
Exposure to a wide range of music: A music editor must have a broad knowledge of various musical styles, genres, and artists to succeed in their role. They will have access to new music releases, concerts, and other opportunities to expand their musical knowledge.
Overall, a music editor's workplace can be both demanding and rewarding, with opportunities to work closely with talented professionals, attend musical events, and write about the music they love.