What is a Copywriter?
Does the spelling mistake in this sentance really annoy you? Do you derive a great sense of accomplishment from writing a well-crafted paragraph? Do you feel a passion for writing? If so, you may be suited to a career as a copywriter.
Copywriters work with words on a daily basis, and are experts at adapting their writing talent to meet their client's needs.
What does a Copywriter do?
Words are everywhere. From websites to billboards; e-mails to brochures; social media to SEO (search engine optimization), words dictate whether a business flourishes or fails. Simply stated, if a company cannot communicate effectively, it is doomed. The value of copywriting skills, therefore, will never wane.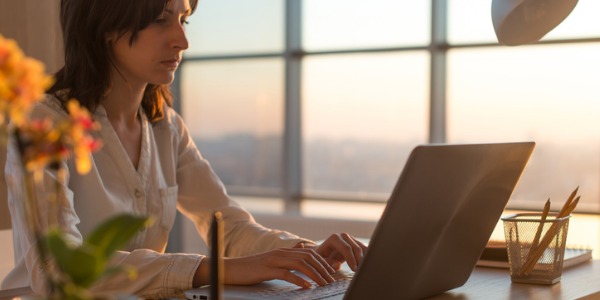 Copywriters are commissioned to help increase sales, generate leads, enhance brand awareness, and articulate internal corporate communications. Their talents are called upon to help businesses and other organizations achieve diverse and specific goals.
Copywriting is about being able to understand, connect and write for an audience, and is about having the flexibility and skill to alter the style of writing from client to client and from project to project. The ultimate goal of a copywriter is to influence people's behaviour through their words.
A copywriter provides creative ideas or concepts, and can take the client's idea and give it substance and direction. Copywriters are employed by agencies on a freelance or permanent basis, and often work with art directors and as part of a creative team.
Some copywriters may focus on business-to-consumer (B2C) copywriting, working on materials aimed at general consumers versus businesses. These writers need to be able to get inside people's heads and understand what makes them tick, so they can make products and services sound interesting, attractive, and relevant to their lives.
They need to write in different tones of voice for different brands; for example, an ad for a soft drink calls for a different tenor than an ad for a car. Business-to-business (B2B) copywriting helps businesses sell to other businesses. Copywriters working in this area need to be proficient at explaining the features and benefits of products and services, while still conveying the personality of the business they are promoting and making an emotional connection with the reader.
You can see a copywriter's work in a variety of areas:
Public Relations - feature articles, press kits, news releases, product updates, or any communication a business will send out to television and radio stations or newspapers for public consumption. Public relations covers any communications with clients, employees, customers or the general public.
Advertising & Marketing - ads, sales letters, trade show displays, fliers, brochures, catalogs, post cards, packaging, business plans, labels, direct mail, product literature etc.
Audiovisual & Broadcast Material - radio ads, television commercials, video scripts and audio scripts are used for fundraising, recruiting, training and teaching by organizations, the government, educators and businesses. It is not unusual for audio visuals to be directed, produced and edited by the copywriter.
Online Copy - wiki pages, websites, auto-responder messages, banner ads, video and podcast scripts, online sales pages, email marketing, product descriptions, and other content. Copywriters must understand SEO techniques.
Speech Writing - written speeches for raising funds, business functions, special events, political functions, and executive meetings. The copywriter must be able to write speeches that sell, motivate, persuade and communicate on an emotional level.
Technical Material - is usually left for those with a background in science, engineering, computer programming etc. Reports, technical papers, training manuals, instruction manuals, data sheets, and all manner of technical documentation is needed in this area.
What is the workplace of a Copywriter like?
Copywriters are found in almost every business; though they usually work in the advertising, marketing, and public relations sectors. In whichever arena they work, their primary objective is to artfully convey meaning in commercial environments.
Although some copywriters seek permanent employment with established businesses, many prefer the flexibility and variety that come with a freelance role.
Frequently Asked Questions
What are Copywriters like?

Based on our pool of users, copywriters tend to be predominately artistic people. This dominant attribute speaks clearly to the artistry and creativity which are the keys to writing powerful, impactful copy.

The road to entering this career is seldom the same for any two copywriters! The field is populated by – and benefits from – an eclectic mix of formally educated writers, individuals who have successfully transitioned to copywriting from other sectors, and those who recognized their passion for writing and took various paths to cultivating it and ultimately making a living from it.
Should I become a Copywriter?

To be successful in this field, you will need to be more than a stickler for proper spelling and grammar. You will have to be thick-skinned and able to accept constructive criticism from superiors and clients who need your content to fit their specific briefs and objectives.

If you choose to work as a freelancer you will have to accept the inevitable and greatest challenge of starting a copywriting business: getting work. The familiar Catch-22 expression applies: you can't get a job with experience and you can't get experience without a job.

Landing projects and clients is nearly impossible without a portfolio of completed work and a repertoire of success stories. It is therefore not uncommon for aspiring freelance copywriters to begin their career by creating sample pieces for clients they do not yet have.

Doing so allows them to showcase their skills and talents and eventually leads to paid work; at first, often from personal contacts or small clients with limited budgets who are willing to work with a beginner in exchange for affordability. With each job completed, their portfolios, their confidence, and their businesses grow.

Another familiar characteristic of freelance copywriting is 'feast or famine.' Every freelancer experiences both surges and trickles; times of overwhelming demand and other times of no work at all. Freelancers in the field have to be comfortable with these peaks and valleys and learn how to use lulls to focus on marketing activities that will ultimately make the famines less frequent.

To deal with the feasts, when they are too busy to take care of every project and every aspect of their business, freelancers turn to outsourcing and collaborate with other professionals to fill in the gaps.

Without exception, successful copywriters possess these attributes and skills:
- Imagination and creativity
- Accuracy
- Unrelenting attention to detail
- Ability to work under pressure
- Patience

Communication and interpersonal skills
Working closely with other creative professionals and building creative, persuasive pitches are at the core of the copywriting profession. While writing is largely a solitary undertaking, determining what that writing should say is not. Invariably, it is consultative and collaborative. Willingness and ability to listen, discuss, review, and revise are paramount.

Proven writing ability
It is certainly imperative to believe in yourself, but to make a living as a copywriter you need other people to agree that you are a talented writer. If your writing has been commercially published or just praised by some who have read your work, you may have marketable copywriting skills or the potential to develop them.

Research, editing, and proofreading skills
The consummate copywriter is more than a writer. He / She is a researcher who enjoys searching for information, an editor who can make even dry and uninspiring material come alive, and a proofreader who is an unrelenting stickler for correct grammar, error-free text, and flowing language.

Business skills
Entrepreneurial skills are especially important for freelance copywriters. Operating your own business means you will need to market and promote yourself; manage your revenue; and set the direction of your enterprise. This is significantly different than a salaried position, in which other people manage your work and your income is stable and predictable.

Administration and organizational skills
In a freelance role, you will have to manage your workload, projects, and time; keep financial records; and stay on top of correspondence. Again, if you are accustomed to others scheduling or prioritizing your work and helping you with admin tasks, this can take some getting used to.
Are Copywriters happy?

Copywriters rank as moderately happy among careers. Overall they rank in the 47th percentile of careers for satisfaction scores.

This restrained happiness quotient may have its foundation in the stress that freelance copywriters face securing contracts, managing very busy periods, and enduring quiet periods.
Copywriters are also known as:
Copy Writer Creative Content Provider