What does an Illustrator do?
Would you make a good Illustrator? Take our career test to find out how you match with this and over 800 other careers.
Take Free Career Test
Certificate or Associate's degree
What is an Illustrator?
An illustrator is an artist who creates two-dimensional images for various companies and industries, such as fashion design, children's books, magazines, medical manuals, web sites, technical designs and advertising. The illustrator will use various techniques to create effects, like the simplicity of black and white, the richness of colour, or the use of light and shadows.
Typically, an illustrator will choose to specialize in a certain industry according to their talents and work as a freelancer. If he or she excels in sketching clothing, becoming a fashion illustrator is a natural fit. If animals, foliage or earth formations are a strength, becoming a scientific illustrator would be a fit. Being a medical illustrator would require a talent in drawing human organs or the schematics of the human body or surgical procedures. An illustrator can also work for an advertising company, drawing images for labels, advertising materials or packaging. New illustrations are always needed for wrapping paper, greeting cards, books, magazine covers and advertising.
What does an Illustrator do?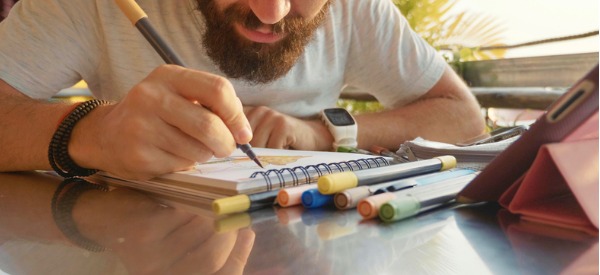 There are many types of illustrators across a range of industries:  
Editorial Illustrator
Editorial illustrators create images that accompany articles in publications like newspapers, magazines, and journals. These illustrations are meant to illuminate key concepts from the text. A common example of an editorial illustration is political cartoons. 
Advertising/Product Illustrator
This artist works with advertising agencies to create a finished drawing or painting of a product. They create illustrations for items like brochures, commercial packaging, and various forms of advertisement. They consult with clients to establish the creative direction and content of the illustration.
Storyboard Illustrator
A storyboard illustrator may be employed by an ad agency or work freelance. They take an art director's roughs and develop finished drawings for presentation purposes. These types of drawings may be used for ads, commercials, or television pilots, and are meant to give visual ideas of what the finished product(s) would look like after production.
Children's Book Illustrator
These illustrators create the pictures that appear beside the text written for a story. Through this artwork, the illustrator helps bring the words to life. A children's book is typically classified as works for kids 12 years old and younger. 
Fashion Illustrator
Fashion illustration is the intersection between drawing, painting, and fashion. Work is usually commissioned for use in fashion magazines for an editorial feature or for advertising purposes. 
Technical Illustrator
A technical illustrator shows realistic renderings to communicate information of a technical nature. Their work may consist of creating blueprints, equipment installation graphics, and technical diagrams. 
Medical Illustrator
A medical illustrator creates realistic renderings to be used in the medical field. These illustrations are used in textbooks, charts, magazines and advertising all directed to the medical profession.
---
An illustrator is usually hired or commissioned to produce a visual representation within the context of an associated text or idea. There are various stages in an illustrator's work flow that usually include: 
discussing the client's illustration and design needs
negotiating price and deadlines 
developing a sample to go over with the client
producing the illustrations by the deadline 
An illustrator will usually begin by sketching out a draft of the images they want to make. Once they have an idea of the quantity and the general outline of the whole project, they begin working on drawing each illustration. Illustrators can work from pencil and paper or digitally on the computer. They can choose the medium that works best for their style and their client's needs. Every illustrator has excellent drawing skills so that they can produce all kinds of images and designs. 
It is important for the illustrator to listen and understand the client's needs, and be able to exchange ideas and rework multiple concepts until both parties come to a final interpretation and illustration. Natural talent, education and continuous practice is necessary in order to become successful as an illustrator.
Illustration has become a very competitive career which means that most illustrators develop a very distinct design aesthetic so that their work stands out. While an illustrator's work is incredibly creative, it sometimes means that they have to keep working even when they are not feeling particularly inspired.
Find your perfect career
Would you make a good illustrator? CareerExplorer's free assessment reveals how compatible you are with a career across 5 dimensions!
Take the free career test
What is the workplace of an Illustrator like?
Most illustrators set their own working hours depending on their workload and deadlines they have to meet. They typically work from a studio or out of their own homes. Some of their time may be spent meeting with clients to discuss assignments, though in some cases, their meetings can be done via email or phone calls.
Both graphic designers and illustrators do design-type work.
Graphic designers will work on design elements and structures, providing a visual message/brand for a company in order to sell a product or service.
Illustrators, on the other hand, will typically do commercial work for companies like comic book houses, publishing houses and advertising agencies. They do a lot more drawing, designing of product packaging, working on book illustrations, creating company logos, and graphic novels.
Graphic design degrees require a concentration in product design, website design, and publication design. Illustration students have some graphic design training, but most of their coursework includes art history, drawing, and painting. The illustrator doesn't have the advanced knowledge of a graphic designer.
If you like to draw and illustrate concepts, illustration would be a good fit. If you prefer to code, make websites, and do detail-type work, then graphic design might suit you better.
Also relevant for Graphic Designer
Jobs
| Title | Company | Location | Info |
| --- | --- | --- | --- |
Collections With This Career
Discover careers for people who are interested in Creative Arts. Read More

A collection of careers that require innovation and creativity in order to be successful at. Read More

A collection of careers perfectly suited to artistic and creative people. Read More

The most common careers people pursue after attaining a Fine Arts degree. Read More

ISFPs have a strong aesthetic sense, seeking out beauty in their surroundings. They are artistic and express themselves through actions rather than words. Read More

Not sure what to do with your biology degree? Here are some of the most popular careers for graduates in your field. Read More
Find your perfect career
Would you make a good illustrator? CareerExplorer's free assessment reveals how compatible you are with a career across 5 dimensions!
Take the free career test
Certificate or Associate's degree
Find your perfect career
Would you make a good illustrator? CareerExplorer's free assessment reveals how compatible you are with a career across 5 dimensions!
Take the Free Career Test