What is an Illustrator?
An illustrator is an artist who creates two-dimensional images for various companies and industries, such as fashion design, children's books, magazines, medical manuals, web sites, technical designs, and advertising.
The illustrator will use various techniques to create effects, like the simplicity of black and white, the richness of color, or the use of light and shadows.
What does an Illustrator do?
Illustration is an amazing communication tool. Words can explain something to you, but an illustration can show you something — "a picture is worth a thousand words".
Illustrations can convey a feeling, a meaning, or an essence sometimes more effectively than a wall of text can. Illustrations can simplify a complicated idea, compliment the words or message being delivered to the user, and sometimes stand alone without any needed explanation.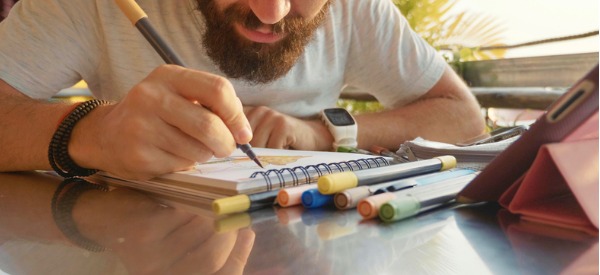 An illustrator is usually hired or commissioned to produce a visual representation within the context of an associated text or idea. There are various stages in an illustrator's work flow that usually include: 
Discussing the client's illustration and design needs
Negotiating price and deadlines 
Developing a sample to go over with the client
Producing the illustrations by the deadline 
An illustrator will usually begin by sketching out a draft of the images they want to make. Once they have an idea of the quantity and the general outline of the whole project, they begin working on drawing each illustration. Illustrators can work from pencil and paper, or digitally on the computer. They can choose the medium that works best for their style and their client's needs. Every illustrator has excellent drawing skills so that they can produce all kinds of images and designs. 
It is important for the illustrator to listen and understand the client's needs, and be able to exchange ideas and rework multiple concepts until both parties come to a final interpretation and illustration. Natural talent, education, and continuous practice is necessary in order to become successful as an illustrator.
Illustration has become a very competitive career which means that most illustrators develop a very distinct design aesthetic so that their work stands out. While an illustrator's work is incredibly creative, it sometimes means that they have to keep working even when they are not feeling particularly inspired.
There are many types of illustrators across a range of industries:  
Editorial Illustrator
A well-crafted illustration can immediately bring forth the essence of an idea, eliminating the need for detailed explanations. Editorial illustrators create images that partner with written articles in newspapers, magazines, and journals. Editorial illustrations bring stories to life, bring out the main points in an article, and get readers to become involved with sometimes hard-to-understand written content (for example, political, scientific, or medical illustrations can make things easier to envisage). 
Art directors rely heavily on editorial illustrators to provide them with attention-getting images so as to visually deliver information and convey ideas — they work closely together as a team to create the best possible illustration(s) to either tell a story or to illuminate a concept. There are hundreds of magazines, journals, or newspapers out there to suit just about every style of illustration, from traditional illustrations to photo illustrations, collages, caricatures, maps, or simple beautiful drawings. For illustrators who can deliver artistic skills along with conceptual ideas, opportunities abound.
Product Illustrator A product illustrator consults and works with private clients or with advertising agencies to create a finished drawing or painting of a product or a product feature. They create illustrations for items like brochures, commercial packaging, online products, and various forms of advertisement. Product illustrators see their illustrations as a way to create a whole unique identity for a product and as an important part of the story that needs to be told in order for the product to be successful.
A user's experience of a product can be greatly improved by having new concepts or complicated features explained visually. Illustrations can add some life and whimsy to what can often become a very mechanical and sterile process of doing things (such as managing finances, making appointments, or shopping for a gift). When a feature is being bypassed, misused, or underused, an illustration can help the user focus on it. By matching an illustration to a specific feature, it can add information, context, and clarity, or can lead the user to the next step.
Custom illustrations can help users get a feel of the purpose of the product, a deeper understanding of the brand, and can show what the product or a specific feature does. Users might become confused, distracted, or frustrated with a product if there is too much text or the text is not being read and understood. An illustration here and there can help breathe some life and insight into an otherwise overwhelming wall of text.
Children's Book Illustrator
Children's book illustrators create the illustrations that appear alongside the written text in a children's book for both fiction and non-fiction books (a children's book is typically classified for kids aged 12 years old and younger). Through artwork, the illustrator can help to bring a story or subject to life and makes a book more colorful, interesting, and thought-provoking.
Although computers are the most common way illustrators get their work done, some artists would still rather use traditional methods like painting or drawing to create their illustrations. These paintings or drawings can then be digitally scanned before being published.
Children's book illustrators can either work on a freelance basis or for a publishing company. Either way, they will most likely be working with publishers from the planning stages of the book to the final execution of the book. In this type of setup, the illustrator and the author of the book rarely meet.
The procedure begins by the publisher giving the illustrator the completed storyline and letting the illustrator suggest various areas where illustrations would make the story more interesting and interactive. After reaching an agreement, a storyboard layout is made by the publisher to show the various pages with the accompanying illustrations. The children's book illustrator will then create their preliminary sketches, get them approved by the publisher, then move on to complete and finalize their work.
Note: Self-publishing authors will reach out and work directly with a children's book illustrator instead of going through a publisher.
Fashion Illustrator
Fashion illustration is the intersection between drawing, painting, computers, and fashion, and includes almost any illustration whose focus is on fashion, accessories, and related media. Illustration work is usually commissioned for use in fashion magazines and blogs for an editorial feature, for design house sales, or for brand advertising purposes. Fashion illustrations are also used by fashion stylists and fashion buyers in order to make buying decisions for their clients. These drawings must represent the clothing/makeup/accessory well and be visually appealing.
Fashion illustrators might use realistic representations or more abstract sketches, and it is usually the call of the designer as to what artistic medium is to be used (illustrations can be created by pencil, charcoal, pastels, paints, or through a computer program like Photoshop). Some fashion illustrators are hired full-time, however, most operate as independent freelancers who work on short-term contracts.
Storyboard Illustrator/Artist
Storyboard illustrators draw storyboards (by hand or by computer) for films, music videos, animated features, television commercials, television pilots, video games, and ad campaigns. Years ago, animation used storyboard panels drawn on paper. However, in these modern times of digital animation, most storyboard illustrators use software like Photoshop or Storyboard Pro. Using software makes it much easier to fix mistakes or make any last minute changes.
A storyboard illustrator begins creating the storyboard after a concept or script has been written. They will take the art director, filmmaker, producer, or advertiser's rough ideas and develop finished drawings for presentation purposes. Often, especially in TV animation, the storyboard illustrator is also the writer of the episode.
The storyboard that the illustrator presents is a representation of a panel-by-panel 'action' series of scenes, allowing the project to be evaluated before starting production. The illustrator will also include character poses, facial expressions, and backgrounds. These storyboards are meant to give visual ideas of what the finished product will look like after production. The boards can also be used as direction during production. As the project progresses, scenes can easily be edited or eliminated altogether.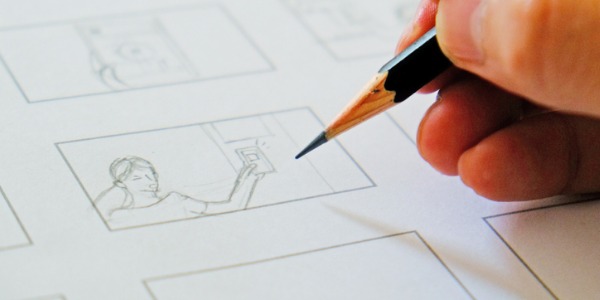 Technical Illustrator
A technical illustrator designs and creates visual representations and realistic renderings to communicate information of a technical nature. Their work may consist of creating blueprints, equipment installation graphics, and technical diagrams for use in technical publications and manuals.
A technical illustrator will create concise and accurate technical illustrations by taking information from text or data — this information could be sourced from research content, installation instructions, or service guide diagrams. In order to do this type of work, technical illustrators must have an excellent understanding of their employer's products and goals, and be familiar with software programs such as AutoCAD, Photoshop, MS Office, Adobe Flash Builder, and both Windows and Macintosh systems.
Medical Illustrator
A medical illustrator creates realistic renderings to be used in the medical field. These illustrations are used in textbooks, charts, magazines, and advertising — all associated with the medical profession. In the past, most medical illustrators worked with physicians in medical centres, producing illustrations for traditional medical textbooks, scientific journals, instructional videos, films, presentations, and exhibits. However, with the ever-increasing advances in imaging and computer graphics, present-day medical illustrators have many new opportunities.
Some medical illustrators specialize by subject matter, such as surgery, ophthalmology, or veterinary medicine. Others specialize in computer animation or in making three-dimensional models. Others target specific markets such as medical publishing or pharmaceutical advertising.
There is now an ever-growing need for medical information aimed at the general public due to the demand for patients to better understand their state of health and their medical options. Computer animations can make even the smallest sub-cellular processes come alive and be readily available for all to see and understand. Even lawyers can now use medical illustrations to simplify complicated medical information in malpractice and personal injury cases.
What is the workplace of an Illustrator like?
Typically, an illustrator will choose to specialize in a certain industry according to their talents and work as a freelancer.
If an illustrator excels in sketching clothing, becoming a fashion illustrator is a natural fit. If animals, foliage or earth formations are a strength, becoming a scientific illustrator would be a fit. Being a medical illustrator would require a talent in drawing human organs or the schematics of the human body or surgical procedures. An illustrator can also work for an advertising company, drawing images for labels, advertising materials or packaging. New illustrations are always needed for wrapping paper, greeting cards, books, magazine covers and advertising.
Most illustrators set their own working hours depending on their workload and deadlines they have to meet. They typically work from a studio or out of their own home. Some of their time may be spent meeting with clients to discuss assignments, though in some cases, their meetings can be done via email or phone calls.
Frequently Asked Questions
What is the difference between a graphic designer and an illustrator?

Both graphic designers and illustrators do design-type work.

Graphic designers will work on design elements and structures, providing a visual message/brand for a company in order to sell a product or service.

Illustrators, on the other hand, will typically do commercial work for companies like comic book houses, publishing houses, and advertising agencies. They do a lot more drawing, designing of product packaging, working on book illustrations, and creating company logos.

Graphic design degrees require a concentration in product design, website design, and publication design. Illustration students have some graphic design training, but most of their coursework includes art history, drawing, and painting. The illustrator doesn't have the advanced knowledge of a graphic designer.

If you like to draw and illustrate concepts, illustration would be a good fit. If you prefer to code, make websites, and do detail-type work, then graphic design might suit you better.