What is a Tattoo Artist?
A tattoo artist creates permanent images or words on skin. This is done by injecting ink under the surface of the skin by piercing it with a small needle.
Tattooing is one of the oldest art forms known to man; in ancient times tattoos were not only applied for decoration, but for religious significance or as a status symbol.
What does a Tattoo Artist do?
A tattoo artist is a professional artist that will create and apply tattoos based on a client's request. Many walk-in tattoo studios have hundreds, if not thousands, of images that the client can look at and choose from.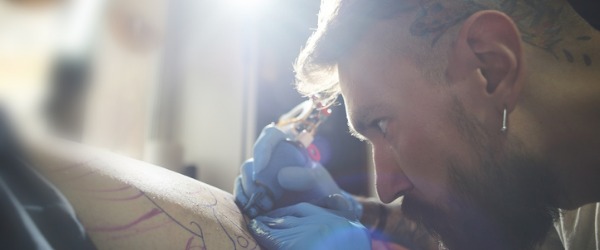 Some clients prefer to bring in their own picture, or have a custom tattoo drawn up for them, and will seek out a tattoo artist that can do custom work (usually at a custom tattoo studio). Once the image has been chosen, or drawn, the tattoo artist will transfer the image onto the client's skin. The placement of the image can be adjusted several times until the client is happy.
There are many pathogens and diseases that can easily be transferred through the blood, and a tattoo artist must take extra care in the safety of the client and in making sure that all equipment is sterilized before each appointment and that tattooing needles must be discarded after each use.
After the tattoo has been applied to the skin, the area needs to be kept clean in order to avoid infection and to ensure proper healing. The tattoo artist will educate the client on proper aftercare.
A tattoo artist's responsibilities include:
Cleaning and sterilizing tattoo equipment
Cleaning and sterilizing work areas
Thinking up new designs and sketching them out
Keeping up to date with the latest trends in tattoos
Meeting clients to discuss their ideas
Booking appointments
Tattooing clients
Educating clients on proper aftercare
Keeping up-to-date with the latest health and safety procedures
It's important not to jump into this career blindly because you think it's cool, as the mastering of this art takes years to perfect. Do not think you will make a quick buck either, as tattoo artists aren't considered professional (and won't be able to demand a certain amount of money) until they have five to ten years experience under their belt.
Tattooing is an art form that demands respect when it's done right. It entails tons of hard work, and only years of experience can give an artist confidence in their ability. This is the result of tiny bits of knowledge building up, and of all the lessons that setbacks and mistakes have taught them.
What is the workplace of a Tattoo Artist like?
Some tattoo artists will start their own tattoo studio after years of experience, but most artists will typically start out working in an existing tattoo studio that has all the necessary tattooing equipment, many books of designs, and a dedicated workspace for tattooing clients.
Work hours are usually from 10am - 6pm or later, six days a week. Each appointment requires intense concentration and leaves little room for error, therefore the job can be mentally and physically tiring.
Frequently Asked Questions
Are Tattoo Artists Happy?

Tattooing can be a wonderful career choice for the right type of person. Tattooists can dress any way they want and can work anywhere in the world.

The job is very creative, and tattoo artists can put their artwork on people's bodies and have it displayed 24/7/365. They may also have the privilege to do therapeutic tattoos that cover up scars (such as mastectomy scars) and give people a new sense of confidence and self-love during their recovery and rehabilitation.

Tattooing is hard work, it's tiring, and can be frustrating. Tattooing full time can give you a bad back, neck and shoulder problems, and damaged wrists. This work requires a lot of patience, since tattoos can take many hours of steady and concentrated work, and require having good rapport with each client.

If you are creative and motivated, it can be one of the better careers out there. Happiness in this type of work comes from being inquisitive and eager to master new skills, and the determination and tenacity to keep going. There's a great sense of achievement when you've finished a piece and see it on a client. And especially when a client is in awe and can't wait to show off their tattoo to the world.
Should I become a Tattoo Artist?

Tattoos are becoming progressively more mainstream and demand for great ink continues to rise. This line of work demands more out of a person than most people can imagine, and it's good to know what's involved before taking the plunge and choosing this career path.

Are You Good at Drawing?
Being good at drawing doesn't necessarily mean you can instantly become a good tattoo artist. Although it most definitely helps to have a gift for drawing, it takes a long time to understand and differentiate between what you can draw and what you can tattoo. It's critical to start out with very simple designs and let your tattoo drawings develop and get better over a period of time.

Are You Willing To Work for Free?
Plan to work for free for at least a year (or two, or three), as you have to start as an apprentice first. Unless you have some money stashed away somewhere, you will have to work a second job for the first couple of years. A good way to look at this is like unpaid training. Some people start out slowly by practicing on oranges, grapefruits, or honeydew melons, but fruit isn't even remotely similar to tattooing a real human being. You need a lot of practice tattooing flesh - it's surprising how many clients you can get when you're offering your services for free.

Be Aware of the Upfront Equipment Costs
In order to get started as a tattoo artist, there's quite a big upfront investment in equipment. This can cost upwards of $4,000 which includes at least two tattoo machines, an ink set and tubes, needles, gloves, rubber bands, thermofax paper (thin sheets of heat sensitive copy paper), skin pens, etc. Also, apprenticeships cost approximately $10,000 in states where tattoo schools are regulated, on top of state licensure fees.

Are You Good With People?
People often want the most painful or happiest times in their life symbolized and transformed into a tattoo, and will talk through their memories and feelings during their appointment. It will often feel like you are a therapist during these times, and will come to understand how inherently therapeutic this process can be for people. Therefore, as a tattoo artist, it doesn't matter if you yourself are stressed; you need to learn how to separate yourself from personal issues and be completely there for that person at that moment.

What Type of Work Do You Want To Do?
There are two traditional types of tattoo parlours that you can choose to work in: There are walk-in shops, where clients are mainly asking to get a tattoo on the spot and choose from pre-drawn (or flash) designs in the studio. In these types of shops, tattoo artists simply put ink on clients and invest very little time in creating the tattoo. Then there are shops where tattoo artists work with clients ahead of time (sometimes weeks/months ahead) to design custom work. Special relationships are often formed with clients when doing custom work, and it can be incredibly rewarding.

Providing Guidance & Feedback
Clients don't know what makes a good tattoo; that's something that can only be understood from years of tattooing experience. It's the artist's job to provide guidance and feedback to the client about the tattoo they want to get. If the tattoo is a bad idea, the artist has to be confident enough to express this to the client and suggest other options that will work. However, people can be stubborn about what they want, and if there is no compromising, they may need to be turned away.

Are You Good At Focusing For Long Periods of Time?
You have to develop a zen-like ability to concentrate on nothing other than what is right in front of you. You can easily start to panic if you look at the amount of work there is left to do (especially if it's a big piece), therefore it is key to your sanity to be in the moment and develop a laser-like focus on the millimetre of skin that you're working on.

Your Body Will Eventually Break Down
Tattoo artists basically sit hunched over, holding a static (and often awkward) position for upwards of eight to ten hours a day. It's only a matter of time before the body gives out - and very common for tattoo artists to have tendonitis and/or back problems. Since this is a repetitive motion injury, artists can't really prevent flare-ups unless they stop doing that motion. Many artists reach a point where they can't tattoo full-time anymore.
Tattoo Artists are also known as:
Tattooer Tattooist