What is a Tattoo Artist?
A tattoo artist is someone who creates permanent images or words on the skin. This is done by injecting ink under the surface of the skin by piercing it with a small needle. Tattooing is one of the oldest art forms known to man; in ancient times tattoos were not only applied for decoration, but for religious significance or as a status symbol.
What does a Tattoo Artist do?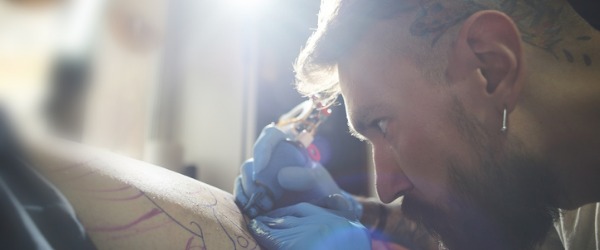 A tattoo artist is a professional artist that will create and apply tattoos based on a client's request. Many walk-in tattoo studios have hundreds, if not thousands, of images that the client can look at and choose from. Some clients prefer to bring in their own picture, or have a custom tattoo drawn up for them, and will seek out a tattoo artist that can do custom work (usually at a custom tattoo studio). Once the image has been chosen, or drawn, the tattoo artist will transfer the image onto the client's skin. The placement of the image can be adjusted several times until the client is happy.
There are many pathogens and diseases that can easily be transferred through the blood, and a tattoo artist must take extra care in the safety of the client and in making sure that all equipment is sterilized before each appointment and that tattooing needles must be discarded after each use.
After the tattoo has been applied to the skin, the area needs to be kept clean in order to avoid infection and to ensure proper healing. The tattoo artist will educate the client on proper aftercare.
A tattoo artist's daily duties:
Cleaning and sterilizing tattoo equipment
Cleaning and sterilizing work areas
Thinking up new designs and sketching them out
Keeping up to date with the latest trends in tattoos
Meeting clients to discuss their ideas
Booking appointments
Tattooing clients
Educating clients on proper aftercare
Keeping up-to-date with the latest health and safety procedures
What is the workplace of a Tattoo Artist like?
Some tattoo artists will start their own tattoo studio after years of experience, but most artists will typically start out working in an existing tattoo studio that has all the necessary tattooing equipment, many books of designs, and a dedicated workspace for tattooing clients. Work hours are usually from 10am - 6pm or later, six days a week. Each appointment requires intense concentration and leaves little room for error, therefore the job can be mentally and physically tiring.
Tattoo Artists are also known as:
Tattooer Tattooist