What is a Craft Artist?
A craft artist is someone who uses a variety of materials and techniques to create art for sale and exhibition. They create handmade objects such as pottery, glassware, textiles, or other objects that are usually designed to be functional, but sometimes the original works of art have only aesthetic value rather than a functional one.
What does a Craft Artist do?
Craft artists create artwork and other objects that are visually appealing. Most artists work with their hands and must be good at manipulating tools and materials to create their art. This usually requires significant skill in one or more art form. They must have active imaginations to develop new and original ideas for their work.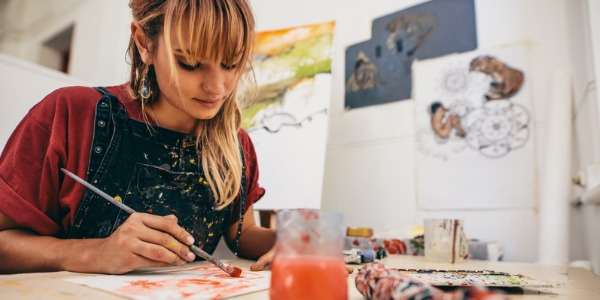 Craft artists typically do the following:
Use techniques such as knitting, weaving, glass blowing, painting, drawing, or sculpting
Develop creative ideas or new methods for making art
Create sketches, templates, or models to guide their work
Select which materials to use on the basis of colour, texture, strength, and other qualities
Process materials, often by shaping, joining, or cutting
Use visual elements, such as composition, colour, space, and perspective, to produce desired artistic effects
Develop portfolios highlighting their artistic styles and abilities to show to gallery owners and others interested in their work
Craft artists work with many different materials, including ceramics, glass, textiles, wood, metal, and paper, to create unique pieces of art, such as pottery, quilts, stained glass, furniture, jewelry, and clothing. Many also use fine-art techniques—for example, painting, sketching, and printing—to add finishing touches to their products.
Some craft artists display their work in museums, commercial or non-profit art galleries, corporate collections, and private homes. Some of their artwork may be commissioned (requested by a client), but most is sold by the artists themselves in their own studios, online, in stores, or at arts-and-crafts shows. Some craft artists spend a great deal of time and effort selling their artwork to potential customers or clients and building a reputation. However, only the most successful artists are able to support themselves solely through the sale of their works.
What is the workplace of a Craft Artist like?
Most craft artists are self-employed, while others are employed in various private sector industries or by the government. Many work in private studios in their homes. Some share studio space, where they also may exhibit their work.
Studios are usually well-lit and ventilated. However, artists may be exposed to fumes from glue, paint, ink, and other materials. They may also have to deal with dust or other residue from filings, splattered paint, or spilled cleaners and other fluids. Part-time and variable work schedules are common for artists of all kinds. Many also hold another job in addition to their work as a craft artist. During busy periods, they may work overtime to meet deadlines.
Craft Artists are also known as:
Artisan Craft Designer Arts and Crafts Worker Craft and Fine Artist