What is a Jeweler?
A jeweler is an artisan who uses metals, gems and other materials to create adornments like bracelets, earrings, rings, and necklaces. They might also be called upon to repair, adjust, clean, and appraise pieces of jewelry.
The history of jewelry making goes back thousands of years. In fact, there is evidence that the people of Africa were making jewelry as far back as 75,000 years ago. Throughout its long history, jewelry hasn't only been used as adornment or decoration. It's also been used as currency, and as protection against evil. Today, skilled jewelry artists have many career opportunities.
What does a Jeweler do?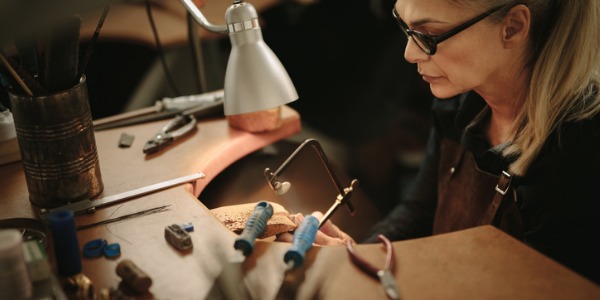 A jeweler might find themselves performing many different tasks at any given time. Jewelry design is perhaps the most creative aspect of this career, and requires a great deal of imagination and artistic skill. But jewelry artists also make, repair, clean and restore jewelry pieces. Some also specialize in appraising jewelry, using a combination of research and direct evaluation to determine a piece's worth.
Many jewelry artists do most of their work at a workbench, using tools similar to those jewelry crafters have been using for centuries to create and repair pieces of jewelry. However, many new technologies have found their way into the craft. For example, lasers are often used to cut gems and engrave intricate designs into precious metals. And, with computer-aided design (CAD) technology, a model of a piece of jewelry can be created on a computer. This allows the creator to see how the piece will turn out before they waste valuable resources on what could be a flawed design.
What is the workplace of a Jeweler like?
While many jewelers are self-employed, others might work in retail stores, in jewelry repair shops, or in jewelry manufacturing plants. Those who work in retail jewelry stores often spend a lot of time interacting with customers, either helping them choose pre-made pieces, or taking orders and instructions for custom pieces. Jewelry store employees often earn a commission for each piece of jewelry they sell.
Those who work in repair shops usually spend a lot of time alone, with little or no supervision. While those who work in retail settings often have set schedules, they might also have to work on holidays, when customers often visit jewelry stores.
It is estimated that about 50% of all jewelry artists are self-employed. Self-employed jewelry artists are able to set their own work hours. In fact, many work from their own homes, where they'll usually have a workshop or studio in which they make jewelry. Self-employed jewelry makers often sell their wares at craft fairs and trade shows. Many have also started to sell their work online.
Many artists who make jewelry end up opening jewelry stores of their own. While this is a competitive field, those who are able to build a solid reputation in the jewelry trade are often very successful as jewelry merchants.
Jewelers are also known as:
Bench Jeweler Retail Jeweler Jeweller Jewelry Designer Jewelry Maker Jewelry Repairer