What does a Photographer do?
Would you make a good Photographer? Take our career test to find out how you match with this and over 800 other careers.
Take Free Career Test
Certificate or Associate's degree
What does a Photographer do?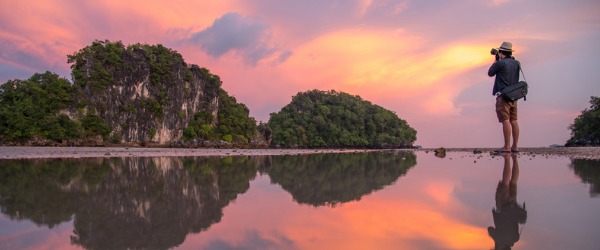 A photographer generally works in a freelance capacity, and is hired for specific jobs by numerous clients. Some photographers work exclusively in certain segments of the industry, such as wedding, graduation and other event-type settings, while others do mainly corporate work, and spend most of their time taking photographs that will appear on business websites and other promotional material. Still others, however, focus more on the artistic side of photography, and choose their own subjects and material that they wish to shoot.
The following are a few different types of photographers and what they do:
Fashion Photographer
Fashion photographers are responsible for photographing apparel, accessories, and fashion models, as well as collaborating with hair stylists, fashion stylists, makeup artists, and fashion designers. A fashion photographer can either work freelance or be hired by a fashion designer, fashion publication, fashion house, advertising agency, or a fashion/beauty magazine.
Through their photographs, fashion photographers are able to create a certain aura and define what beauty and style is. Responsibilities typically involve setting up and running photo shoots, communicating with make-up artists and fashion designers to best represent their vision, and editing the photographs.
Real Estate Photographer
Real estate is a very competitive industry, filled with ambitious agents looking for their next sale. Selling real estate is about setting yourself apart from the competition, and one of the ways that can be done is by capturing beautiful and enticing photos of a home that is for sale. Real estate photographers specifically hone in on this area of photography, creating photos for real estate agents and their property listings on the MLS (Multiple Listing Service).
This type of photography is somewhat detached from most of the artistic freedom one can enjoy with other forms of photography. Real estate photographers provide a much needed service for a very fast-paced industry. However, because the photos are temporary and, for the most part, don't have much sentimental value, the photographer can concentrate on producing a top notch product that can be duplicated from one photo shoot to the next.
Wedding Photographer
Wedding photography is a very specialized type of photography. The wedding day is typically one of the most important and memorable days in a person's lifetime, and one that will be remembered for years to come. Therefore, for most couples, regular photographs just won't do. Professional wedding photographers are hired to capture a couple's irreplaceable moments by taking creative, candid and beautiful photographs of the wedding ceremony and reception.
Before even photographing a wedding, the photographer corresponds with the clients for months, or even a year or two, before the actual wedding date. Getting to know the clients and understanding their likes, dislikes, and their ultimate vision is important, so that when the wedding day comes the couple feels comfortable enough to let their true personalities come out and shine. Once details are agreed upon, a standard written agreement is signed between the bride- and groom-to-be and the photographer.
After the event is over, the images are processed as quickly as possible, the wedding photographer and couple will meet to go over the images, and ordering details are finalized. A high level of customer service is just as important after the event as before it - good customer relationships can lead to family portraits and portraits of their children in years to come.
Travel Photographer
Travel photography involves taking images that express an area's people, cultures, customs, landscape, and history. However, travel photography, unlike other types of photography like fashion, wedding, or real estate photography, is harder to monetize. Travel photographers used to earn money through magazine assignments and stock photography. However, now that the stock photography market has shrunk, more and more photographers are using other ways to earn a living such as blogging, commercial projects, and teaching.
Careers in travel photography can be as varied as the destinations they serve. A big part of making a career out of this type of photography is by tapping into social media marketing, content development, negotiation, and sales. However, the first step is to just get out there and take some pictures - having a good portfolio is key in this genre of photography.
Food Photographer
Food photography is a very specific genre of photography - it is still life photography that is used in cookbooks, blogs, magazines, social media, advertisements, and packaging. The 'key ingredient' is to capture the image in a way that makes the viewer's mouth water. This is done by the photographer's extensive understanding of light, colour palettes, and styling trends.
In order to work in this field, a good understanding of the food one is photographing is very important, as many food items can easily melt or wither which can make it quite challenging to work with. Food photographers typically work in collaboration with art directors, food stylists, prop stylists, and assistants. As with any genre of photography, food photographers should always have both a print and digital copy of their best work to show potential clients.
Architectural Photographer
An architectural photographer captures photos of buildings and structures and aims to portray them as accurately as possible. This may include the interior or exterior of anything - from a small residential structure to the world's tallest building. Buildings are not all that architectural photographers take pictures of - most man-made structures also come under the architecture umbrella, such as bridges, monuments, lamp posts, towers, and windmills.
One of the main challenges with this type of photography is composing a shot properly. Technical problems need to be solved such as finding the best vantage point to show mass and shape or looking for the best way to depict spatial depth and clarity.
Landscape, Aerial, Underwater
Wildlife, Pet
Sports, Action, Vehicle
Medical, Scientific
Graduation, School, Baby, Event
For the most part, a photographer is a part-time employee that works either on weekends for weddings and events, or whenever he/she can find clients willing to hire them for one-off shooting jobs. A part-time or freelance photographer who is hired by a client is responsible for following the client's wishes down to the finest details, as well as for setting up a business model that makes pricing and options clearly visible and accessible.
A professional photographer who works full time often does studio work that involves taking pictures in a controlled interior setting, with professional or amateur models. These photographers can be freelance, or can also be kept on retainer by certain magazines and fashion companies.
Other forms of professional, full-time photography involve taking stills for motion pictures, taking pictures for crime scenes in cooperation with local and federal law enforcement agencies, and taking pictures for digital and print newspapers (photojournalist) - though often newspapers will work with a photographer on a freelance basis rather than hiring him or her full time.
Finally, photographers are responsible for the digital or physical development of their pictures, and may also be responsible for small or heavy editing of their pictures. For physical prints, a photographer will be required to know how to best develop their film, or will be expected to hire other professionals to develop their film for them.
The editing process of photographs, on the other hand, may include simple cropping, or could include changing colour schemes, lighting, and adding or removing objects from pictures to 'clear them up.' Some clients will choose to edit the pictures themselves, while others will expect the photographer to do the necessary photo editing.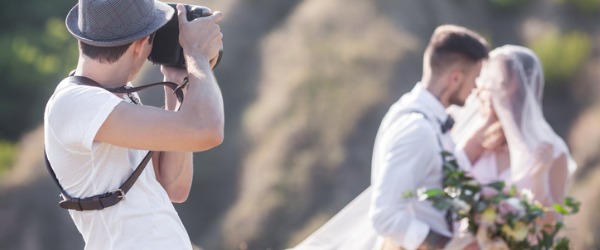 Find your perfect career
Would you make a good photographer? CareerExplorer's free assessment reveals how compatible you are with a career across 5 dimensions!
Take the free career test
What is the workplace of a Photographer like?
A photographer will be asked to work in any number of settings and environments. This can include working in comfortable studios in a big city, or working in the frozen forests of a remote country. A photographer is one of the few professionals that could be wearing shorts and a t-shirt one day, wearing a tuxedo the next, and a winter coat and boots the day after that.
Most photographers that are serious about their craft will also have a home office or studio that will include a place to work on digital or physical photographs for the purpose of development and/or editing work.
Jobs
| Title | Company | Location | Info |
| --- | --- | --- | --- |
Collections With This Career
You know you must pay the bills but you don't want to live a life without adventure, constant change or new experiences. Maybe your aspirations—mixed with your aptitudes—are more suited for a bohemian career path. Read More

ESFPs love people and new experiences. They are lively and fun, enjoy being the centre of attention, and relish excitement and drama in their lives. Read More

People with aspergers do best in careers that allow concentration on one task at a time, emphasize accuracy and quality over speed, and provide structure and quantifiable performance expectations. Read More

Discover careers for people who are interested in Creative Arts. Read More

The most common careers people pursue after attaining a Business degree. Read More

While dyslexics typically struggle with verbal information and expression, they also have abilities that allow them to thrive in certain jobs and careers. Read More

INFP personalities are true idealists, possessing a rosy outlook and always searching for ways to make things better. Read More

INFJs are clever, creative thinkers who thrive when they can exercise their insightfulness and independence to contribute to the well-being of humanity. Read More

ISFPs have a strong aesthetic sense and seek out the beauty in their surroundings. They are artistic, and express themselves through action rather than words. Read More
Find your perfect career
Would you make a good photographer? CareerExplorer's free assessment reveals how compatible you are with a career across 5 dimensions!
Take the free career test
Certificate or Associate's degree
Find your perfect career
Would you make a good photographer? CareerExplorer's free assessment reveals how compatible you are with a career across 5 dimensions!
Take the Free Career Test