What is a Financial Advisor?
Do you like the thought of reading investment journals and studying market trends? Can you see yourself helping others make informed decisions? You may want to look at a career as a financial advisor!
Financial advisors determine investment portfolios for their clients. They take into account a range of information, including economic trends, regulatory changes, and their client's comfort level with risky decisions.
What does a Financial Advisor do?
Financial advisors assess the financial needs of their clients and provide them with professional investing advice for the short- and long-term. There are a variety of areas that financial advisors can help their clients in — budgets, savings, stocks, bonds, education expenses, retirement funds, tax advice, insurance, etc.
A major part of a financial advisor's job is making clients feel comfortable. They must establish trust with clients and respond well to their questions and concerns.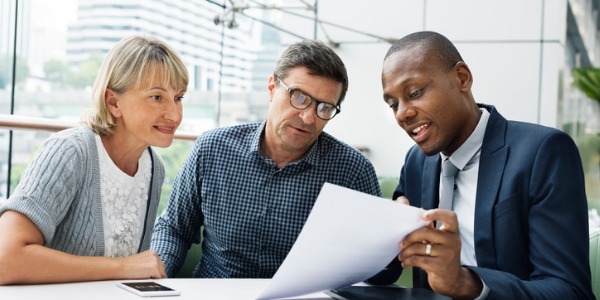 Personal financial advisors typically do the following:
Meet with clients in person to discuss their financial goals
Explain the types of financial services they provide
Educate clients and answer questions about investment options and potential risks
Recommend investments to clients or select investments on their behalf
Help clients plan for specific circumstances, such as education expenses or retirement
Monitor clients' accounts and determine if changes are needed to improve account performance or accommodate life changes, such as getting married or having children
Research investment opportunities
Although most financial advisors offer advice on a wide range of topics, some specialize in areas such as retirement or risk management (evaluating how willing the investor is to take chances, and adjusting investments accordingly).
After they have invested funds for a client, they, as well as the client, get regular reports of the investments. They monitor the client's investments and meet with each client at least once a year to update them on potential investments. They may adjust the financial plan during this time due to the client's changed circumstances or because investment options have changed.
Many financial advisors are licensed to directly buy and sell financial products, such as stocks, bonds, annuities, and insurance. Depending on the agreement they have with their clients, advisors may have the clients' permission to make decisions about buying and selling stocks and bonds.
Private bankers or wealth managers are personal financial advisors who work for people who have a lot of money to invest. These clients are similar to institutional investors (commonly companies or organizations), and they approach investing differently from the general public.
Private bankers manage a collection of investments (called a portfolio) for these clients by using the resources of the bank, including teams of financial analysts, accountants, and other professionals.
What is the workplace of a Financial Advisor like?
Financial advisors typically work in offices, either as part of a bank or an investment office. Approximately one-fourth of financial advisors are self-employed. Most advisors work full time, and occasionally overtime is needed.
Financial advisors spend a great deal of time marketing their services. They meet potential clients by giving seminars or through business and social networking.
Frequently Asked Questions
What types of financial advisors are there?

There are a variety of financial professionals that are trained to offer specialized financial advice.

The following are four types of financial advisors available to the public, and details on the types of services they provide:

Financial Planners
Financial advisors and financial planners are often used interchangeably. However, they are not the same thing.

Simply put, financial advisor is an umbrella term that refers to anyone who helps clients manage their money. Financial planner, on the other hand, refers to a specific type of financial advisor that can help individuals and companies put together a plan to meet their financial goals.

Client goals can be anything from paying off debt, saving for university, estate planning, or investing for retirement. Financial planners can give clients a big picture of how the financial market works, explain complex financial terms in simpler language, and counsel their clients on the risks of different investments. Some financial planners only give advice, and some give advice as well as sell products.

Many financial planners decide to focus on one specialization, such as taxes, estate planning, retirement, or investments. There are various designations and licences they are able to obtain as well, such as Certified Financial Planner (CFP), Chartered Financial Analyst (CFA), Chartered Financial Consultant (ChFC), or Certified Investment Management Analyst (CIMA). These designations and licences require further education. Most clients prefer to hire certified financial planners (CFPs) who are also fiduciaries (this means that they are legally obligated to act in a client's best financial interests even if they make less money).

Hiring a financial planner isn't cheap. However, hiring a financial planner can be worth the cost in certain situations, such as:

Wealth Management Advisors - If an individual earns a substantial amount of money, it makes sense to hire a financial planner to help with coordinating all the accounts, saving on taxes, investing wisely, and planning the estate.

Self-Employment - If an individual is a small business owner or a freelancer, it is hard to budget and to deal with issues such as quarterly tax filings, self-employment taxes, special deductions, employee pay and benefits, and retirement plans. A financial planner can help with sorting these issues out, and more.

Retirement - Individuals that are planning to retire need to sort out how much money they will need to live on, how to withdraw money from retirement accounts, and how to maximize Social Security benefits. Those who are younger and want to retire at a certain age with a certain amount of money available to them will need to know what to invest their money in, and how much they will need to put away each month in order to make that happen.

Family Planning - Individuals that are getting married and having children need to know how to combine finances, file taxes jointly, budget for their children's university expenses, purchase life insurance, and plan their estate.

Investment Advisors
There is often a bit of confusion between what a financial planner can do for a client vs what an investment advisor can do. Both are alike in that they can help their client with managing their assets, however the services an investment advisor provides are strictly focused on investments.

Individuals needing help making investment decisions and managing their portfolio often seek the advice of an investment advisor. An investment advisor focuses specifically on helping individuals choose the best investments, and makes investment recommendations or conducts securities analysis in return for a fee. Investment advisors advise their clients on what types of securities to invest in (like stocks or mutual funds), and on the risks associated with each type of investment and the expected rate of return. They also let their clients know what types of taxable income their investments will generate and how to make their investments as tax efficient as possible.

Most investment advisors focus on wealthy clients. According to U.S. News and World Report, in 2013, 65% of all clients with investment advisors had at least $100,000 in investable assets. With a client's authorization, investment advisors will purchase investments on their client's behalf.

Interesting note, however, that while some investment advisors are fiduciaries, who must put their clients' interests first, there are others that abide by a much lower standard called 'suitability'. This means that they are only required to make recommendations that are 'generally' appropriate for a client's needs, so are free to recommend whichever one gets them a higher commission. A fiduciary investment advisor, on the other hand, recommends investments that are specific for a client's situation and beneficial for them. Registered investment advisors are registered with the Securities Exchange Commission (SEC) and are legally bound to act as fiduciaries.

'Fee-only' advisors make all their money directly from their client, based on the amount of assets they're managing for their client. For example, if a client has $500,000, they may pay an investment advisor one percent of that, or $5,000 annually, to manage it for them. This type of investment advisor has incentive to help their client's assets grow as much as possible, as the more money the client has, the more money the investment advisor makes. Fee-only investment advisors can charge between 0.5% and 2.5% based on the size of their client's portfolio.

'Fee-based' advisors make a portion of their money from fees and a portion from commissions on the sale of securities or stocks. These types of investment advisors charge lower fees, however they have an incentive to sell products to their clients that aren't necessarily suitable for them in order to earn the commission.

As of 2018, investment advisors or investment firms operating within the U.S. with assets totalling $100 million or more must register with the SEC. Investment advisors with lesser amounts of assets are still eligible to register but are only required to register at the state level.

Money Coaches
While financial planners assist individuals that already know what they want from their money and just need advice on how to achieve it, money coaches teach individuals the necessary life skills needed to have a good relationship with money and also keep their clients accountable.

A money coach (or financial coach) is a cross between a financial planner and a psychologist - they look at how a client's behaviours, personal habits, and beliefs affect their ability to earn, save, and invest their money. Similar to financial planners, money coaches can help their clients look at the big financial picture, however they mainly focus on the personal aspect.

Some individuals feel like their finances may be out of their control, and want to learn how to get a handle on their spending and on their debt. A money coach can help these clients determine their financial goals, figure out where their money is being spent, uncover unhealthy spending habits, help develop a budget, teach how to monitor spending, and explore personal issues.

Money coaches don't only work with people that need help with bad money habits. A money coach can also help individuals who need advice on how to accelerate their financial life by earning more money, by starting a business, or by achieving financial independence.

Unlike many financial professionals, money coaches don't need specific qualifications or training. There are various coaching courses one can take, but no formal licensing process. Fees for money coaches vary widely. U.S. News & World Report says a typical rate for money coaching is at least $150 per hour. Todd Tresidder of Financial Mentor charges clients either $1,750 for three coaching calls per month (usually over the first two to three months with a new client) or $1,200 for two calls per month.

Credit Counselors
Credit counselors (also known as debt counselors) help individuals that are overwhelmed with debt by setting up a budget for them, consolidating the debt, and developing a plan to pay the debt off. They often help people with financial difficulties due to poor money management, wage loss, unemployment, increased expenses, or divorce. Whether individuals simply have a few questions or would like extensive help managing their financial situation, a credit counselor can be of help since credit counselors can help clients access financial tools and resources to stay in good standing with their credit.

"Typically, credit counseling is a free resource provided by nonprofit financial education organizations. It is a review of your household budget, credit reports and consumer debt with the goal of improving your financial situation," explains Thomas Nitzsche, communications lead at credit counseling agency Money Management International.

If need be, credit counselors can negotiate a debt management plan with a client's creditors, where the client pays a set amount per month to the credit counselor and that money is then distributed to the creditors. This is especially useful for dealing with credit card debt and medical debt. When the debt management plan is set up by a credit counselor, penalties can often be waived for previous late payments and lower interest rates can be negotiated.

In order to become a credit counselor, one must obtain training in credit counseling and repair, which can be done by becoming a certified financial planner. To become a certified financial planner, one needs a bachelor's degree, three years of experience in a financial industry, and to pass a financial planner exam.
How long does it take to become a Financial Advisor?

There is no one specific way to become a financial advisor, however most individuals have at least a Bachelor's Degree in Finance, Economics, Accounting, Business, or Mathematics. Financial advisors who are not pursuing certification can start seeking work immediately after earning their bachelor's degree.

It takes seven or more years to become a Certified Financial Planner (this includes the four years to get a bachelor's degree). Major firms or high-end clients may require their financial advisors to continue their education at the master's degree level (another two years).
Should I become a Financial Advisor?

Financial advisors execute trades in the market on behalf of their clients and construct personalized financial plans based on their client's financial goals. They also meet with their clients regularly to re-evaluate their financial situation and comfort level, and set future goals.

Besides feeling good about giving sound advice and creating a strong financial foundation for their clients, financial advisers can reap other rewards for themselves, such as unlimited salary, work schedule flexibility, and control over their practice. However, this career also carries certain disadvantages, such as a high-stress environment, difficulty in building a client base, and meeting regulatory requirements. Evaluating the pros and cons of this career will help you make an empowered decision as to whether or not this career is a right fit for you.

PROS

Giving Worthwhile Advice
Giving clients meaningful advice is one of the most rewarding aspects of this career. Providing education to overwhelmed and confused clients and guiding them to investments or insurance vehicles that are most suited for them is very satisfying. Financial success for a client is strongly connected to a financial adviser's success.

Employment Options
Financial advisors can work for private or public firms, or can be self-employed and work from home. Creating working hours that fit best with lifestyle and household demands allows financial advisors the ability to balance between personal and professional responsibilities.

Unlimited Income Potential
There is no limit on earning potential for most financial advisers, as most advisors work on a commission basis. This means income is based on how much new business or recurring revenue there is each year. Financial advisers have the ability to earn as much, or as little, as they are able to earn. There is, of course, much work to do initially in order to build a strong client base from scratch. Over time, an advisor's reputation and hard work will help him/her earn what they're worth.

Schedule Flexibility
Once a financial adviser establishes a solid client base, they will have more flexibility in their work hours. Financial advisers that have been working for several years and have a solid client base have the advantage of scheduling client meetings around their personal calendars.

Low Start-Up Costs
There are very few expensive fees that are associated with this career outside of the licensing requirements and regulatory costs. This makes it very feasible to start working part-time if necessary to build up a client base.

Niche Opportunities
There are a variety of products and strategies available in this career, which allows one the opportunity to craft a niche career that can be different from the other financial advisors in your specific area (for example, serving baby boomers or millennials). Firms also provide a variety of products and services, such as investment management, life or disability insurance, retirement plans, and fee-based financial planning, which gives financial advisers full control over how they want to practice.

CONS

High-Stress Industry
The financial services industry is deeply interwoven with the performance of the financial markets. Clients reach out to their financial advisers when markets perform poorly, and are often emotional and distraught when there is a downturn in the market. It can be very stressful to manage the emotions of clients.

Finding Clients
Starting a career as a financial adviser is not easy, as most firms have sales quotas that need to be met each month. Therefore, advisers are constantly in need of new prospects, and a great deal of time and money can be initially spent creating and maintaining profitable prospecting systems. Financial advisors need to be prepared to repeat their marketing efforts many times, especially when first getting started, to secure the needed client base. This aspect of the career can be the most challenging.

Concentration
Having this quality is especially true for financial advisors that are self-employed and working from home. Social media distractions, talking on the phone, or running errands are all easy distractions and hinder concentration. Work has to come first, and not everyone is good at making this a priority.

Regulatory/Compliance Requirements
Obtaining licenses can be lengthy. Additionally, financial advisers are required to complete certain continuing education courses each year to keep their licenses in good standing. They must also carry errors and omissions insurance coverage throughout their careers. Keeping up with these regulatory requirements can be costly and time-consuming.

Sponsorship
Most licenses can only be obtained when a sponsorship from a brokerage firm is received. Since firms don't typically hand out sponsorships, the typical path is to find work at a company, work for a certain amount of time, get the license, and then strike out on one's own after the contract has been resolved.

Long Work Weeks
It isn't uncommon for beginning financial advisors to put in work weeks that are 50 plus hours. There can be a lot of uncertainty in the first five years that can be difficult to deal with if there isn't other income coming in. However, with a strong work ethic and a lot of tenacity, it is very possible to create a long-term and profitable career.
Financial Advisors are also known as:
Financial Consultant Investment Advisor Certified Financial Planner Financial Planner Financial Counselor