What is a Medical Billing & Coding Technician?
Medical billing & coding technicians are the links between healthcare providers and insurance companies. They are responsible for categorizing treatments and procedures for insurance billing and patient invoices by assigning standard codes using a classification system. This is important administrative work because it ensures that healthcare providers are reimbursed for their services.
This position provides an excellent opportunity for detail-oriented individuals that enjoy the responsibility of ensuring top-quality care without the patient contact that most healthcare positions require. Demand in this field is projected to rise due to the aging population's need for more healthcare services.
Get online training through our partner:
What does a Medical Billing & Coding Technician do?
Medical billing & coding technicians play a very important role in ensuring that physicians' offices, outpatient clinics, and hospitals maintain the income necessary to continue providing care to their patients. They use medical billing software to submit claims and request patient payment.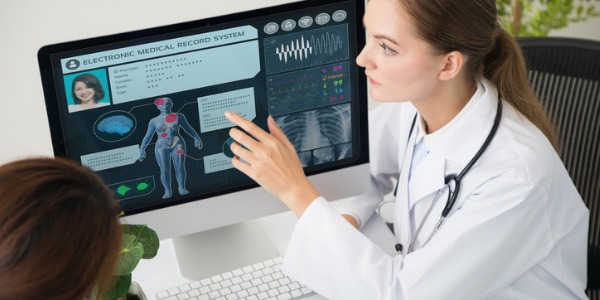 Billing and coding are considered two separate jobs, and each comes with its own set of responsibilities. In smaller offices, one person will often be hired to do both. In larger offices, the work is often divided into two separate departments that work together to make sure the process is done correctly.
Medical Coding
Medical coding takes a healthcare provider's notes and converts them into codes for record-keeping and for billing. The codes identify what services were provided and billed. Codes used are:
Current Procedural Terminology (CPT) – procedures and examinations
International Classification of Diseases (ICD-10) – medical diagnoses
Healthcare Common Procedure Coding System (HCPCS) – medical devices/supplies/non-physician services
There are specific codes for the type of visit, for symptoms communicated by the patient, and also for the symptoms observed by the healthcare practitioner. There are various codes for tests, procedures, diagnoses, and treatments.
Medical Billing
Once the coding has been completed, invoices are created and sent to the patients' insurance provider as a claim. Insurance companies will either approve or deny payment based on these codes. Any remaining balance that is not covered by the insurance company will be sent to the patient for payment.
Understanding industry codes is required in order to perform the billing end of things, especially when reviewing the reasons behind any denied insurance claims, having to resubmit claims with updated codes, co-pay requirements, and payment tracking.
Some medical billing & coding technicians also maintain electronic health records, which enable doctors to retrieve information more efficiently than is possible with paper medical records. This is done by extracting information from medical records, charts, and documents, and then assigning appropriate codes to patient records according to established procedures.
What is the workplace of a Medical Billing & Coding Technician like?
The medical billing & coding technician is typically a full-time position in an office environment. Technicians can work in medical settings such as hospitals, medical practices, clinics, and state or local health departments.
Medical Billing & Coding Technicians are also known as:
Medical Biller Medical Billing & Coding Specialist Medical Records Technician Medical Coder Diagnostic Coder Clinical Coding Officer Clinical Coder Medical Records Clerk Medical Records Coordinator Medical Records Tech MRT