What is a Manufacturing Engineer?
While their work overlaps with that of mechanical, industrial, and electrical engineers, manufacturing engineers are specialized engineers. Their main goal is to create the stages of a manufacturing system that turn raw materials such as metal, plastic, or wood into a finished (discrete) product in the most time-efficient and cost-effective way, while always maintaining worker safety and product quality.
Once they initiate this technical process, they turn to implementing, monitoring, and improving it. They are also often involved in designing the factory or plant where the product will be produced. Efficiency, productivity, competitive advantage, and health and safety are the words that manufacturing engineers live by.
What does a Manufacturing Engineer do?
Manufacturing engineers design and operate integrated systems for the production of high-quality, economically competitive products. These systems may include computer networks, robots, machine tools, and materials-handling equipment.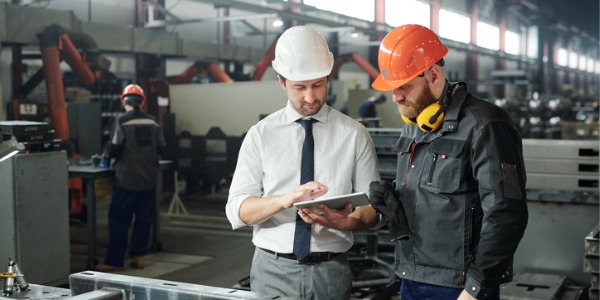 Depending on their place of employment, a manufacturing engineer might be hired to:
Automate an engine manufacturing facility through the use of robotics, computer integrated technology, or a flexible manufacturing system (FMS), a production method that is designed to easily adapt to changes in the type and quantity of the product being manufactured
Design a cell phone manufacturing processes to reduce costs and improve product quality
Figure out the most optimal layout of machines and equipment for manufacturing cells in discrete (distinct) parts manufacturing
(manufacturing cells are groups of machinery or people that are grouped in a way that makes the manufacturing process more efficient; they are stations where the layout of machinery is based on flow and process rather than machine type)
Develop and implement fabrication processes for microprocessors
Identify the most cost-effective material handling and facility layout alternative for an aerospace manufacturing company
Design the tools or equipment to manufacture a product if none exists
As these examples show, exact tasks will vary greatly between roles depending on the final product of manufacturing, but responsibilities common to most if not all manufacturing engineers include:
Conceptual design of the manufacturing process, typically using computer-aided design software
Analyze the product and design a method to produce that product efficiently
Production management including managing of production targets and inventory control
Continuous improvement and elimination of waste through ongoing analysis and identification of inefficiencies within the system
General oversight and monitoring of machinery – including project coordination for maintenance, upgrades, and repair when needed
Work with manufacturing staff to train on new equipment or optimization processes
Help with troubleshooting of problems within the manufacturing process
Budgetary responsibilities
Because the field is a technical one and therefore always evolving, manufacturing engineers must also keep up to date with new technologies and improvements.
What is the workplace of a Manufacturing Engineer like?
Manufacturing engineers work in a variety of industrial settings with a broad range of products, including food and beverages, plastics, computer components, tools and instruments, furniture, pharmaceuticals, and cars.
They often split their time between a corporate environment – at a desk or in meetings with other engineers, technicians, and managers – and the factory or plant floor, observing and testing the manufacturing processes they have developed. While on the manufacturing floor, they may be exposed to loud sounds and distracting noise levels, hazardous equipment, and/or contaminants, requiring them to wear protective gear such as gloves, goggles, and hard hats.
The role of the manufacturing engineer calls for a very precise and accurate approach to work. Errors can delay production and result in major costs to employers. In addition, manufacturing engineers consistently need to make decisions that significantly impact coworkers and the company as a whole.
Other responsibilities of the job include the health and safety of workers and meeting strict deadlines. It is not typical for these engineers to have to consult a superior before making a decision or setting tasks and objectives. In other words, they are responsible for the outcomes of work performed by others. A standard work week is the norm in the field of manufacturing engineering, but overtime is quite common.
Manufacturing Engineers are also known as:
Manufacturing Director Plant Engineer Process Engineer