What is a Structural Engineer?
Structural engineering is a specialty within the field of civil engineering. Its focus is the design of structures so that they can withstand the stresses and pressures of their environment and stand the test of time.
Structural engineers are the highly skilled civil engineers who make sure buildings, bridges, tunnels, and other structures don't collapse, vibrate, or twist or bend. They do this by analyzing gravity supports and lateral force resistance and then designing the structure accordingly.
Structural engineers are designers, safety experts, and problem solvers, whose expertise is reflected in every house, theater, sports venue, hospital, high-rise building, tunnel, bridge, oil rig, pipeline, spacecraft, satellite, ship, aircraft, vehicle, public art installation, and rollercoaster. In other words, their vital work is all around us.
What does a Structural Engineer do?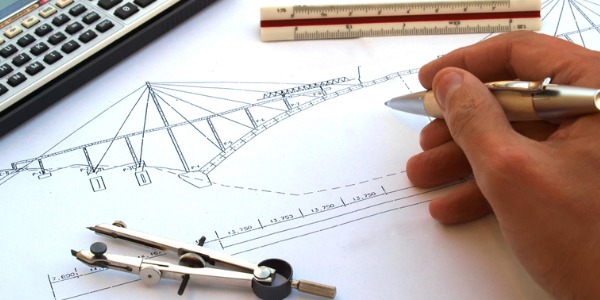 From the broad perspective, the work of the structural engineer is focused on:
Analysis and Design
Structural analysis is the process of calculating and determining the effects of loads and internal forces on a structure, building, or object. It is how structural engineers ensure that they fully understand the load paths and the impacts the loads have on their engineering design. Design is the process of configuring elements (such as a beam in a building) to resist forces. Analysis and design are complementary procedures, meaning that the work of a structural engineer is a continuous cycle of prototyping, testing, and making adjustments and refinements until, ultimately, quality and functionality of design are achieved.
Gravity Support and Lateral Force Resistance
Structures are subject to vertical, or 'gravity' loads and horizontal, or 'lateral' loads, Gravity loads include 'dead,' or permanent load, which is the weight of the structure, including its walls, floors, finishes, and mechanical systems, and 'live,' or temporary load, which is the weight of a structure's contents and occupants, including the weight of snow. Lateral loads include those generated by wind, earthquakes, or explosions. Structural engineers must design elements so that, as a system, the structure can resist all loads that will act upon it.
Buildings, Bridges, and other Structures
Structures are any system that resists vertical or horizontal loads. Structures include large items such as skyscrapers, bridges, and dams, as well as small items such as bookshelves, chairs, and windows. Most everyday 'structures' are 'designed' by testing, or trial and error, while large, unique, or expensive structures that are not easily tested are generally designed by a qualified structural engineer using mathematical calculations. Most practising structural engineers design and analyze buildings, bridges, power plants, electrical towers, dams, and other large structures that are essential to life as we know it.
Here is summary of the types of projects a structural engineer may be involved with:
Residential buildings – structural changes for existing structures, engineering design for new structures
Commercial projects – site investigation, construction plans, project management
Home purchase transactions – when a traditional home inspection reveals a questionable structural component, such as large cracks in the foundation, a second opinion from a structural engineer may be needed
Construction defect – structural engineers are often involved in both residential and commercial construction defect cases; a construction defect could be related to faulty design, defective materials, or poor craftsmanship and failure to adhere to applicable building codes; determining a verdict in these cases typically also involves lawyers, insurance companies, construction companies, and other vendors and specialists
Storm damage – structural engineers are involved in both residential and commercial storm damage cases where catastrophic events such as tornadoes, hurricanes, hail, wind, or earthquakes have caused property damage; in these cases, structural engineers are hired directly by an insurance company or third party company hired by a property owner
Additional structural needs – a structural engineer may be called upon if a homeowner suspects that a structural element within their home is failing; potential threats include wall cracks, uneven or sagging floors, foundation cracks / bowing, sagging or shifting of decks, cracked beams, doors that stick, or standing water in the basement; a structural engineer may also be hired to determine if a building or complex can handle the additional load that would result from a solar panel installation or installation of items such as a hot tub, aquarium, granite counter top, or piano
Bridge construction – structural engineers must consider the weight of the bridge structure, loads that change or are applied with motion, snow loads, and other stressors such as seismic, thermal, and wind forces that influence structural integrity; they analyze things like vibration limits, potential material fatigue, and torsion to make proper material selections and design decisions
City infrastructure – some structural engineers work in tandem with civil engineers to analyze and implement design strategies for roadways, highways, tunnels, and water, sewer, and drainage systems
Community development impact analysis – not only do structural engineers analyze the structural integrity of infrastructure plans, but they also analyze how these developments, such as roadways and waterways, will affect the surrounding areas; for example, if installing a new roadway could make a nearby building collapse, this clearly needs to be addressed up front; in short, community development impact analysis structural engineers are responsible for keeping existing infrastructure safe while developments are in motion
The work of all structural engineers, regardless of their specific projects, typically entails:
Preparing structure designs and performing load and stress calculations
Using computer software to calculate a structure's reaction to weather
Preparing cost estimates of structures and selecting appropriate materials
Creating drawings and specifications
Reviewing the work of other engineers
Writing reports and evaluations
Observing and supervising construction sites
Liaising with other professionals to deliver a project
Managing projects and administering contracts
What is the workplace of a Structural Engineer like?
Common workplaces for structural engineers include construction companies, public utilities, engineering consulting firms, aircraft and aerospace related companies, and government agencies.
These professionals often work both in an office environment and on project sites, as needed. Jobs can be located in urban and rural areas alike, and working away from home may be required when client projects are based out of town. While structural engineers typically work full time during standard business hours, occasional evening, weekend, and overtime work may be necessary to meet project deadlines.
Engineering consultants, in particular, may work on jobs anywhere in the world, such as repair projects following large-scale natural disasters like earthquakes, hurricanes, or tsunamis.
All structural engineers use design software and computers. They work as part of a team alongside architects, builders, and other engineers. When visiting job sites, they must wear safety equipment.
Structural Engineers are also known as:
Tower Engineer Roof Engineer Fire Engineer Facade Engineer Earthquake Engineer