What is a Security Guard?
A security guard patrols and inspects property against fire, theft, vandalism, terrorism, and illegal activity. Their job is to monitor people and buildings in an effort to prevent crime.
What does a Security Guard do?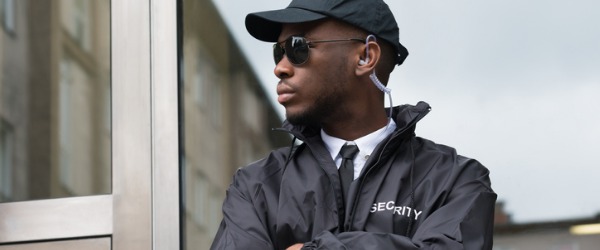 Security guards typically do the following:
Protect and enforce laws on an employer's property
Monitor alarms and closed-circuit TV cameras
Control access for employees, visitors, and outside contractors
Conduct security checks over a specified area
Write comprehensive reports outlining what they observed while on patrol
Interview witnesses for later court testimony
Detain criminal violators
Security guards need to always be aware of their surroundings and stay alert, looking for anything out of the ordinary throughout their shift. In an emergency, security guards may call for assistance from police, fire, or ambulance services.
A security guard's job responsibilities vary from one employer to another:
In retail stores, security guards protect people, records, merchandise, money, and equipment. They may work with undercover store detectives to prevent theft by customers or employees, detain shoplifting suspects until the police arrive, or patrol parking lots.
In office buildings, banks, hotels, and hospitals, security guards maintain order and protect the organization's customers, staff, and property.
In museums or art galleries, security guards protect paintings and exhibits by watching people and inspecting packages entering and leaving the building.
In factories, government buildings, and military bases, security guards protect information and products and check the credentials of people and vehicles entering and leaving the premises.
At universities, in parks, and at sports stadiums, security guards do crowd control, supervise parking and seating, and direct traffic.
At bars and nightclubs, security guards (or bouncers) keep under-age people from entering, collect cover charges at the door, and maintain order among customers.
Security guards who work as transportation security screeners protect people, transportation equipment, and freight at airports, train stations, and other transportation facilities.
What is the workplace of a Security Guard like?
Security guards work in a wide variety of environments, including public buildings, retail stores, and office buildings. Those who serve as transportation security screeners work in air, sea, and rail terminals and other transportation facilities, and are employed by the federal government. Gaming surveillance officers do most of their work in casino observation rooms, using audio and video equipment.
Most security guards spend considerable time on their feet, either assigned to a specific post, or patrolling buildings and grounds. Some may sit for long hours behind a counter or in a guardhouse at the entrance to a gated facility or community. Some security guards provide surveillance around the clock by working shifts of eight hours or longer with rotating schedules.
Security guards who work during the day may interact with other employees and the public. Although the work can be routine, it can also be hazardous, particularly when an altercation occurs.
Frequently Asked Questions
How long does it take to become a Security Guard?

In general, in the U.S., security guards must complete a minimum of 40 hours of coursework to work in the field. Specific requirements vary by state, but it is often necessary to complete eight hours of this training to become eligible to apply for security guard jobs.

Individuals who choose to complete a related certificate or associate degree program in a related discipline, such as criminal justice, will, of course, spend considerably longer on the educational track: normally between six months and two years.
What are Security Guards like?

Based on our pool of users, security guards tend to be predominately investigative people. This finding supports the nature of the job. Whether their role requires that they remain 'static' in one position, monitoring a closed-circuit security feed, for example; or patrolling an expansive property, the work of a security guard is always, to some degree, analytical, exploratory, inspective, and essentially investigative.
Are Security Guards happy?

Security guards rank among the least happy careers. Overall they rank in the 8th percentile of careers for satisfaction scores. Please note that this number is derived from the data we have collected from our Sokanu members only.

While lay observers may see the often lonely and late-night work environment as a potential reason for this extremely low happiness metric, studies reveal that lack of growth opportunities and lack of rewards are what affect the overall sentiment around the occupation.
Should I become a Security Guard?

Successful security guards typically possess the following qualities:

Honesty & Trustworthiness
Employers need to trust security guards to make the right decisions to protect their business and the general public. Creating and maintaining an honest and trusting relationship is key.

Quick Reflexes
Valued security guards are alert at all times. They are able to assess and analyze what is going on around them and quickly react and respond to potentially dangerous situations.

Rationality
A large part of the security guard's job entails making wise judgement calls about whether something is a legitimate threat, and if it is a threat, how big it is. Rationality relies on making sense of each aspect of the situation and being able to predict how it will play out.

Leadership and Team Player Perspective
While security guards often work alone, it is not uncommon for them to work in teams to secure the perimeter of a business. In these circumstances, it is especially important to know when to assert one's self and when to follow the lead or orders of someone else.

Communication Skills
Security guards are required to communicate with their employer, their teammates, and the public. Knowing which information to communicate to whom is fundamental to maintaining safety and security.

Physical Fitness and Strength
Security guards must be prepared for the possibility of physical confrontation. Whether this takes the form of chasing a thief or breaking up a fight, guards need to maintain reasonable fitness and strength to keep up with potential offenders.

Respect for Life
When involved in physical confrontation, security guards face the issue of how much force to exert. The challenge is striking a balance between enough force to subdue an offender without causing injury to either the offender or any onlookers.

Some additional information about the job to help you decide if it is a fit for you:

The U.S. Bureau of Labor Statistics reports that security guards have a higher rate of injury and illness than is average for other occupations.

Security guards are generally always in demand. Many different companies across a wide range of industries require security guards for many different situations.

Security is a 24/7 service. This means that security guards can often choose from a variety of full- or part- time opportunities and shift options to suit their own schedules.

The security field offers variety. Some positions are largely stationary, while others are patrolling jobs. Some involve working among a lot of daytime activity, while certain nighttime shifts offer quiet, peaceful hours.

Working as a security guard enhances one's observation and people skills and provides significant crisis training – all of which are valuable life skills.

Often, the watchful presence of a security guard is enough to deter criminals and prevent incidents. People are often grateful for the presence of a security guard; helping them feel comfortable and safe can be a rewarding experience.
Steps to becoming a Security Guard

The process of becoming a security guard includes obtaining a high school diploma; possibly completing some formal post-secondary education; fulfilling state-mandated security, training, licensing, and continuing education requirements; and undergoing any additional employer-specific training.
Security Guards are also known as:
Security Officer Safety and Security Officer