What is a Sheriff?
A sheriff is typically the top law enforcement officer of a county, and an elected county official. They have a law enforcement role, and have the power to make arrests within their own jurisdiction. They may also perform other functions, such as the maintenance and transportation of prisoners, traffic control and enforcement, and accident investigations. Larger sheriff's departments may carry out criminal investigations or engage in other specialized law enforcement activities.
What does a Sheriff do?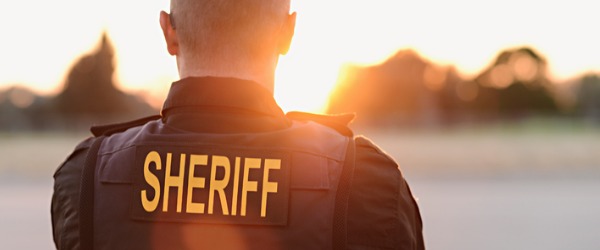 Sheriffs typically do the following:
Enforce laws
Respond to calls for service
Patrol assigned areas
Conduct traffic stops and issue citations
Arrest suspects
Write detailed reports and fill out forms
Prepare cases and testify in court
Investigate crimes
Collect evidence of crimes
Conduct interviews with suspects and witnesses
Observe the activities of suspects
Arrest suspects
Write detailed reports and fill out forms
Prepare cases and testify in court
The daily activities of sheriffs vary with their occupational specialty and whether they are working for a local or government agency. Duties also differ among federal agencies, which enforce different aspects of the law. Regardless of job duties or location, sheriffs at all levels must write reports and keep detailed records that will be needed if they testify in court.
What is the workplace of a Sheriff like?
A sheriff's work can be physically demanding, stressful, and dangerous. In addition to confrontations with criminals, sheriffs need to be constantly alert and ready to deal appropriately with a number of threatening scenarios.
They often work at crime or accident scenes and need to be able to deal with any death and suffering that they may encounter, as well as be able to support the victim's families through these hard situations. Although a career in law enforcement may take a toll on their private lives, many officers find it rewarding to help members of their communities.
Frequently Asked Questions
Steps to becoming a Sheriff

As with many careers, the path to becoming an accomplished sheriff calls for a combination of education, professional training, experience, and commitment to ongoing learning.
How long does it take to become a Sheriff?

The length of time required to become a sheriff is largely dependent on two variables:

The educational path Some aspiring sheriffs begin training at a sheriff or police academy once they receive their high school diploma. Others earn an Associate or Bachelor's degree before commencing their academy training.

The jurisdiction A sheriff is an elected or appointed law enforcement officer who is employed by a specific county. In counties where a sheriff is elected – generally to a four-year term – the timeline to entering the occupation is extended. Candidates must establish a platform of issues, obtain sufficient support via a petition of signatures, determine a budget, raise campaign funds, recruit campaign staff and volunteers, file necessary paperwork, and run their election campaign. Some jurisdictions stipulate that prospective sheriffs begin their careers as sworn officers before they can run for or advance to a sheriff position. Most counties impose a minimum age for application (eighteen or nineteen years of age) and a minimum age for election or appointment (twenty-one years of age).

To calculate how long it takes to become a sheriff, consider the following compulsory, optional, and variable components of the career path: -Academy Training Program: 3 to 6 months -Associate Degree: typically, 2 years -Bachelor's Degree: typically, 4 years -Position as a sworn police officer: variable length of time -Election Campaign: approximately 1 year
Should I become a Sheriff?

The career of sheriff involves both reward and risk. Protecting the lives and property of individuals on a county level offers the satisfaction of working in public service. The job also comes with some inherent negatives. Before embarking upon this career, one should consider its pros and cons and review the typical traits and soft skill set of those who work in the field.

Pros: - Little or no college may be required; some positions are open to high school graduates with academy training - Higher-than-average wage -Opportunity to protect and serve the community - Interesting and stimulating work

Cons: - Slow job growth predicted through 2022 - Sheriffs may need to be elected into office - Higher-than-average stress and possibility of physical injury, associated with attending crime scenes and arresting criminals - Sheriffs may be required to work long hours, nightshifts, weekends, and holidays

Desired traits / soft skill set: - Integrity and sound moral character - Common sense - Communication; especially listening skills - Social Perceptiveness; awareness of others' reactions and understanding of why they react as they do - Attention to detail - Critical thinking; the ability to use logic and reasoning to identify the strengths and weaknesses of possible solutions, conclusions, or approaches to problems - Decision-making - Stress tolerance; self-control; capacity to stay calm - Negotiation; ability to discuss and reconcile differences - Leadership; resourcefulness; comfort with taking charge
Are Sheriffs happy?

According to a 2014 study, individuals working in law enforcement rated their work environment as 'very poor,' ranking 192nd of 200 careers; their stress level as 'very high,' ranking 191st of 200 careers; and the projected growth of the career as 'poor,' ranking 141st of 200 careers.
What are Sheriffs like?

Sheriffs generally thrive on order and continuity. They tend to be outspoken persons of principle who take initiative to establish process and guidelines. These characteristics typically align with extroverted and investigative personality types.
Sheriffs are also known as:
Chief Deputy Sheriff Deputy Sheriff