What is a Chemical Technician?
Do you think you'd enjoy scientific study and prefer to work with your hands in a laboratory environment? Becoming a chemical technician may be the ideal career path for you!
A chemical technician uses laboratory instruments and techniques to assist chemists and chemical engineers in researching, developing, producing, and testing chemical products and processes.
What does a Chemical Technician do?
Chemical technicians conduct analytical or lab-based tests on a variety of chemicals, materials or products. They conduct testing for the purposes of environmental impact, quality assurance, regulatory adherence, safety inspection, or sample testing.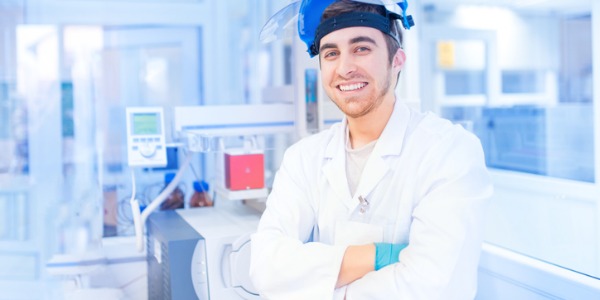 Chemical technicians specialize in a specific industry or type of technology in order to provide a high level of quality service and to focus their career on a specific area.
The main duties of a chemical technician involve processing chemicals and completing chemical orders; this can range from a complicated processing request to a simple job. Orders are received, prioritized and then processed. Chemical technicians document the process used, the values recorded at different stages, and any issues they come across. This information is reviewed to maintain quality control.
There are two main types of chemical technicians:
Laboratory technicians - set up and maintain laboratory equipment and instruments, help scientists conduct experiments and analyses, prepare chemical solutions, test products for quality and performance, analyze compounds produced through complex chemical processes, and analyze samples of air and water to monitor pollution levels.
Processing technicians - monitor the quality of products and processes at chemical manufacturing facilities by adjusting equipment to improve production efficiency and output. They collect samples from production batches, test for impurities and other defects, and test product packaging to make sure that it is well designed, will hold up well, and have a limited impact on the environment.
Typical duties of chemical technicians:
- Monitor chemical processes
- Test the quality of products to meet standards and specifications
- Set up and maintain laboratory instruments and equipment
- Troubleshoot production problems
- Prepare chemical solutions
- Conduct chemical and physical experiments, tests, and analyses
- Compile and interpret results of tests and analyses
- Prepare technical reports, graphs, and charts
What is the workplace of a Chemical Technician like?
Chemical technicians typically work in laboratories or in industrial facilities such as chemical and pharmaceutical manufacturing plants, and receive samples from outside sources or in-house within one of the many industries where they are employed.
Employers of chemical technicians include the pharmaceutical, mining, food and consumer products industries as well environmental organizations. Most chemical technicians work on teams, and are led by chemists or chemical engineers who direct their work and evaluate their results.
Most chemical technicians work full time, however, they may have to work additional hours to meet project deadlines or troubleshoot problems. Some may work irregular hours to monitor laboratory experiments or plant operations.
Chemical Technicians are also known as:
Formulation Technician Chemical Laboratory Technician Chemical Analyst