What is a Geographer?
A geographer studies the earth and its land, features, and inhabitants. They also examine phenomena such as political or cultural structures as they relate to geography.
Geographers study the physical or human geographic characteristics or both of a region, ranging in scale from local to global. Some do fieldwork, which may include travel to foreign countries or remote locations.
What does a Geographer do?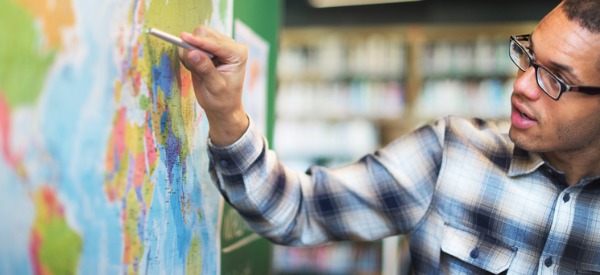 A geographer will typically do the following:
Gather geographic data through field observations, maps, photographs, satellite imagery, and censuses
Use surveys, interviews, focus groups, and other qualitative methods in their research
Use quantitative methods, such as statistical analysis, in their research
Create and modify maps, graphs, diagrams, or other visual representations of geographic data
Analyze the geographic distribution of physical and cultural characteristics and occurrences
Use geographic information system (GIS) technology to collect, analyze, and display data
Write reports and present research findings
Assist, advise, or lead others in using GIS and geographic data
Combine geographic data with data about a particular specialty, such as economics, the environment, health, or politics
Geographers use several technologies in their work, such as GIS, remote sensing, and global positioning systems (GPS). Geographers use GIS to find relationships and trends in geographic data. GIS allows them to present data visually as maps, reports, and charts.
For example, a geographer can overlay aerial or satellite images with GIS data, such as population density in a given region, and create computerized maps. They then use the results to advise governments, businesses, and the general public on a variety of issues, such as marketing strategies; planning homes, roads, and landfills; or disaster responses.
What is the workplace of a Geographer like?
Most geographers work for the federal government. Others are employed in professional, scientific, and technical services — in places such as colleges, universities, and professional schools; and state and local government.
Many geographers work full time during regular business hours, and some need to travel to do fieldwork. They often travel to the region they are studying, which sometimes includes foreign countries and remote locations, in order to gather information and data.
Geographers are also known as:
Physical Geographer Geographic Information Systems Geographer GIS Geographer Geographic Information Systems Physical Scientist GIS Physical Scientist