What is a Pharmacist?
If you're a detail oriented person, love science and medicine, and want a challenging career where you can help others, becoming a pharmacist may be the perfect career match for you.
Pharmacists specialize in prescription medications, and fill prescriptions issued by doctors and other healthcare professionals. They guide customers on how to use these medications properly, and let them know about any potential adverse side effects.
Personal attributes that are useful for being a pharmacist are typical for those working in any area of health and nutrition. These include a caring personality and the genuine desire to help people in need. Other attributes useful for a career in pharmacy would be the ability to take on a lot of responsibility, work under pressure, have great organizational skills, and people skills.
Get online training through our partner:
What does a Pharmacist do?
A pharmacist typically works in a pharmacy (chemist shop, UK) and is in charge of the dispensing of prescription medications. They advise customers on how to best take their prescriptions and answer any questions they may have. They can also help customers choose over-the-counter remedies that can be purchased for minor ailments or non-serious illnesses.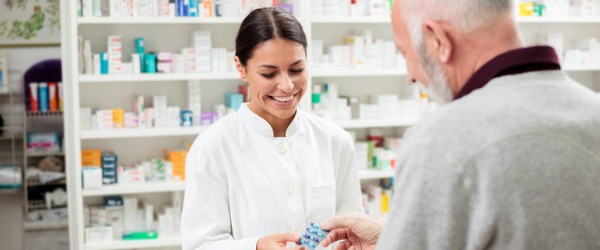 Pharmacy is an evolving profession. Over the years, there has been an increase in new types of pharmacy careers that have significantly improved patient care and advanced the pharmacy profession.
The following is a list of the various pharmacy careers available:
Ambulatory Care Pharmacist
Direct patient care and management of medications for ambulatory patients; manage ambulatory clinics.
Academic Pharmacist
Conduct research, publish articles, teach and mentor tomorrow's pharmacist. Some also practice pharmacy in the community, hospital, or ambulatory settings.
Community Pharmacist
Fill prescriptions, counsel patients, resolve reimbursement issues, manage drug inventory, supervise pharmacy technicians.
Compounding Pharmacist
Compound drugs for individual prescriptions to meet patient needs. Counsel patients and collaborate with healthcare providers.
Hospice Pharmacist
Provide compassionate care to hospice patients, work with a health care team of nurses, doctors, social workers, and counselors.
Hospital Staff Pharmacist
Responsible for drug distribution in a hospital, provide clinical services, educate doctors and nurses, develop policies for drug storage and distribution, create protocols for drug administration, counsel patients.
Infectious Disease Pharmacist
Assist in the selection, monitoring, and administration of antimicrobials; evaluate antimicrobial drug use and create policies.
Long-Term Care or Consultant Pharmacist
Provide clinical pharmacy services to the geriatric population. Review drug regimens and provide recommendations to providers.
Managed Care Pharmacist
Collaborate with physicians, case managers, and caregivers to provide pharmacy services in a managed care setting.
Medication Therapy Management Pharmacist (Personal Pharmacist)
Review patient medications, monitor treatment, optimize medication use, minimize cost of drug therapy.
Nutrition Support Pharmacist
Collaborate with health care providers and patients to manage parenteral and enteral nutrition.
Nuclear Practice Pharmacist
Prepare radiopharmaceuticals and maintain quality standards.
Oncology Pharmacist
Selection, compounding, administration, and monitoring of chemotherapy agents.
Operating Suite (Surgery Unit) Pharmacist
Manage availability of medications used for surgery and post-operative care.
Pediatric Pharmacist
Provide clinical pharmacy services to pediatric patients.
Pharmacy Benefit Manager (PBM)
Manage prescription drug benefit programs; claims processing and related administrative services; and perform drug utilization reviews.
Pharmaceutical Industry Pharmacists
Usually involves educating healthcare providers, training commercial teams, developing communication tools, and research. Regulatory, sales, and marketing roles are also available.
Critical Care Pharmacist
Provide clinical pharmacy services in an acute setting, may manage a decentralized pharmacy, teach and mentor students and residents.
Drug Information Specialist
Research literature and provide responses to drug information questions.
Pharmacists in the Military
Provide pharmacy services in various branches of the military. Duties may range from dispensing to clinical practice, ambulatory care, and research. May travel to foreign countries with frequent moves.
Home Care (Home Infusion) Pharmacist
Provide home infusion and nutritional services, visit patients at home and teach them about their medications.
Poison Control Pharmacist
Provide medical information about poisoning and drug overdoses.
In some countries now, especially in Europe, community pharmacists have been given prescribing power. This means that there are certain medications that can be prescribed by the pharmacist after a brief consultation with a patient.
What is the workplace of a Pharmacist like?
The pharmacist's job is an important one, and requires careful attention to detail. A typical day can involve checking and dispensing medication, compounding medication, communicating with physicians, providing patients with pharmaceutical information, providing patients with health advice, explaining the proper use of medication, supervising staff/pharmacy technicians, etc.
Occasionally, pharmacists will have to deal with an upset or rude customer, however this is not a frequent occurrence. While a pharmacist's tasks will vary somewhat, each day is fairly similar and requires repetitive work. Days can be long (sometimes twelve hours long), and most of those hours will be spent standing. If you work for a retail/community pharmacy, you will most likely have to work weekends, evenings, and some holidays. Hospital pharmacies have more stable daytime work schedules. If you own your own pharmacy, you will be able to set your own hours.
Frequently Asked Questions
Why are there pharmacists? Can't a physician do their job?

Pharmacists know all there is to know about prescription drugs - they are medication experts. The average pharmacist knows much more about drugs than the average physician - it simply is not a physician's field.

There is a lot more to a pharmacist's career than just printing labels and counting pills. Because everyone can make a mistake, a pharmacist will double check and make sure that the medication a physician has prescribed to a patient will not interact with other drugs the patient may be taking. It is not unusual for a pharmacist to call the physician to confirm dosage, as it is easy to write the wrong amount, which will result in a dosage that is either too low or too high. They will make dose adjustments, they will check chemotherapy calculations - they will basically act as a gatekeeper between the patient and harmful drug interactions.

There are also many time-consuming duties that a pharmacist deals with, such as ordering supplies, figuring things out with insurance companies, and handling the many regulatory compliance issues. Physicians are glad there is a division of labour so that they can concentrate on treating their patients.
What are the advantages of being a pharmacist?

One of the biggest advantages of being a pharmacist is that you'll be making significantly more than most careers - more than a teacher, a social worker, or even a nurse.

Job security is another positive - pharmaceutical careers are in demand and are expected to have higher-than-average growth in the future.

Yet another advantage is that pharmacists are often able to provide feedback on a medicine's side effects and/or a medicine's effectiveness - information that can be used in drug engineering and in technological and medical advances.

The job can be somewhat stressful at times, but it is less stressful than other medical professions. If you work in a small community, you will develop relationships with regular customers over a period of time, and see their progress as you work with them.
What is some good advice for pharmacist students?

One of the best ways to figure out whether pharmacy is the right career path for you, is to volunteer or apply for a job as a pharmacy technician. It's important to have some work experience for your resume, and at the same time, it will expand your understanding of what the career entails.

If you do decide pharmacy is for you, there are a few things you can do to get the most out of school. A couple of fairly obvious pointers are to make sure you go to class and take good notes. Surprisingly, quite a few students don't go to class on a regular basis, and assume they can catch up later. Unfortunately, this will only worsen your study performance, so try and make it a practice to go to all your classes. While you're in class, take thorough, consistent and organized notes. Record the class lecture, if allowed, so you can go back and refer to the lecture if needed. Ask questions if you need clarification on the material. It shows the professor that you're engaged, and keeps you alert in class. If you're on the shy side, write the question down and ask the professor if you can speak to him/her one-on-one, or just communicate by email.

Balance your time. It can be overwhelming to juggle school, assignments, studies, work, and extracurricular activities. Try typing up notes into a study guide, or listening to recorded lectures the day after class etc. Try not to cram for an exam. Rather, study your material on a daily basis. A rule of thumb is that you should be studying two to three hours for every hour in class. Stress in unavoidable, especially in pharmacy school, but try to eat fairly healthy, exercise, take breaks, and keep a regular sleep routine.
Are Pharmacists doctors?

A pharmacist has a doctoral degree - a PharmD, or Doctor of Pharmacy. Many professions require a doctorate (for example, a professor, a phsychologist, etc). However, they are not "doctors" like medical doctors are.

For example, while in a crowded airplane flight, someone yells out "is there a doctor in the house?" would or should a PharmD stand up and approach in the affirmative? Probably not. Clearly here they are referring to a physician that has completed medical school and can take charge in a medical emergency.
Should I become a Pharmacist?

If you are exploring careers and are considering becoming a pharmacist, make sure you gather as much information as possible beforehand in order to make an informed and educated decision. Like any other profession, there are both positives and negatives to this career:

PROS

Flexibility
There are a number of different job opportunities available in this profession. Pharmacists can work in a variety of settings, which gives individuals the flexibility to choose the setting that fits them best and is most appealing. Pharmacists can choose from settings such as retail drug stores, schools, colleges, nursing homes, hospitals and pharmaceutical companies.

Salary
The earning potential for pharmacists can range from $81,000.00 to $135,000.00 annually. Pharmacists have the ability to earn a salary that is significantly higher than most careers, including nurses and teachers.

CONS

Education and Training
A pharmacist must complete a high level of education and attain a doctorate degree. Clinical work training is also part of the program and can be very demanding. Some pharmacists will have over $100,000 in student loan debt when they graduate.

Job Security
Changes have been sweeping across America's healthcare system recently. Medicare has cut funding, which has closed hundreds of hospitals. It's difficult to predict the future, and the job security of a pharmacist is not the same as it used to be.

Repetitive Work
This profession does involve a lot of redundancy - each day is fairly similar with many repetitive tasks. However, you can change positions throughout your career. For example, you could work a few years at a hospital pharmacy, then teach a few years at a pharmacy school, then work for a pharmaceutical company etc.

Responsibility Level
Responsibility and stress levels vary between the different niches in pharmacy. Overall, however, as a pharmacist your duty is to ensure the quality, safety, and efficacy of the medication you are dispensing for the patient, ensure that the medication is suitable for the patient's condition, advise the patient on how to take the medicine, and answer any questions patients may have. There is also the responsibility of leadership, management, corporate mandates, teamwork, etc. People's lives are in your hands, and living under this kind of stress on a daily basis isn't for everybody.
Are Pharmacists happy?

Pharmacists rank in the 17th percentile of careers for satisfaction scores. Please note that this number is derived from the data we have collected from our Sokanu members only.

After graduating university, community pharmacy is where a large portion of the students find themselves. Recently, however, the supply of pharmacists has exceeded the demand, pay has decreased, and jobs have become a bit scarce. The bottom line is under pressure due to government cutbacks and big box pharmacies losing their discounts from major drug suppliers. Because of this, hours for technician/assistants has dropped dramatically leaving pharmacists with less technical help to keep things running. This combined with the pressure to bill more clinical services and more prescriptions results in an unhappy atmosphere for both staff and customers.

However, working in a rural area will typically be a more laid back experience where pharmacists aren't just staff members. They are also part of a community. These pharmacists are most likely be asked to participate in non-pharmacy related committees as they are a respected professional and people look to them for advice on all matters, not just health-related ones.
Steps to becoming a Pharmacist

There are very specific academic requirements involved in becoming a pharmacist. Qualifications and specific training requirements vary from country to country. Generally, an undergraduate degree is required, followed by a postgraduate pharmacy degree. In some countries (for example the UK) the courses may be linked and the full qualification MPharm (Master of Pharmacy) may be obtained after five years of studying pharmacy - four undergraduate years plus one master's year.

In other countries (for example, the USA and Australia) undergraduate studies, or an undergraduate degree in a science subject is required for entry into a postgraduate pharmacy course and then at least two years of postgraduate study are required. In the US this results in a PharmD (Doctor of Pharmacy) qualification.

After completion of the academic requirements, most countries then require newly qualified pharmacists to work a "pre-registration" year, or an internship, to gain the experience required for the job. The number of hours required varies by country, and even by state within the USA.

After the work experience has been completed, there are usually more exams. These may take the form of a licensing exam, or a registration exam, depending on specific country requirements. Some countries also require that pharmacists participate in continuing professional development (CPD) programmes as they progress through their careers. This ensures that they stay up-to-date on all aspects of the job, including emerging research and new medicines.
Pharmacists are also known as:
Staff Pharmacist Clinical Pharmacist Registered Pharmacist Hospital Pharmacist Community Pharmacist Pharmaceutical Pharmacist Retail Pharmacist Druggist